SWAP 13
KellyKlub Siblings Swap 2002. Here we were to make a set of siblings of free choice. Only rule was to include at least one LFoK but the siblings could be anything from another LFoK to Krissy to Barbie to any other Mattel doll. Boys or girls, grown or small. I had my eyes set on this Barbie from start and best choice for her brother would of course be Ryan as I still don't make repaints or reroots. I try to make the best of what is already done. These lovely brown haired siblings both have green eyes.
Dolls used to be Amusement Park Ryan and Fruit Style Barbie.
---

Teddy & Tina Loves Bamse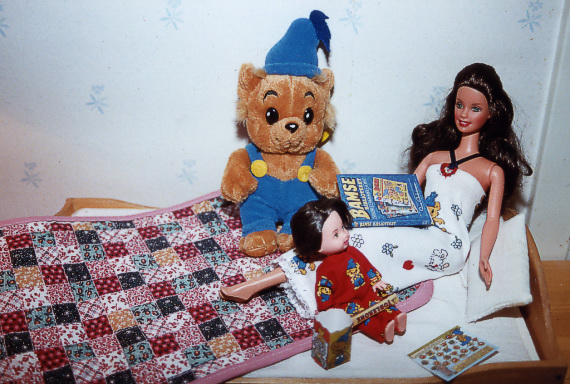 Teddy really loves when his sister Tina reads for him so he use to take his big Bamse book filled with stories and crawl up into her bed with the big Bamse teddy. Tina then reads for him over and over. Good thing is that Tina also loves the stories about Bamse.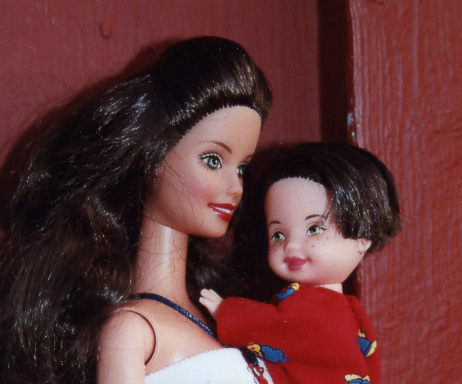 The story on Bamse then. Who is he? Here is a Swedish site on Bamse.

Bamse is a Swedish cartoon made by Rune Andréasson and this little guy is the sweetest bear on Earth. He lives in a small village with a lot of friends that he helps out with different problems. His best friends are Skalman, a very wise turtle and Lille Skutt, the most easily scared rabbit you ever saw. Bamse is not all that strong but can be when he eats of Grandma's home made Honey. Then he is the strongest in the World and can help with catastrophies like falling rocks etc. Grandma lives up on a hill and gets help to give the Honey to Bamse by her pet Katten Jansson (the cat) and his non-friend Husmusen (the mouse). Vargen (the wolf) is always trying to cause trouble and always regrets it when he gets set straight by Bamse. Vargen keep saying he "hates when Bamse is all that nice and sweet" but deep down he knows that he is a good friend.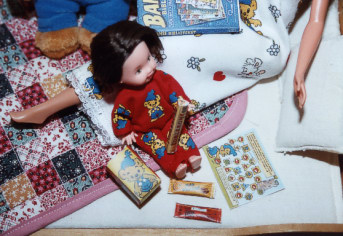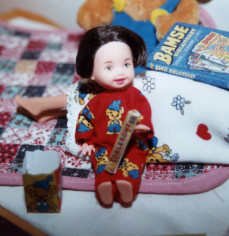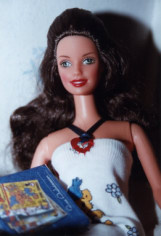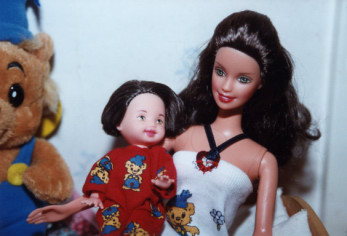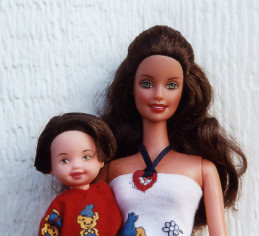 You can tell Teddy likes his sister a lot. He also likes her bed that is so cozy and when Tina is reading he takes his Bamse bag of chocolate candy and his games and paper dolls and sits there eating and playing while Tina reads his favorite stories.
---
Home | Site Index | Kattis Design | Show Room | Li'l Pages | Swaps | Katarina
The Dollhouse | Faces by names | Faces by molds | Other Dolls | Fun Stuff | Links