Lucy Lace by Becky Grimes
The fifth SWAP on KellyKlub was for the Holidays of 2000. This is what I recieved from Becky, a cute li'l girl dressed in her nightgown.
Isn't the box the cutest? I had no idea what to find under this lid that was tied with a white ribbon.
But this is what I found! A tiny Cristmas-scene with one of Becky's wonderful stick-things - need to get the right word for it... ;-) She made this li'l girl a stove and hang up two xmas-stockings.

I named her Lucy after seein her lace-trimmed nightgown. Don't know just yet if she has another name.
| | |
| --- | --- |
| | She is a bit fuzzy after her long trip over the oceans - or just tired after waking up on Christmas morning when the long wait and longing for the day when she can open her gifts finally is over. |
The tiny doll in her lacey outfit and the just as tiny teddybear that is sitting in front of the even tinier xmas-tree. That teddy is so cute!! I love these itty bitty tiny teddies.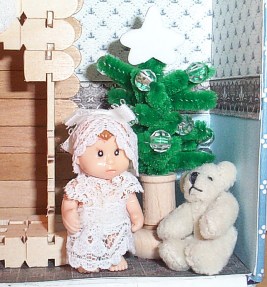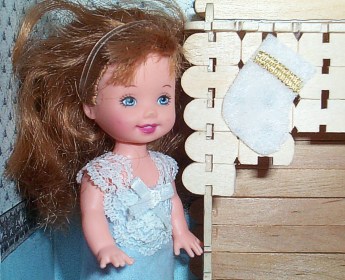 A closer look at li'l Lucy.
---
Home | Site Index | Kattis Design | Show Room | Li'l Pages | Swaps | Katarina
The Dollhouse | Faces by names | Faces by molds | Other Dolls | Fun Stuff | Links
---