---
Click the thumbs below for bigger pics.
---
The return from Camp Wizzy

---

Now WHAT IS THIS????? Louise whooo?? It took Kat a few minutes to figure out who the h*ck Louise Brooks was... Really weird.

I am trying to help Kat figure out where the package
came from by looking at the lovely stamps here.
"See Kat? It's a FOX! Or several actually!"

---
Hmmmmmmm. KAT!!!! Can I get my knife? I know who it is....!!! I need to get in there now and help "her" out of there.

---
Linda found her tiny knife. See it looks just like the knife that Kat's brother-in-law made for her only it has bone where Kat's has wood.

---
A closer look at the kid and her tiny knife.

Kat's comment:
This itty bitty knife is actually made just as the REAL thing! There is this guy that makes tiny earrings and necklaces with miniatures of wooden cups (kosor) and knifes among other things. They aren't cheap but when Kat foudn these she just had to get them. There is one is size for the bigger dolls too but there is no pic of that yet.

---
"MOOOOMMYYYYYYYYYY!!!!!"

"Hello Sunshine!"

"I am so happy you are back home again Mom!!!"

"I missed you too Sweetie"

---

Linda crawled up into Mommy's knee.
"See what one of the campers brought. She came from Australia and brought a Koala and a flag from her country"
"He is so cute Mom!"

Linda also found a book stuffed with paper dolls
so Mom had to tell a story about them all.

---
"Boy, am I glad you are back home again!"

"Hey Kiddo, Shall we sit in here all day or try to find out what else is in this package. I think Kat is curious to see what was shared at the camp..."

---
Linda jumped out and right back in.... digging for goodies.

Hey!! A compass! Cool Mom! That way you would find the way home. Just look at that arrow pointing North!

---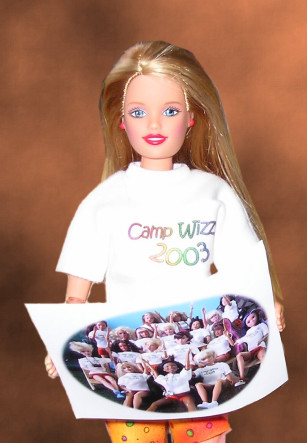 Click here to see the adventures at Camp Wizzy
---
A closer look at the both miniature knives I got for my guys and dolls.

To the left here is Peter showing off the bigger knife that is in size fr the adult dolls and action figures. I am holding up my own knife that my brother-in-law made me just as a show-off.... And to compare scale a bit.

---
The knife sits on a long leather strap - to be used as a human necklace. It can serve as belt for the dolls if I cut it a bit...

---
As you can see it has a real blade made like real big human knives... The handle is made of reindeer bone (probably horn) - just like a human knife from my parts of the world might be. My own is mae of birch wood though.

The knife sheath is made of reindeer horn and leather. It is a true minature!

---

Linda and Becky showing the other two minis I got them. Linda's knife, made of birch wood and leather - and a real blade. Becky is holding a mug of wood, called kosa or kåsa. It is made out of wood and ususally from a sort of knob that can grow on the birch trees. It gives a natural bowl shape. Sometimes they are just carved out of a lump of wood.
---
Home | Site Index | Kattis Design | Show Room | Li'l Pages | Swaps | Katarina
The Dollhouse | Faces by names | Faces by molds | Other Dolls | Fun Stuff | Links