Birthday Fun Kelly Gift Set ©1996
It's Kelly's Birthday! Perhaps it's her third? There are three decorations on the cake and three balloons, but that might just be coinsidence. The saying is Kelly was around two years old when she appeared and three would be a good guess. Doesn't really matter.
Barbie has blonde hair and her eyes are blue and green. Kelly has the bottle mouth, blonde hair and blue eyes. Chelsie is the only one made with this bottle mouth face and she has brown hair and green eyes. All the girls wear matching dresses in different color schemes. The kids have paper hats.
What is slightly annoying is that I bought this set NRFB but opened it for the blog and realized it's missing accessories. There is no brush, nor shoes. I have tried to figure out what shoes they come with - if any. Strangely enough there are no shoes mentioned in the content, although the brush is listed. Anyway. Barbie should have pink pumps and every photo I have seen of the kids shows Kelly in white sandals and Chelsie in purple Mary Janes so perhaps that is what they should come with. Haven't been able to confirm this yet.
More and detailed photos in my (Swedish) blog.
© Dolls and photos all belong to me, unless otherwise noted.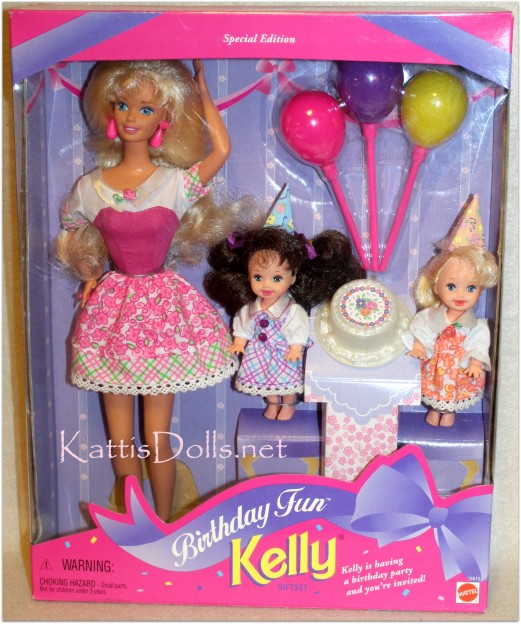 15610 Birthday Fun Kelly Gift Set ©1996
Toys 'r Us