SWAP 11
The 11th KellyKlub swap and my theme is Fall Ball.
This is the doll I made for Angie Gill of Gilly-Gals Designer Dolls:
Stella Polaris, the Northern Star.
---
Stella is yet another former Pony Riding Shelly.

It's a bit hard to catch the looks of the fabrics here. I used a dark blue velveteen with turqouise laméprints. See photo below for that.

Stella carries a big ball with stars on symbolizing her origins, a wintery North. She also has stars in her neck.

Her shawl is double with a silk with metal threads weaved in and a dark blue polysilk on the back.

The tin cannister she brings is filled with Belgian Chocolates. Of course it shows more stars from the Northen Night.
---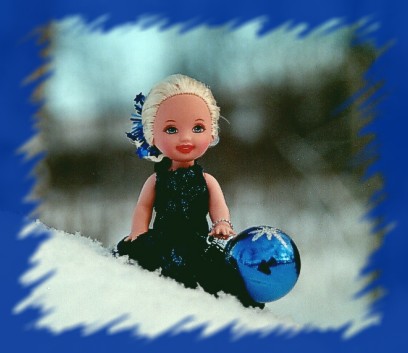 In this shot you can see some of
the turqouise printings.
It's a flowerpattern scattered all over the fabric. .
---
Home | Site Index | Kattis Design | Show Room | Li'l Pages | Swaps | Katarina
The Dollhouse | Faces by names | Faces by molds | Other Dolls | Fun Stuff | Links