SWAP 11
Angie made me a pretty li'l witch for halloween: Broom-Hilda.
Go here to see more of Angie's work: Gilly Gals Designer Dolls.
Broom-Hilda used to be a Nutcracker Jenny but got a new life as a li'l witch.

She came dressed in a black solotype dress with dark orange organzaruffle. The whole dress is adorned with sequins and pearls.

Over her shoulders a spider has made a web and you can see one of the spiders above the ruffle.

The other one is in her hair, also with a web. She also got repainted eyes in a lovely green color, her lips has a dark pumpkinred color, painted fingersnails, and earrings.

She also comes with her "broom" - a vaccuumer (a lollipop) and a cauldron on a fire (filled with candypowder to dip the pop in).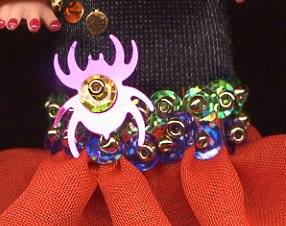 A closer look at Broom-Hilda's dress and one of her two spiders.
---
Home | Site Index | Kattis Design | Show Room | Li'l Pages | Swaps | Katarina
The Dollhouse | Faces by names | Faces by molds | Other Dolls | Fun Stuff | Links
---
Background:
Bluemountain