SWAP 6
This is one of the most funny outfits I have ever done. Eeeeh.. I start over on that one... This has been the funniest outfit to make in a long time....

Yet another Pony Riding Shelly in a makeover. This girl was the only doll I could think of that had a lipcolor to go with this outfit - as I don't do repaints (yet). Another choice was a Cowgirl Chelsie with her red lips, but I wanted a blonde.
Please meet Shelly as Li'l Miss Valentine.

*~*~*~*~*~*~*~*~*~*~*~*~*~*~*~*~*

What got me going on this swap and the thing I started with was the cape. I found that wonderful red acrylic with laméthreads and saw a warm fuzzy cape in front of me. I also went on a sale after Christmas and got these dark pink glitterbands... Somehow I saw that become a part of an outfit, but just not how until I had sewn the cape.

Shellys' sheath dress is made of two laméthread silkfabrics, one red and one pink (that has red warpthreads) with shoulderstraps of a red satin ribbon and golden edges.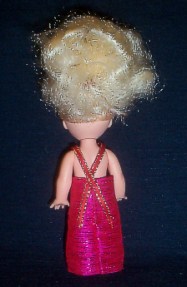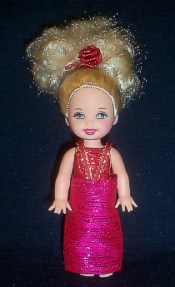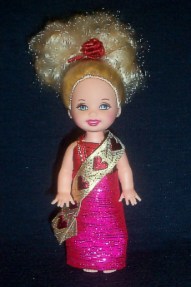 Here are three views of her red and pink sheath dress and the Miss-banner.
Above a little closeup of her where you also can see the heart-shaped button that ties the coat together in front - with a braided ribbon in pink/red/gold.
Her hair is put up in a higher ponytail and that's it. The curls comes with the doll.

*~*~*~*~*~*~*~*~*~*~*~*~*~*~*~*~*

To the right she stands next to the things she brought with her:
~ a Teddy Postcard with "A BIG HUG" from the bear
~ a pink teddybear
~ a heartshaped suitcase with heart rubbers in
~ a red tinbox filled with Valentine candy.
---
Home | Site Index | Kattis Design | Show Room | Li'l Pages | Swaps | Katarina
The Dollhouse | Faces by names | Faces by molds | Other Dolls | Fun Stuff | Links