Angelique - made by Georgianna Akers
The lovely doll that Georgie made for me is called Angelique and I am sure you can see why.

Georgie used an AA doll to be this lovely li'l angel playing her harp in the heavenly skies. Her dress is made of a purple ribbed sock and is simple in style and sooo elegant!
Here she is - Angelique, surrounded by all the gifts she will bring to me.

I'll tell you more about them when she gets here. Looks too good to be true from these shots.

I LOVE IT Georgie!
| | |
| --- | --- |
| | The lovely box she came in. |
... and this is what I saw when
I opened it up!

- minus the YUMMY
almond candies...
| | |
| --- | --- |
| Angelique is playing her harp sitting on a lovely li'l golden chair. | |
A closer look at her...

I am so amazed and thrilled to soon be having this treasue - all by myself :-)

This will be my first Kelly Angel ever.
| | |
| --- | --- |
| | And a zoom-in on the toys she is the Guardian of. |
A closeup of her lovely face and
Geo's first eyelashes, ever....

I find her absolutely
GEORGIEOUS!!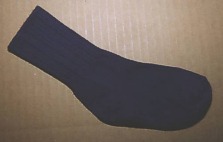 Here's the original used for Angelique's
dress, a plain purple sock :-)
---
Home | Site Index | Kattis Design | Show Room | Li'l Pages | Swaps | Katarina
The Dollhouse | Faces by names | Faces by molds | Other Dolls | Fun Stuff | Links