Kelly: Holiday Party ©2005
We are tree ornaments!
These doll boxes have the same copyright year as the Kelly Club 5 Holiday Bunch set and as the time has passed, I don't know which came first. The dolls, once again have swapped and changed their clothes, hairdos and in one case, the name. We have Keeya, Kelly and Kerstie.
Kelly is the same blonde with bangs/fringe, but her eyes have the addition of two highlight streaks in this set. She is wearing the dress of Kerstie in the Bunch-set and the same black Mary Janes Kerstie did. Kerstie on the other hand got the hairstyle from Nikki in her own rye blonde locks and same brown eyes it seems, as she has in the Bunch. Her clothes are the ones Kayla wore, including the dark red ballerina slippers. Keeya looks to be the same as Deidre at first glance, but she has swapped the green ballerina slippers for a pair of black boots. I am not sure if the color of her rubberband varies, but the Bunch set have a red one, and so does some photos I have seen of the single doll in box, but Erica's doll have a noncolored one. Could have been swapped though. Can't get a positive look of her eyes either.
The dolls double as ornaments with a ribbon in their necks (or back of their clothes to be exact).
More and detailed photos in my (Swedish) blog.
© Dolls and photos all belong to me, unless otherwise noted.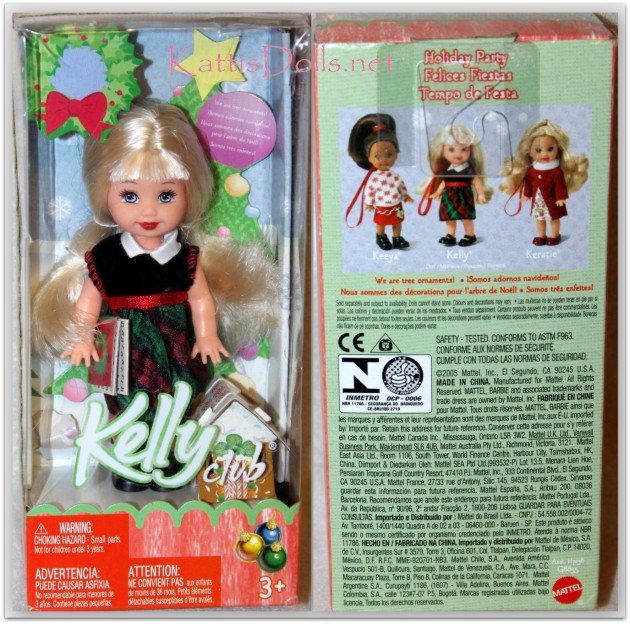 Kelly: Holiday Party, ©2005
Asst. H7238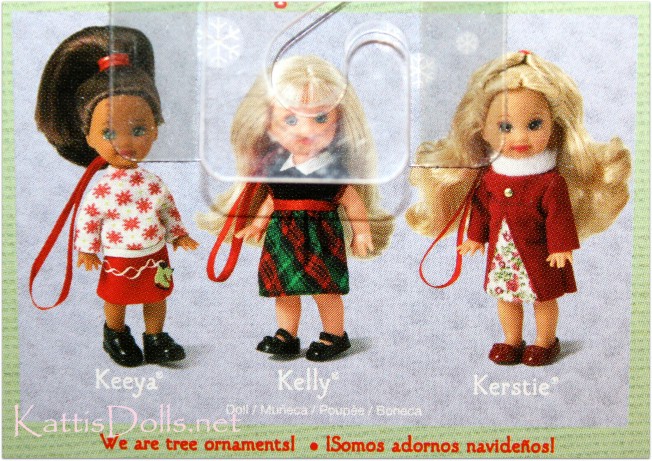 -