Kelly: I'm a Tree Ornament! ©2004
The christmas Kelly dolls got a new design when the Kelly Club logo changed for the Kelly logo. We got four dolls - and their boxes gives the impression they are hanging from a christmas tree branch - as they are made for, with a string in their back to use as a hanger.
Kelly comes donned to the teeth for a fancy christmas party in green and turqouise, with a gold "wrapped" gift in her hand. Her blonde hair is pulled up into a fancy hairdo.
Becky, the brown haired girl is tucked up in her fuzziest winter wear and a knitted scarf with a cup of hot chocolate.
Tommy got stuck under the mistetoe and everyone have given him a kiss. His clothes looks like a jester outfit in red and green harlequin patterned top and a big yellow ball at the collar. Green pants and sewn shoes.
Deidre is the Holiday Angel in a purple and white gown and golden wings. She has a halo above her head.
More and detailed photos in my (Swedish) blog.
© Dolls and photos all belong to me, unless otherwise noted.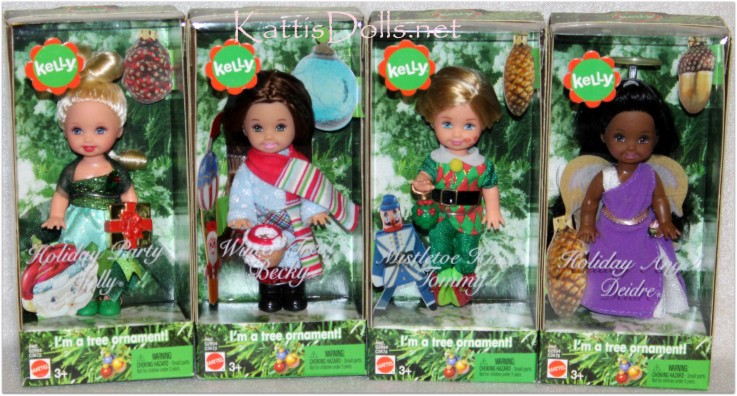 Kelly: I'm a Tree Ornament!, ©2004
Asst. G2894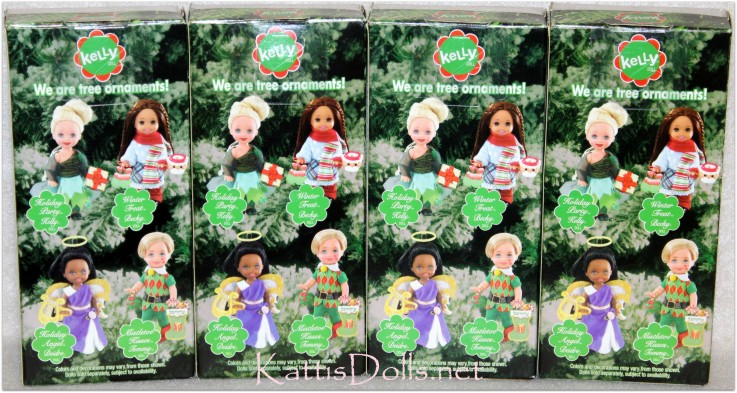 -