Shelly: Princess Collection ©2004
These are Shelly dressed as four fairytale princesses, Cinderella, Sleeping Beauty, Mermaid Princess and a Pixie Princess. Not entirely sure who the last one is supposed to be. Thumbelina? Sadly she is suffering from a "disease" well known from this period. Her head is turning towards a greenish yellow hue. Happens a lot on Barbie from this period. The Mermaid is also slightly and slowly changing, while the other two are OK.
Shelly as Cinderella have long, blonde hair and wears a gorgeous pink gown with tulle overskirt. Her white crown has come loose on my doll, and she holds a white staff. Her shoes are ballerina glass slippers.
Sleeping Beauty have light red hair. Her dress is a light blue with rose prints, and a pink rose at the waist.
The Mermaid Princess have long dark red, curly hair. Her mermaid tail is sewn of purple sequined fabric with a irridescent fin. Her top is irridescent purple and her crown/tiara is purple, and her staff the same color.
The Pixie Princess have a reddish tint to her golden honey blonde ponytail. Her dress is green with flowerprints and her wings made of an irridescent fabric. Her staff is a light mint green, just as her hair decoration and her ballerina shoes.
More and detailed photos in my (Swedish) blog.
© Dolls and photos all belong to me, unless otherwise noted.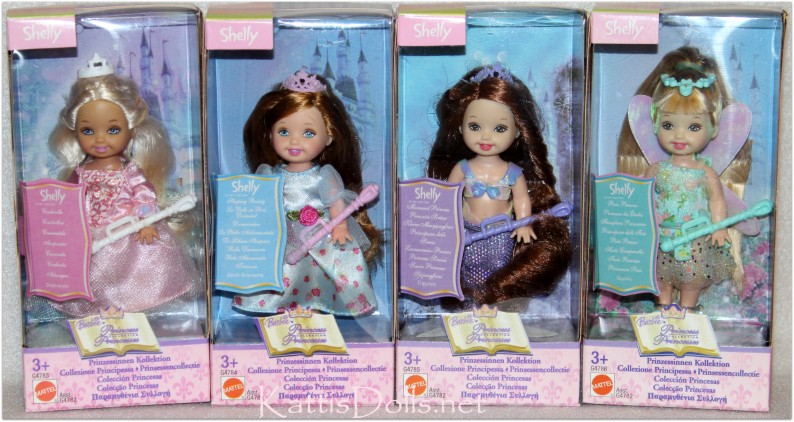 Shelly: Princess Collection, ©2004
Asst. G4782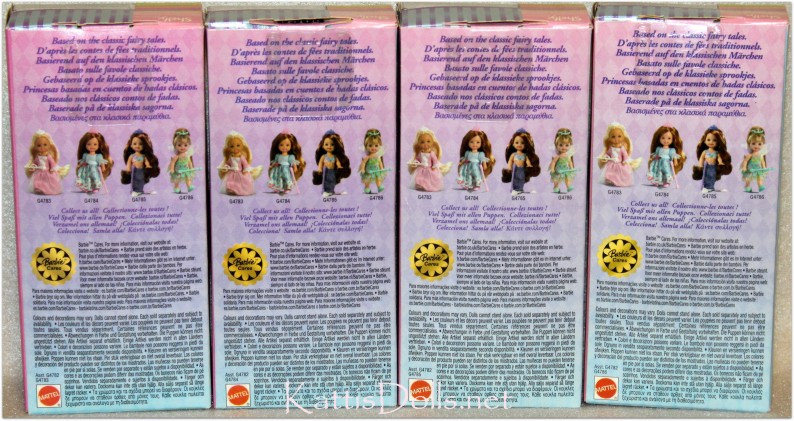 -