Princess and the Pauper ©2004
One of all the Barbie movies is a rewritten story about The Princess and the Pauper with Barbie in the role of both Anneliese and Erika. Kelly was also made into the two girls, as well as the two Kelly characters that was in the movie, the two bridesmaids. Anneliese and Erika was sold as Caucasian and AA.
The Princess/Anneliese wears a gorgeous pink satin princess gown with flower print, a golden crown and golden ballerina shoes. Her golden blonde hair is put into long corkscrew locks. The AA version is dressed the same with brown curls and they both have gold ballerina flats.
The Pauper/Erika wears a peasant dress in blue with flower prints and a lace front. She has a flower crown in her reddish blonde or dark brown hair. On the feet a pair of pink Mary Janes.
The Bridesmaids wear white dresses with different color accents. The blonde girl have a pink belt with a flower in the front, the outer tulle skirt is adorned with flowers. She has two braids under her tulle train. Shoes are pink ballerinas.
The brunette girl have a flower adorned tulle veil/train and blue details on her white layered dress with baby blue ballerina shoes.
More and detailed photos in my (Swedish) blog.
© Dolls and photos all belong to me, unless otherwise noted.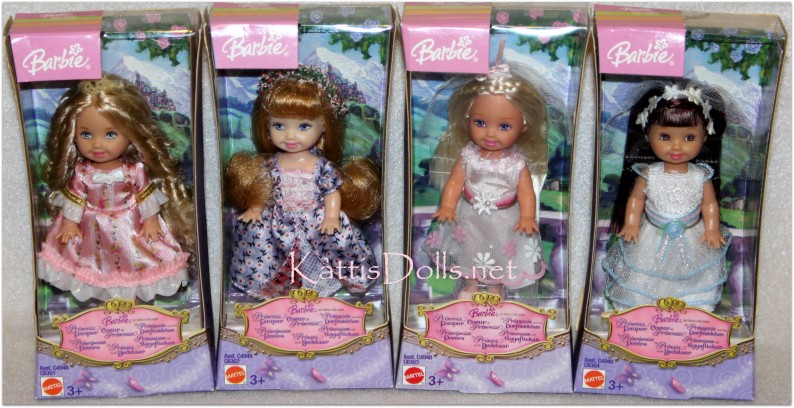 Princess and the Pauper, ©2004
Asst. C4948, Asst. C4949 (AA)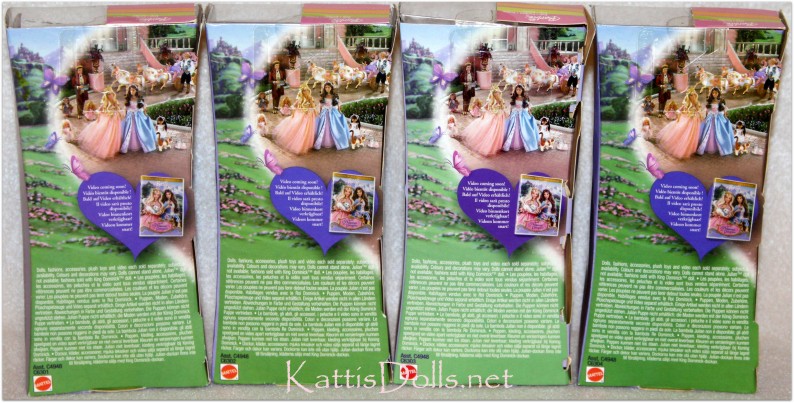 -