Storybook Favorites II: Hansel & Gretel, ©2000
Second set in the Storybook Favorites series was Hansel and Gretel. These are not Tommy and Kelly dressesd as, as the first set. There is nothing on the boxes saying they are anything but the storybook characters. Hansel is wearing a pair of brown lederhosen over a green and white gingham shirt, beige socks and black shoes. His hat is made of brown felt with a feather on top. Gretel has two long golden braids under her red flower printed bandana/shawl with lace edge. She has a red dress in the same fabris with a white apron, blue socks and a pair of black Mary Janes. She also carries a basket filled with bread.Both dolls have the Kelly closed mouth sculpt.
More and detailed photos in my (Swedish) blog.
© Dolls and photos all belong to me, unless otherwise noted.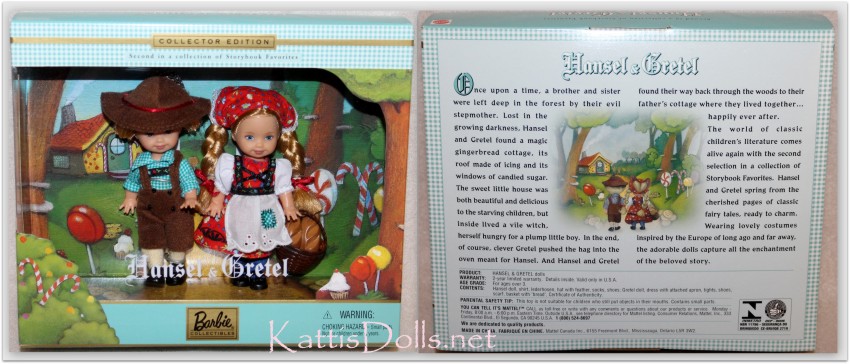 28535 Hansel & Gretel, ©2000
Second in a collection of Storybook Favorites