Skipper grew once again in the mid nineties and was now almost as tall as her bigger sister, Barbie. For several years she had this tall and slim body with Shani type of arms. Her face had a cute toothy smile and she had blonde hair in a variety of shades - unless she was black of course. This doll is a new first, since there aren't that many black versions of Skipper. She got a new friend in Nikki, who shared all the fun with Skipper and Corutney. All three girls had the same face and body. The babysitters had the jointed ballerina arms to be able to cradle the babies.
Skipper shrunk again in the mid 2000 and there was a Skipper doll included in a big wedding set from Target with Skipper in her old and smiley Teen face - but a smaller body, borrowed from the Olsen Twins. Why this was, is probably because Barbie got that new hobbit/shorty body, and with Skipper being a younger sister she needed to be shorter than her.
Teen Skipper
Copyright: 1995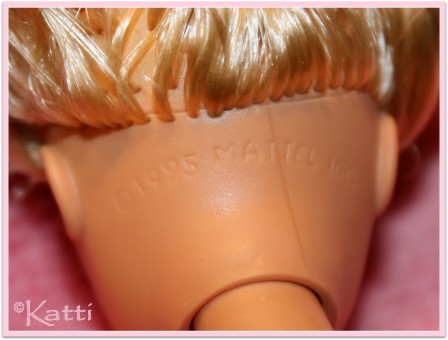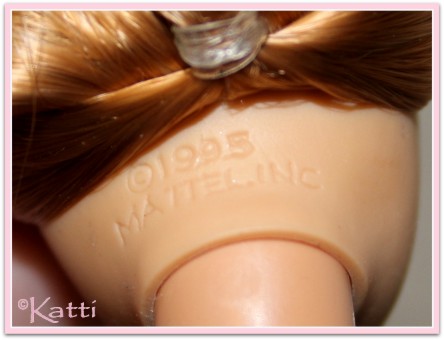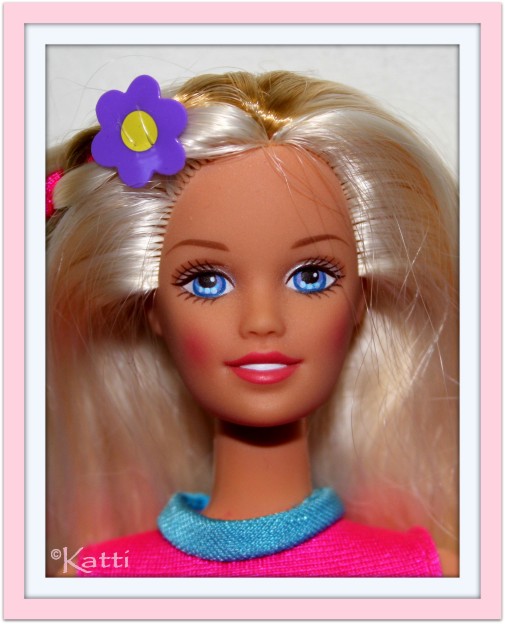 #17351 Teen Skipper, 1996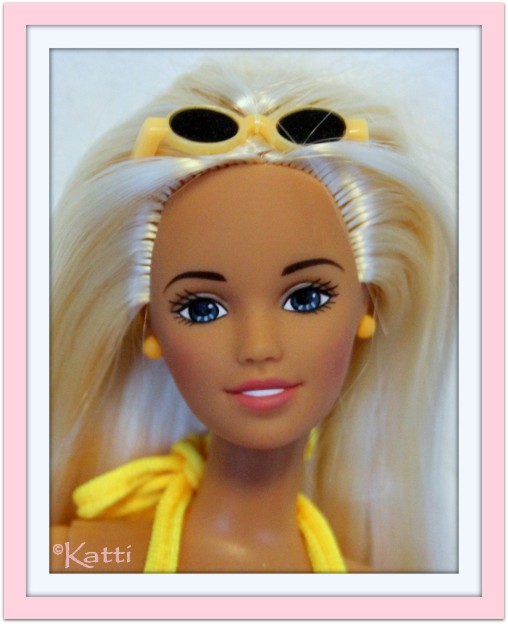 Florida (Vacation) Skipper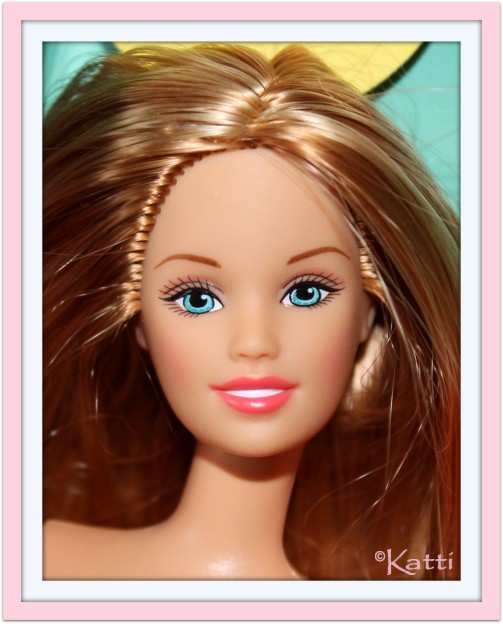 Rio de Janeiro Skipper

#24952 Pajama Fun Skipper, 1999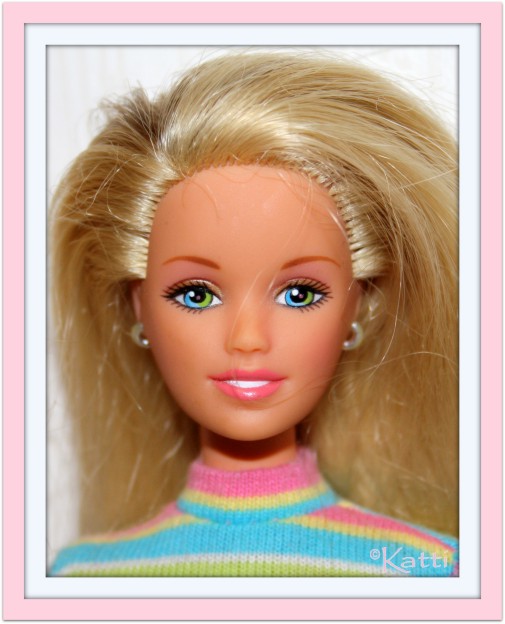 Cool Sitter Skipper
2 or 4 babies in two different sets.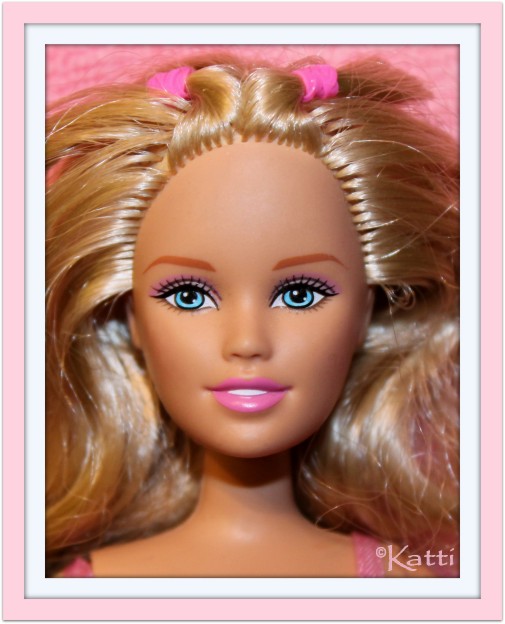 # 'Bridesmaid' Skipper, 1994
Part of a bigger doll set. Skipper has the Olsen Twins body.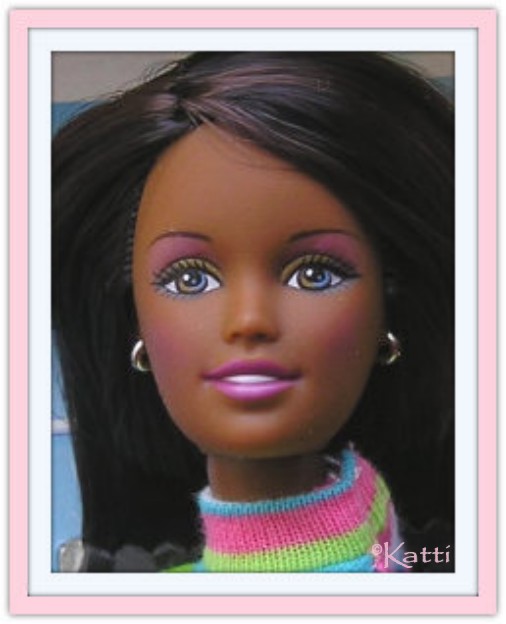 #12942/20335 Cool Sitter Skipper AA, 1994
2 or 4 babies in two different sets
Blurry picture is due to resizing of compressed jpeg from the old site pages

Courtney

Courtney was part of Skipper's group of closest friends. She has freckles and brown eyes, no freckles and green eyes or blue eyes. Brown hair or carrot red. She comes in many versions. Each one cute as a button.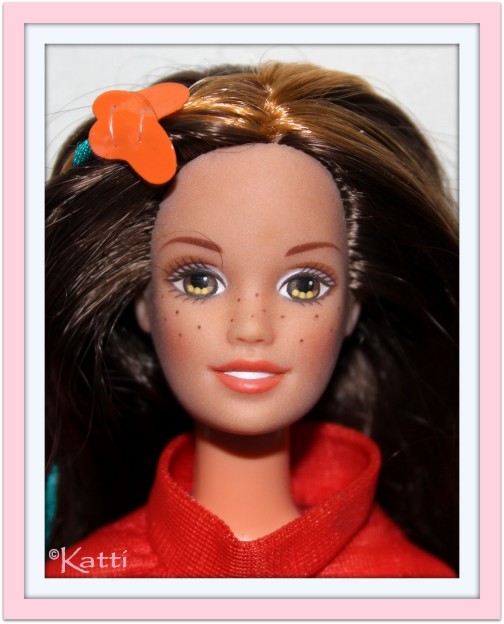 #17354 Teen Courtney, 1996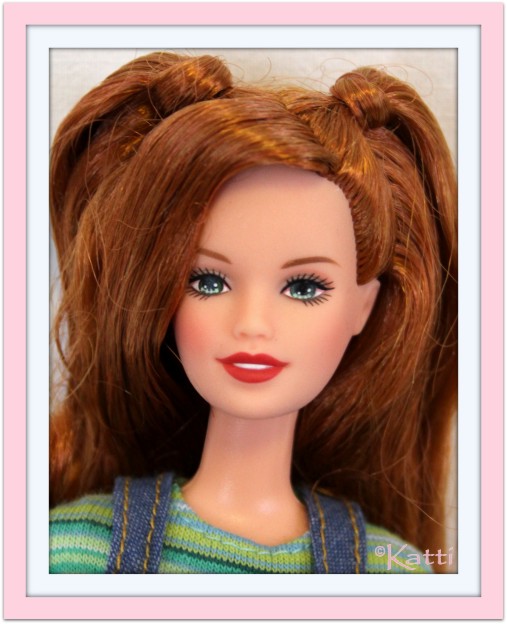 #24992 Pajama Fun Courtney, 1999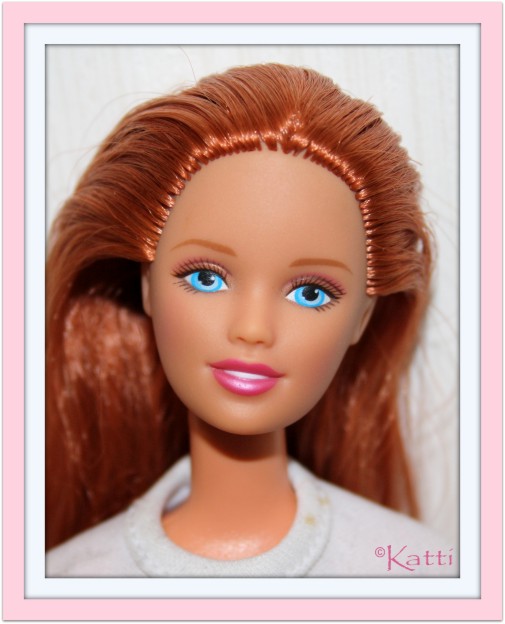 #29104 Fashion Party Courtney, 2000


Nikki
Nikki was introduced into the Skipper line of friends when Skipper and Courtney grew into their mid teens. An adorable black girl with masses of black or dark brown hair. Her eyes was mostly brown but could be highlighted in green or other colors. Nikki was part of all the series where Courtney was seen.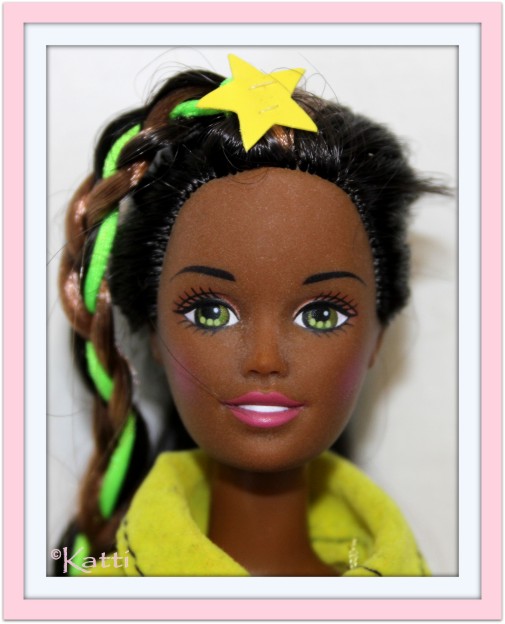 #17353 Teen Nikki, 1996
(sorry about the dusty face!)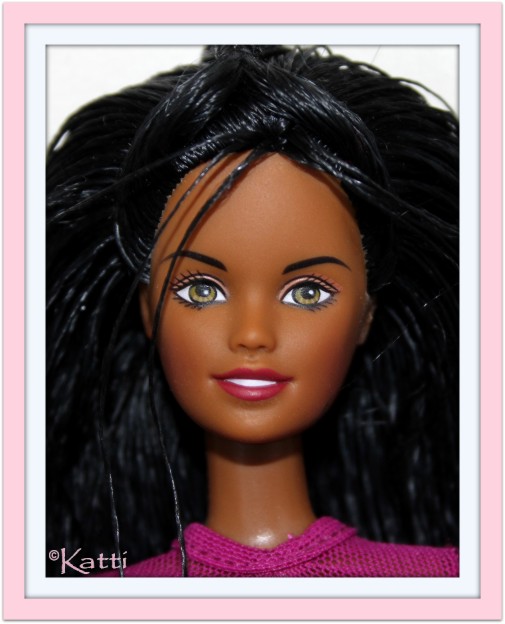 #24993 Pajama Fun Nikki, 1999
Becky
Becky was a new acquiantance in the Barbie Universe. What was so special about this girl is, that she was sitting in a wheelchair. Three versions of Becky was released, two with regular street wheelchairs, but there was also a Paralympic version with a track chair.
Becky was made with Barbie's flat footed, jointed long legged gymnast body with the jointed chopchop arms.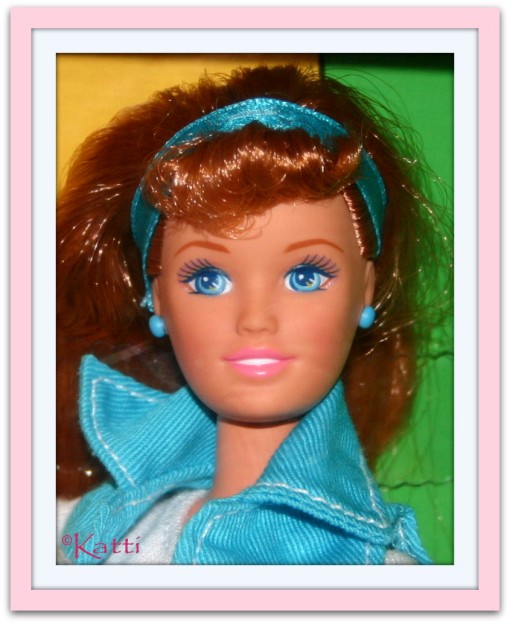 #15761 Share a Smile Becky, 1996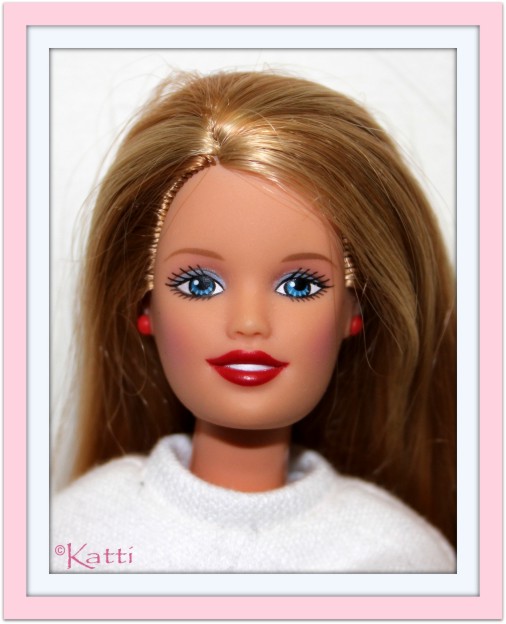 #20202 School Photographer Becky, 1997
Midge
Happy Family Neighborhood Midge was made with Teen Skipper's face in the AA versions. Midge had a regular 1999 belly button body with jointed ballerina arms and for the pregnant versions, there was magnets to keep the loose baby belly attached. Inside there was enough room for the newborn baby, she and Alan was about to have. There was a lot of ruckus around these dolls and some were said to have been retracted. "Babies aren't bort that way" or whatever...
Anyway. Faces. AA Midge has dark hair and her eyes are painted in a maroon brownish shade.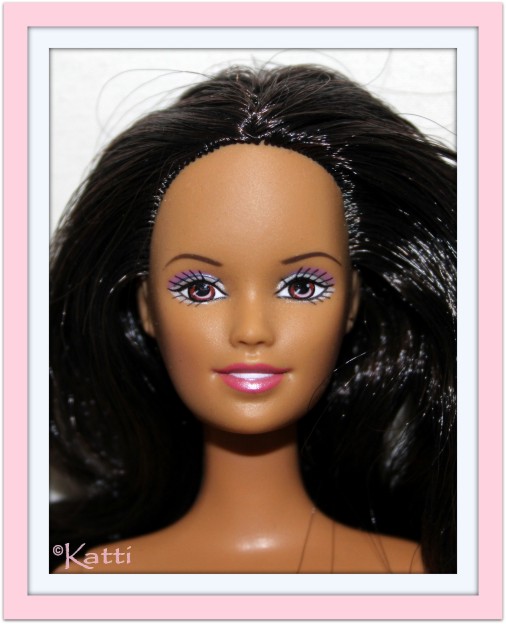 Midge AA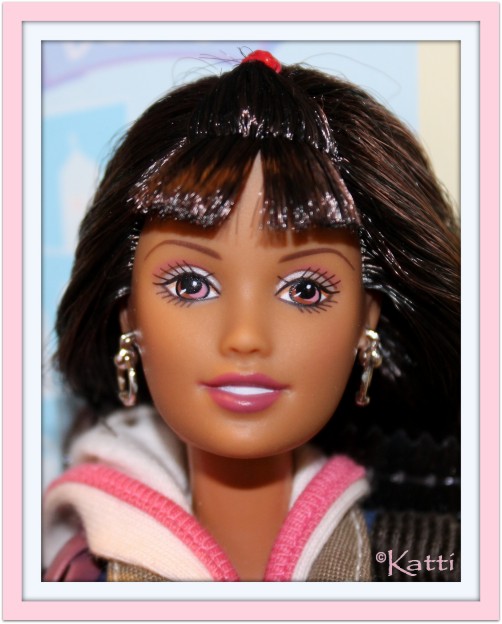 Midge AA
Midge/Barbie
This doll is a bit of a contradiction. She was sold in a narrow box set in USA as Midge but came to Europe in a big nursery set as Barbie. The dolls are exactly the same from what I recall. Midge & Baby is the name of the US set and Midge had her baby belly on - AND a baby girl cradled in her right arm. No connection to the Happy Family Neighborhood. Her neck stamp differs slightly from the others, as seen ontop.

Midge/Barbie
Barbie
Some Fashion Fever Barbie dolls were made with the Teen Skipper sculpt and the Hair Shop doll is one.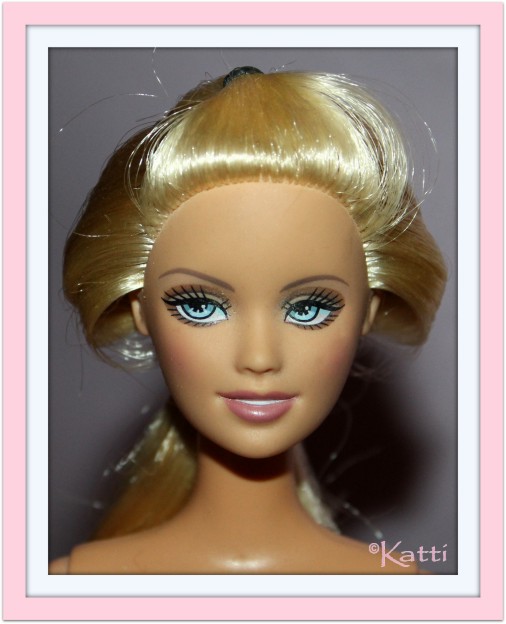 #L9231 Fashion Fever Hair Shop Barbie, 2006
Tia
Tia is a character that has changed faces three times - and not many dolls were made of each face. One of the Fashion Fever Tia dolls had the Teen Skipper or Lara's face, depending on release. I happily got my hands on the pretty Skipper version.
Photo is taken through the plastics of the round tube box.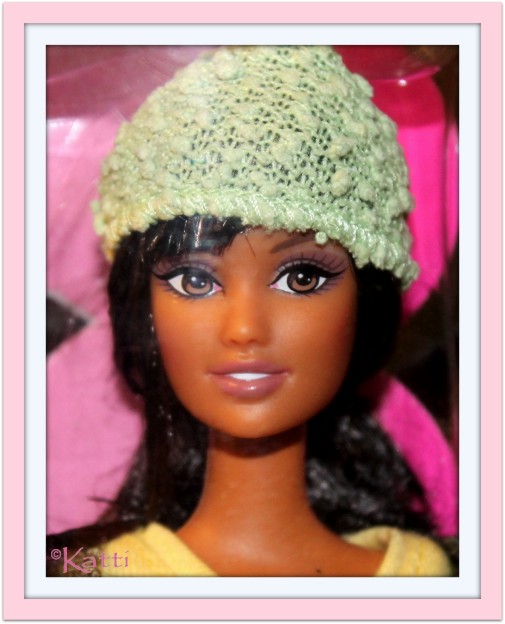 #J1327 Fashion Fever Tia, 2005
Examples of other sets, where this face can be found:
Skipper: Extreme Green, swim suit dolls 1995-2003, Totally YoYo, Fashion Party, misc gift sets with Barbie, Camping
Skipper AA: the two Cool Sitter sets (2 or 4 babies), Pajama Fun Tote (gift set with Barbie)
Courtney: Totally YoYo,
Nikki: Totally YoYo, Fashion Party
Becky: Paralympic Champion
Midge: Happy Family Neighborhood AA in all versions
Barbie: some Fashion Fever, DotW Spain, DotW Chile, Cheerleader University of Alabama CC,
Scooby-Doo!: Velma