In 1987 ('88) Skipper grew a bit more. She got a new head that is quite big with huge eyes. This was way before the phrase "Ballon Head Syndrome" was invented due to the huge heads Barbie has had past the turn of the Millennia. Anyway...
The first group of dolls consisted of three girls in different hair and eye colors. Teen Fun Skipper came as a Cheerleader in two-tone hair and brown eyes, as a Party-girl in blonde hair with pink/lavender eyes and dressed for workout in a curly hairdo in two blonde colors and greenish eyes. Her mouth was closed in a Mona Lisa kind of smile. She had this big head for a few years before she changed again, to a smaller head on the same body type.
This is also the first time we saw a black Skipper.
(Big-Eye) Skipper
Copyright: 1987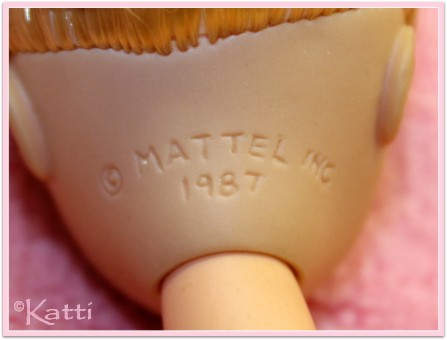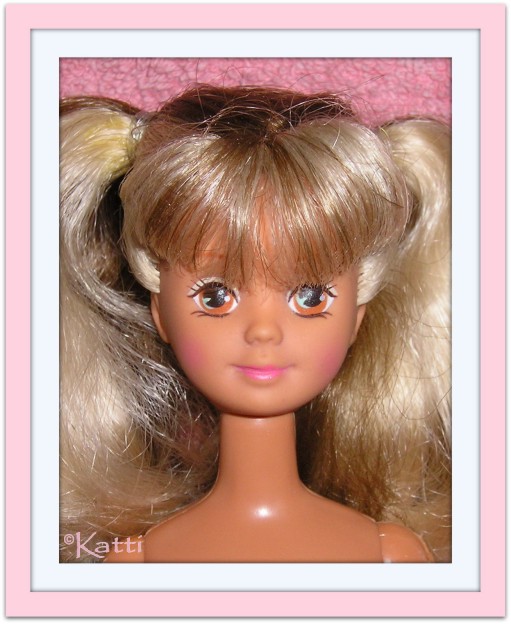 #5893 Teen Fun Skipper Cheerleader, 1987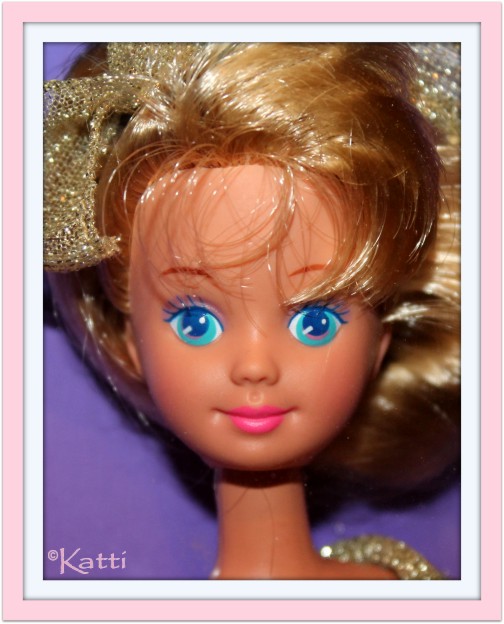 #2309 Hollywood Hair Skipper, 1992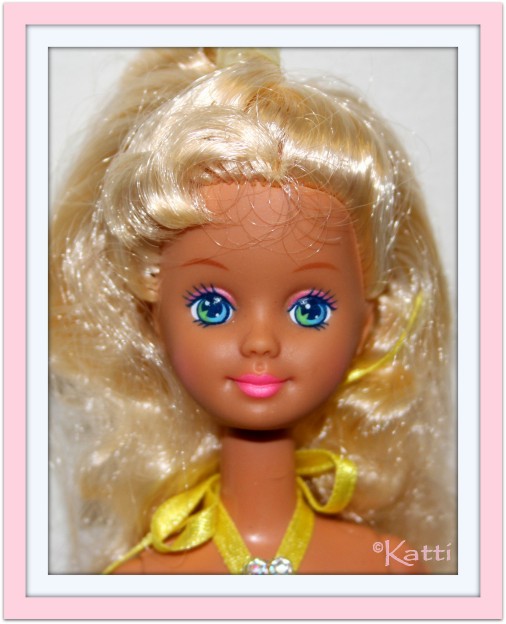 #10955 Sun Jewel Skipper, 1993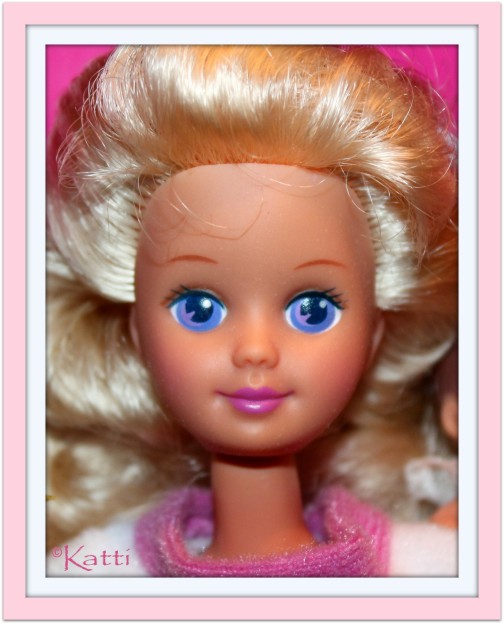 #12071 Babysitter Skipper, 1994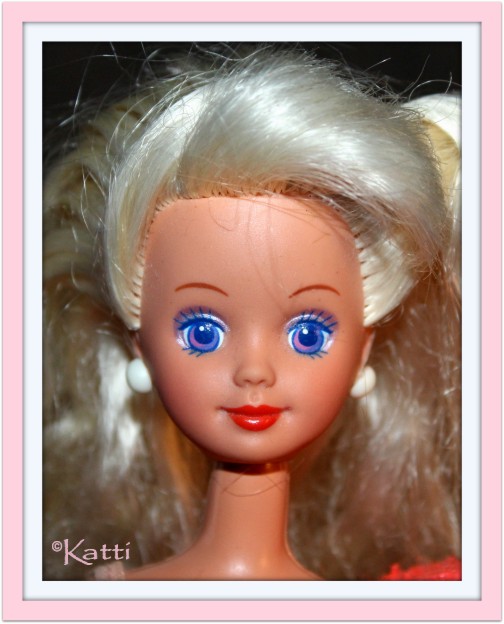 Mermaid Skipper (and the Sea Twins)
Skipper AA

As stated above, this is the first time we get a black Skipper and the first of them was Homecoming Queen Skipper. A few sets were made with a black counterpart to the caucasian Skipper dolls. Not all, but most of the non-beach dolls.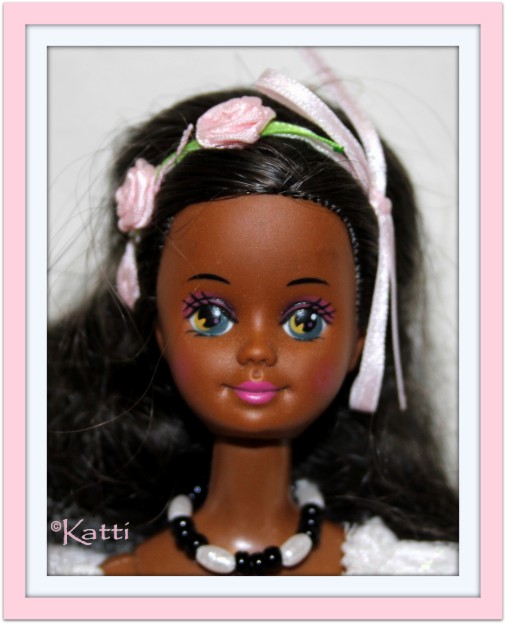 #2390 Homecoming Queen Skipper, 1988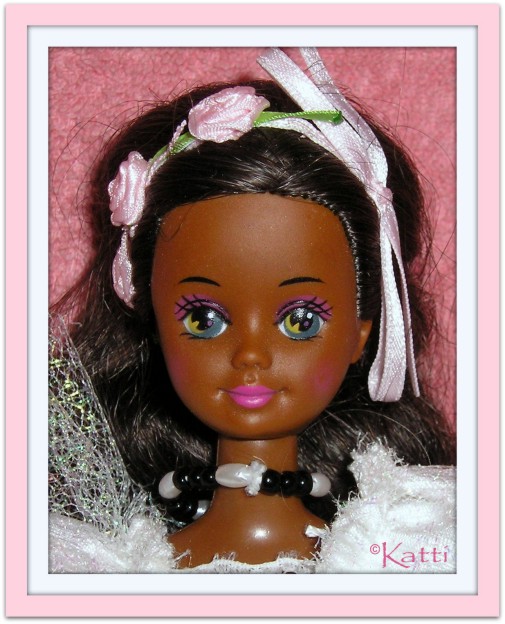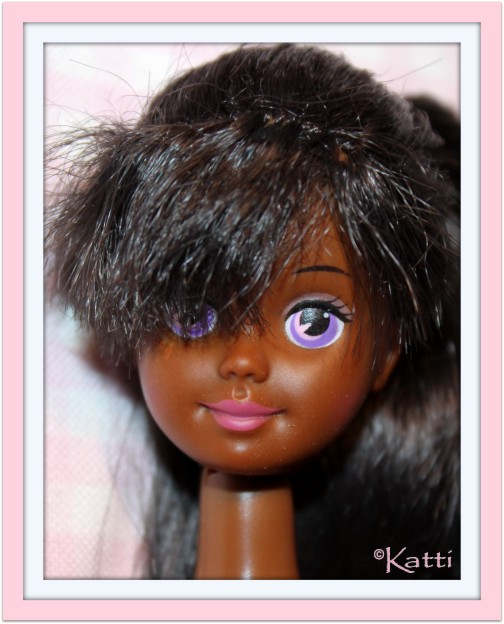 #12072 Babysitter Skipper AA, 1994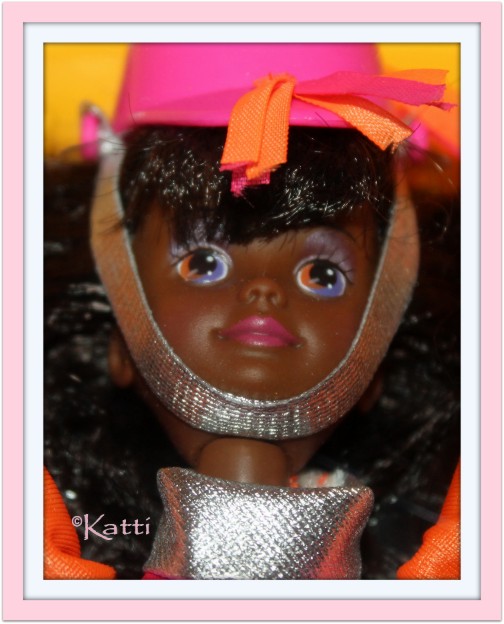 Baton Twirling Skipper AA
Bad photo as the tassles on the hat gets in the way of taking a straight on portrait, she is still NRFB.
Courtney

Skipper's new BF was named Courtney. She shared head and body with Skipper and in the early years (during two head changes) she had brown hair but her eye color changed. They could be brown, green, gray or teal.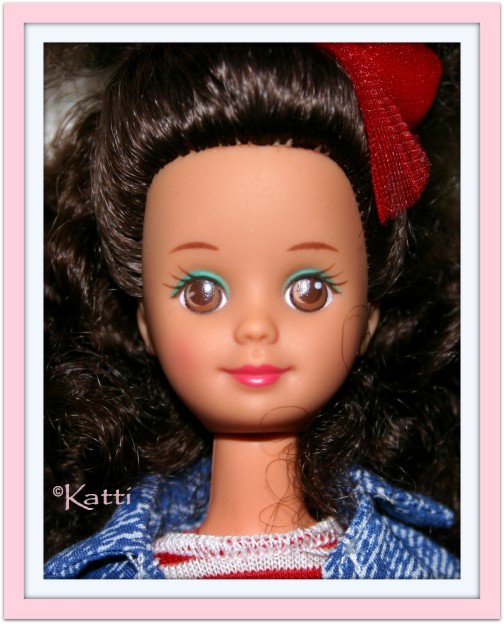 #1952 Teen Time Courtney, 1988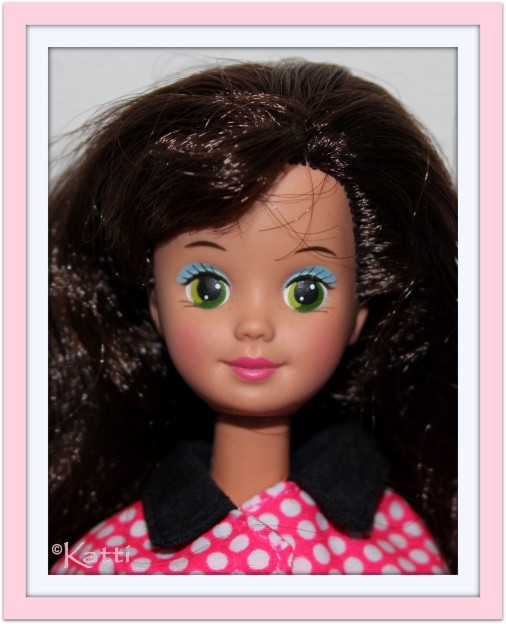 #9434 Babysitter Courtney, 1990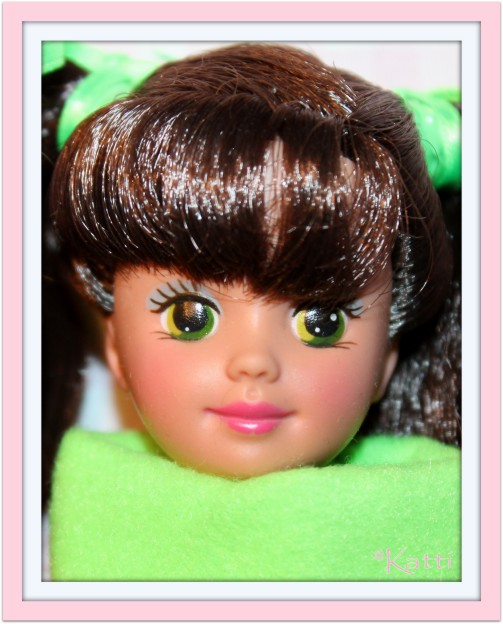 #9434 Babysitter Courtney, 1990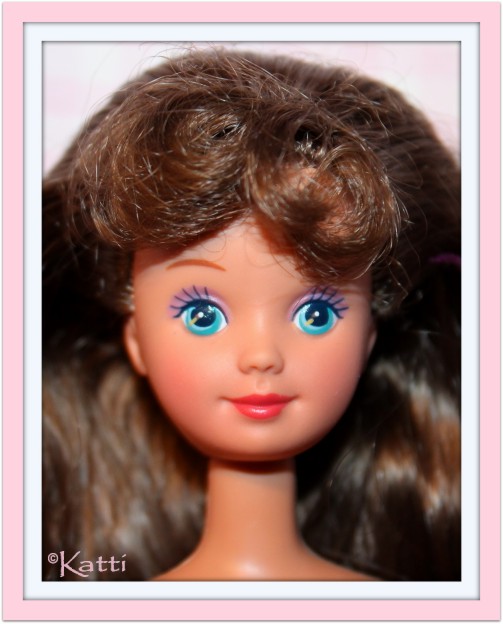 #2710 Pet Pals Courtney, 1991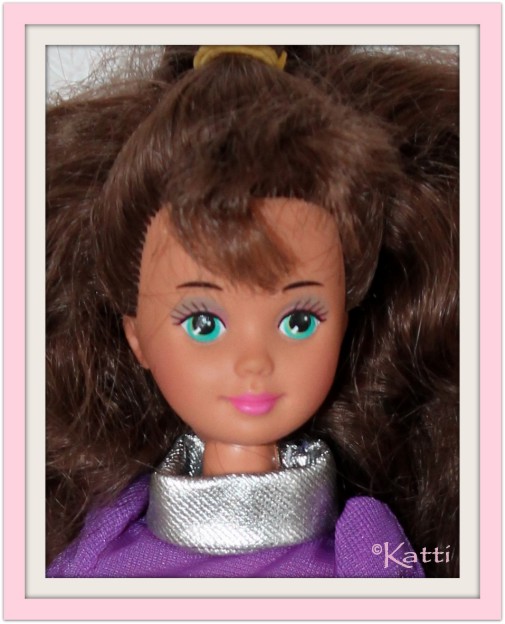 Cheerleader Courtney
Tinker Bell & Wendy

Two dolls from Disney's Peter Pan was also made with this head. Tinker Bell and Wendy. They are easily spotted among other "Skipper" dolls, if found nude, since Tink' har yellow hair and Wendy is a redhead. The second wave of dolls was made with the next Skipper face.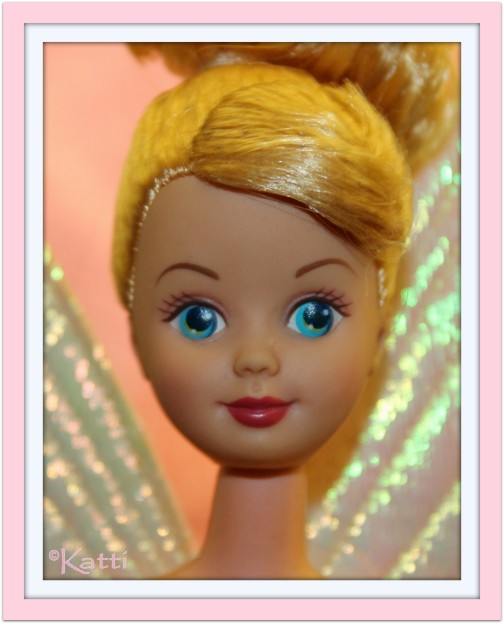 Peter Pan, Special Sparkles Tinker Bell, 1993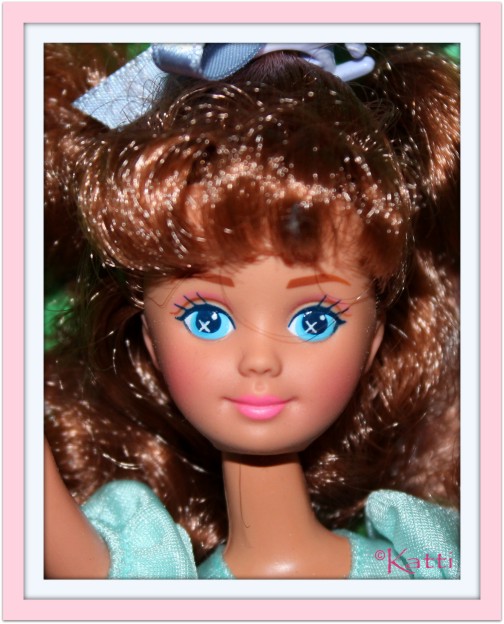 #10720 Peter Pan, Flying Wendy 1993
Other dolls using this head (can't say if I missed any):
Skipper: Teen Fun Party Teen, Teen Fun Workout Teen, Teen Sweetheart, Homecoming Queen, Teen Time, Beach Blast, Cool Tops, Wet'n Wild, Hawaiian Fun, Pet Pals, Sun Sensation, Baton Twirler, Glitter Beach, Camp Fun, Cool & Crimp, Tropical Splash, Bathtime Fun, Dream Date, Barbie & Friends (with Barbie and Ken), Cool City Blues (with Barbie and Ken), Pepsi Spirit, Sharin' Sisters (with Barbie and Stacie) in two versions.
Skipper AA: Cool Tops, Cool & Crimp
Courtney: Cool Tops, Pet Pals, Cheerleading, Cool & Crimp, Totally Hair
Tinkerbell and Wendy dolls