Steffie is one of the most loved sculpts in Barbie history, and many are the dolls that has used it. Many characters, as well as Barbie herself. This page might be overwhelming, with over 50 photos but there are lots and lots and lots of dolls - and far from all ever made. Since she is so versatile and works with just about any skin and hair color, tone and shade, there has been many variations of her. Not least Steffie herself. Three Steffie dolls were made, one brunette with blue eyes, one brunette with brown eyes and one blonde with blue eyes.
P.J. is next in turn to change looks all over the scale. Most of the other dolls have been true to color and shade, except Barbie Basics. The dolls represented below are, despite their huge number, just a fraction of all Steffie dolls to exist.
There was also some "Baggie" dolls sold, leftover dolls sold in a plastic bag, no box. One is called "Babs" and she is a Busy Steffie.
Steffie
Copyright: 1971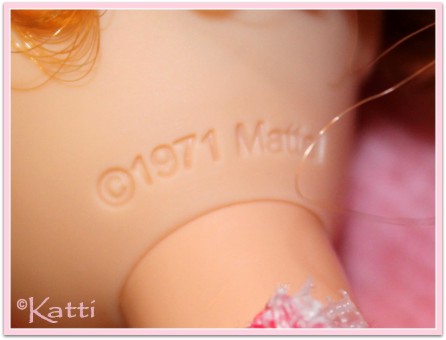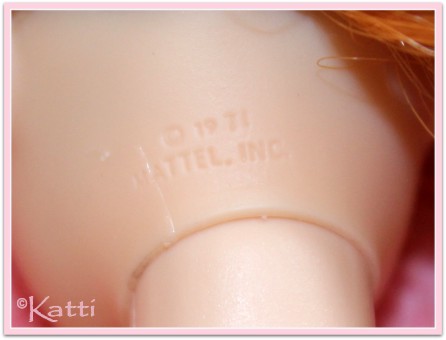 Steffie
First in a long line of collector favorite dolls. Steffie. She had blonde hair, brown hair, brown eyes or blue eyes - and was only released in three versions! I don't have the blonde Busy Talking Steffie, so you will only see the two brunettes here. Thanks to Gerry, I can now show the Talking Busy Steffie as well.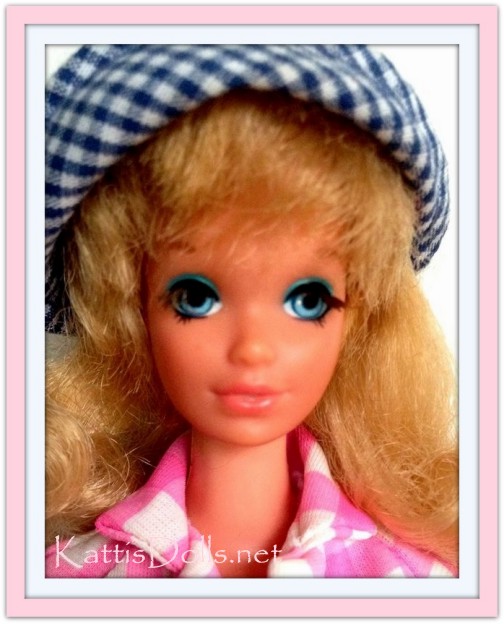 #1186 Busy Talking Steffie, 1971
Doll belongs to/photo taken by and used by permission from Gerry Borg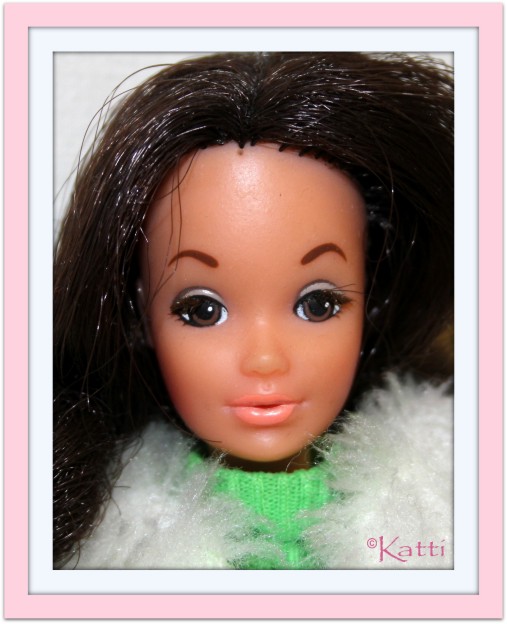 #1183 Walk Lively Steffie, 1971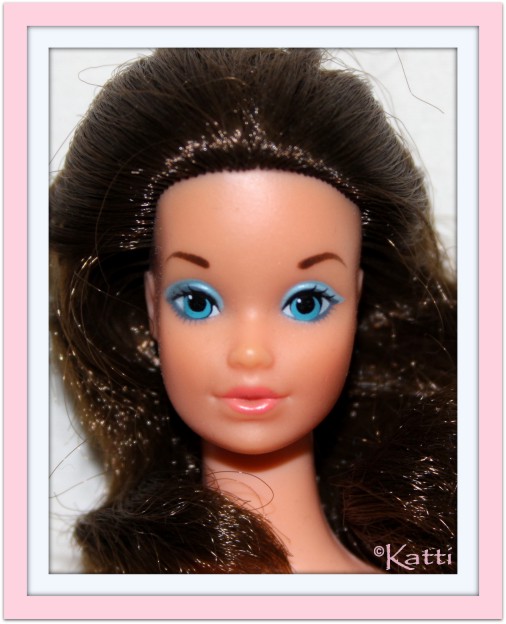 #3312 Busy Steffie, 1971
Also sold as a "Baggie" Babs


Kelley

Kelley was the new girl in town. A pretty redhead with brown eyes. She came in a pink skintone with Quick Curl hair or in a very tanned body with long, straight hair in the Yellowstone version. I do have a Yellowstone Kelley but her hair has been cut into bangs so I ma waiting for my uncut girl to move in, before I share her.
There was a clone doll sold in South America, looking just like Kelley, with the same color hair and brown eyes - but also in other hair colors.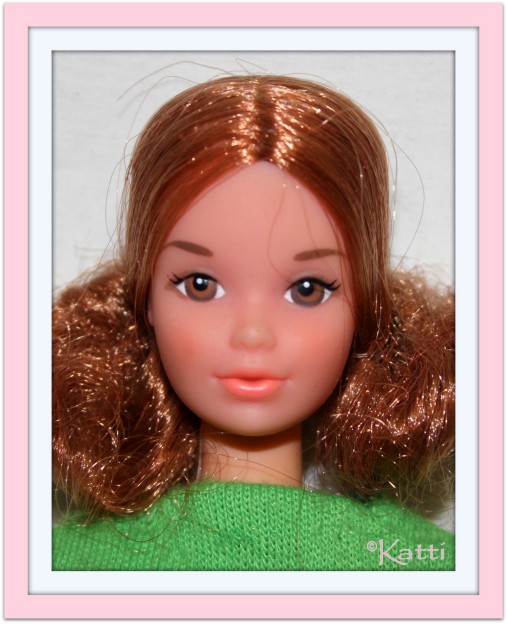 #4221 Quick Curl Kelley, 1972



P.J.

PJ is Barbie's sporty pal. In long pigtails, she came along in 1975 in the Free Moving series and as a tanned beach girl in the Malibu line. PJ has had blue and lavender eyes, brown eyes, dark green eyes and changed her hair color from blonde to brown in a variety of shades.
The Malibu girls sometimes have bleached spots on the head. I have one with a white spot on her chin, poor girl.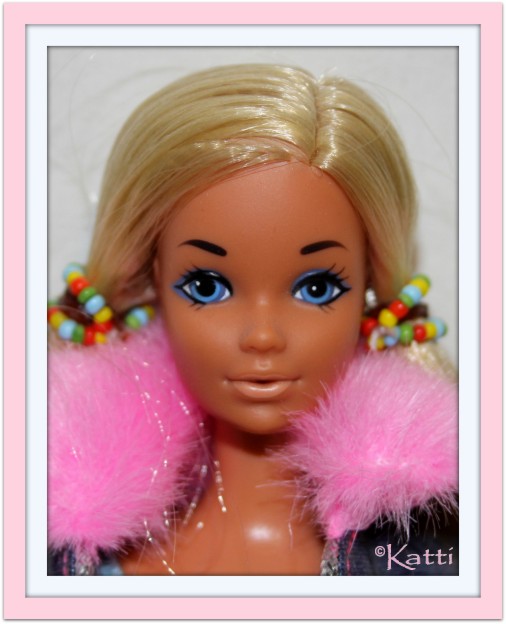 #1187 Sun Set Malibu P.J., 1981-1977
Dressed in an Fashion Avenue outfit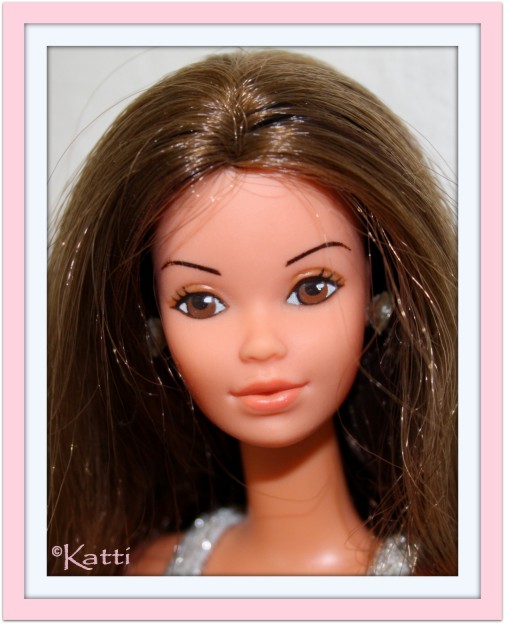 #2323 Fashion Photo P.J., 1977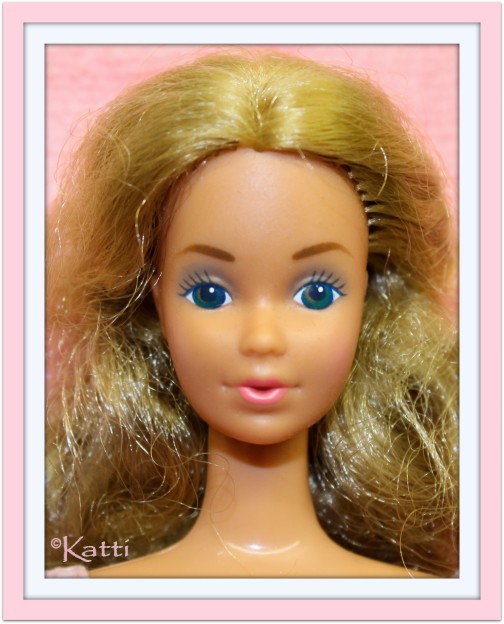 #1187 Sun Gold Malibu P.J., 1983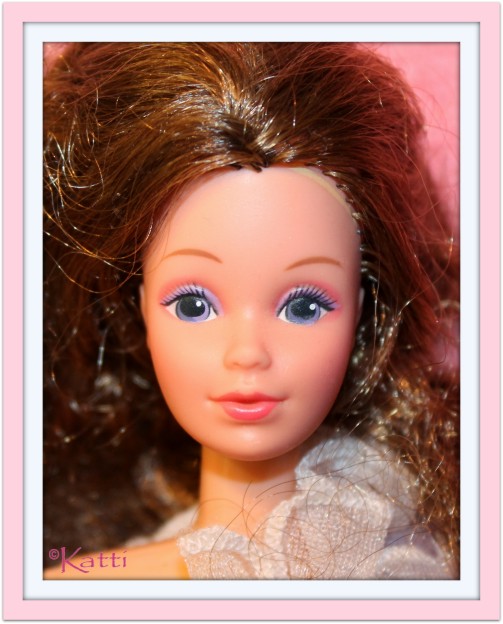 #7455 Sweet Roses P.J., 1983
Tracy

Seen only once, Tracy invited her friends to her wedding with Todd. Tracy was a brunette with green eyes. The colorings varied, depending on where and when the dolls were made.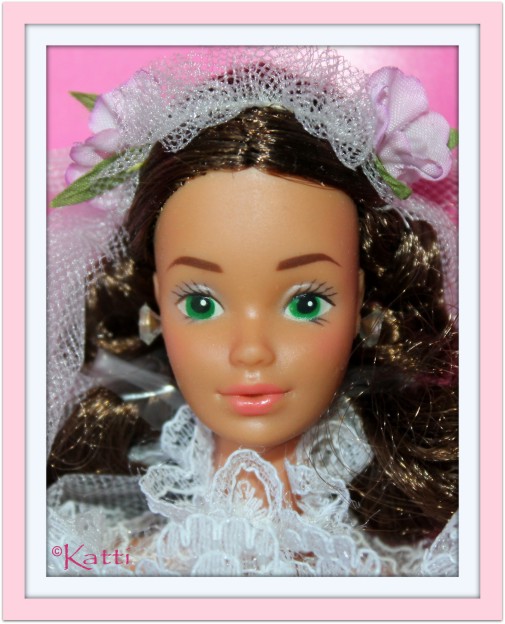 #4103 Tracy Bride, 1982
Midge

Midge's first change came in the 80's when she got the Steffie face after many years' absence. Midge had freckles and red hair in the two "Steffie" releases. California (Dream) with green eyes and Cool Times Midge with blue.
When Midge re-appeared for the fourth(!) time she was back into the Steffie face! The Barbie Dreamhouse girls suddenly got reacquainted with Midge when she came in from the 60's, knocking on the door in her "old black and white self". Was the world black and white back then?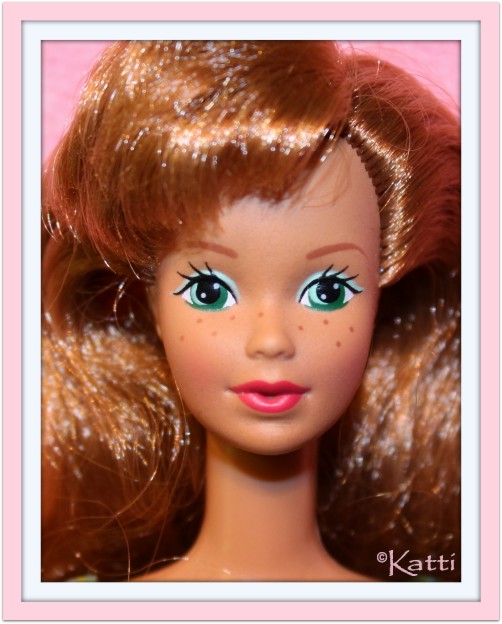 #4442 California (Dream) Midge, 1987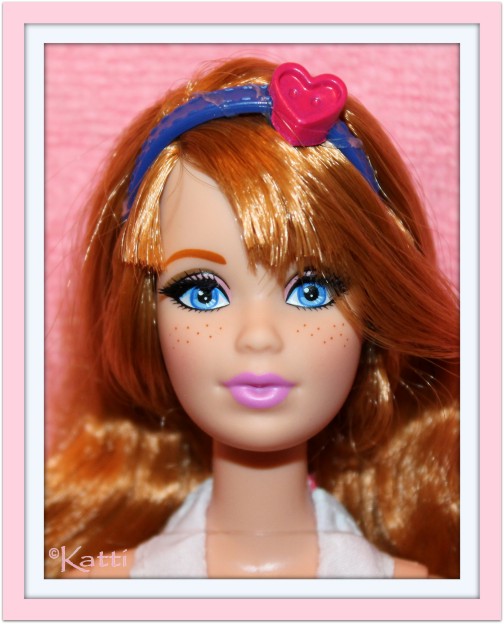 *
Dreamhouse Midge
Sold in a gift set with Barbie. Big cartoony eyes with rooted lashes.


Whitney/Laura

Whitney is Barbie's brunette friend from the nineties. In Europe she was renamed Laura.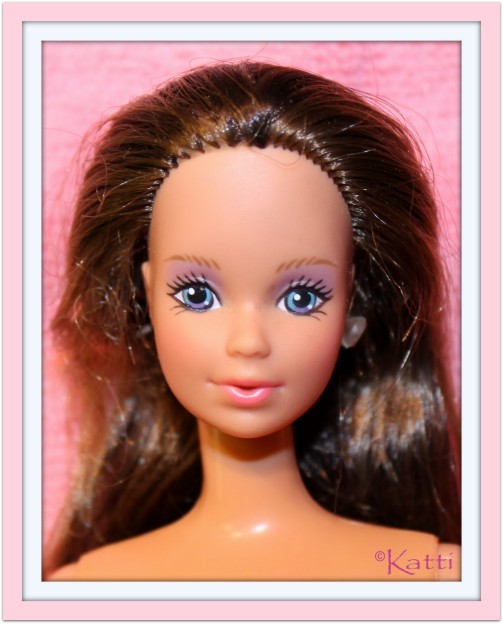 #3179 Jewel Secrets Whitney, 1986
She was sold as Princess Laura in Europe
Missing an earring here....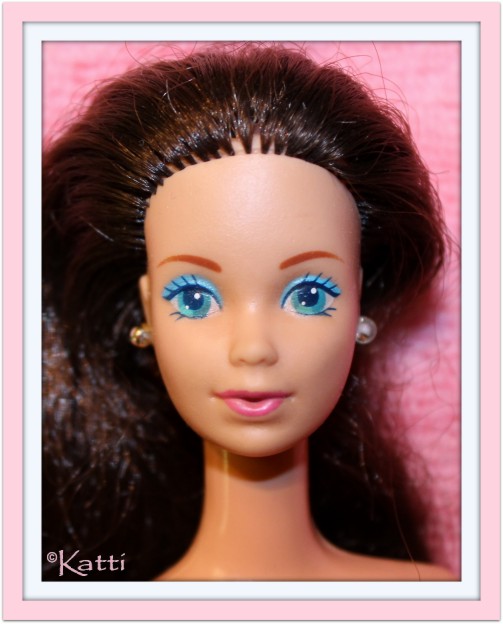 #4405 Nurse Whitney, 1987
Bought nude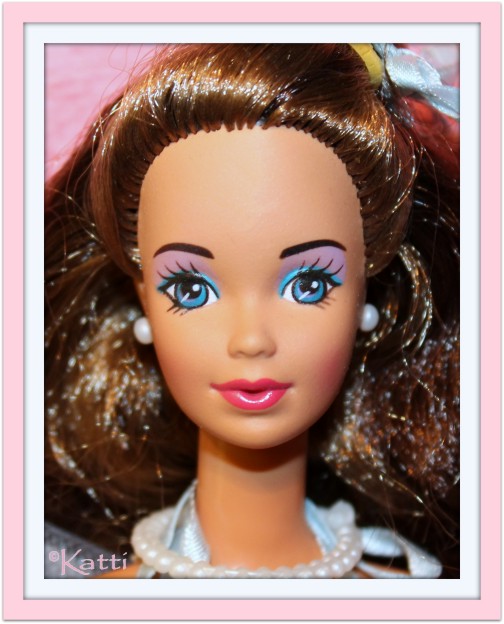 #4557 Perfume Pretty Whitney, 1987
Sold a Laura in Europe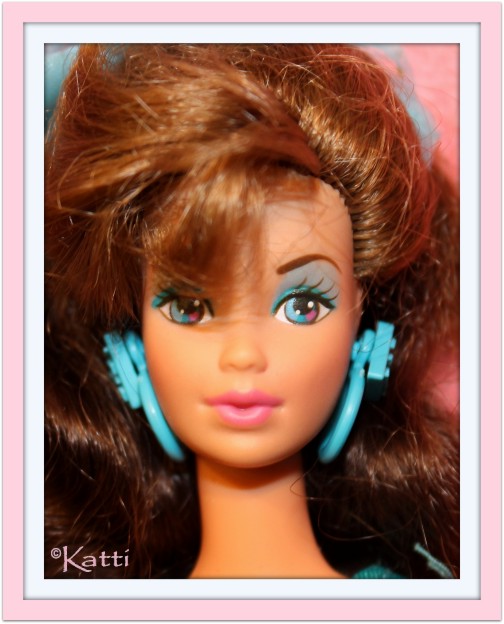 #1290 Style Magic Whitney, 1988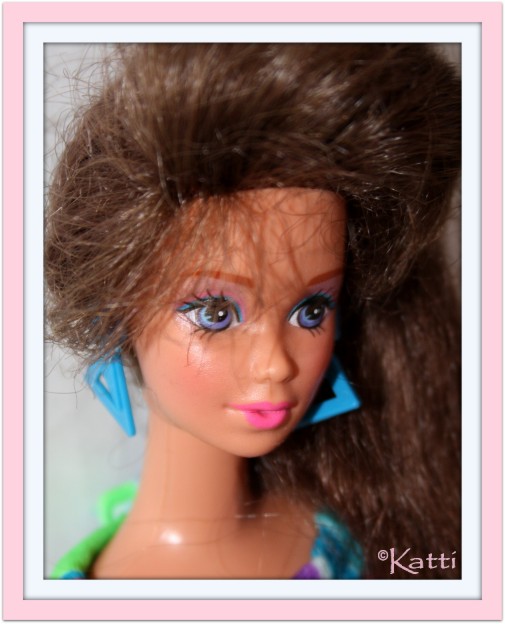 #7736 Ultra Hair Whitney, 1991
European release. The US never had Whitney in their Totally Hair line.
Tara Lynn

Seen only once, Western Stampin' Tara Lynn came stomping in from the Wild West in her red skirt and jacket and cowboy boots. With jet black hair, big blue eyes and China red lips, she was a favorite among OOAK artists in the 90's, from the time before people actually ripped the hair out to put in their own choice of color.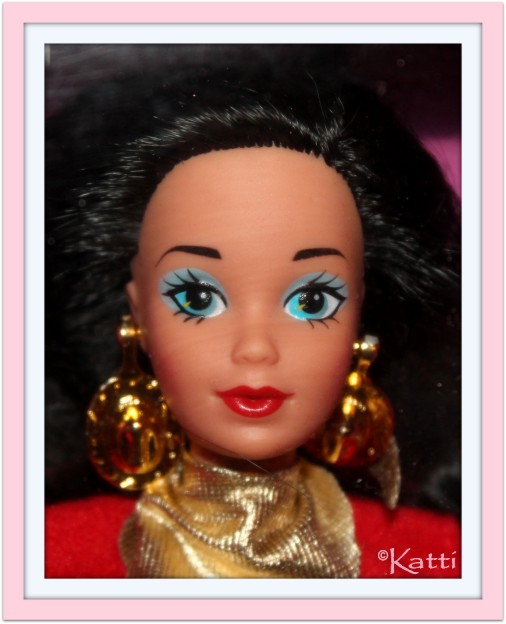 #10295 Western Stampin' Tara Lynn, 1993
Photographed through box plastic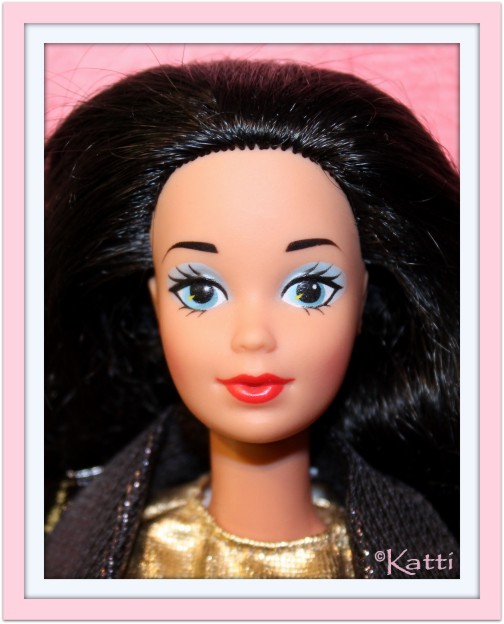 Tara Lynn
Redressed in a Hollywood Hair fashion
Reina

In Japan Barbie got a new friend in school, adorable Reina. Best Friends Reina. She has brown hair put up in two pigtails and huge cartoony eyes in brown and purple. The iris pattern is quite unique for these dolls.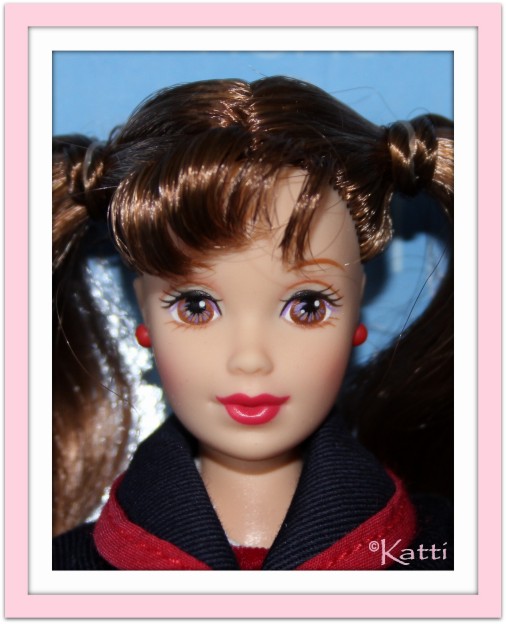 #23957 Best Friends Reina,
Japanese edition
Summer

The Top Model dolls had Model Muse bodies for walking the runway and we saw a new friend again. Or an old friend with a brand new face. Summer had Steffie's face and a light red shade of her hair. Three versions were made.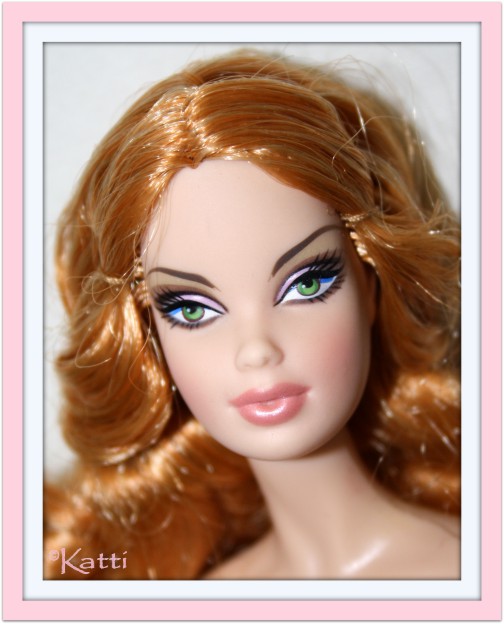 M3233 Top Model Summer, 2006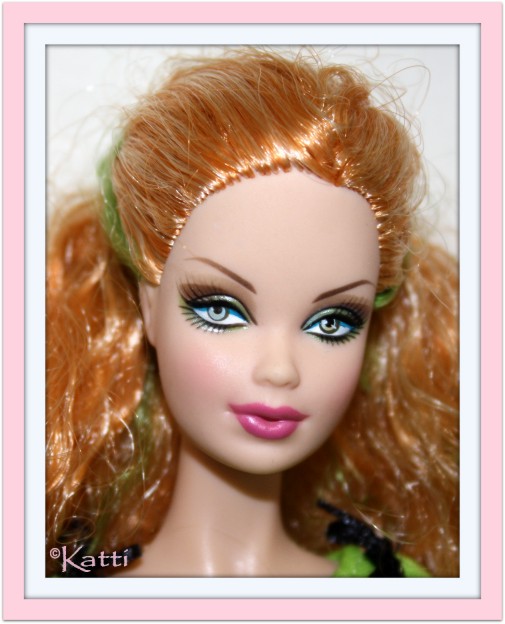 M5796 Top Model, Hair Wear Summer, 2007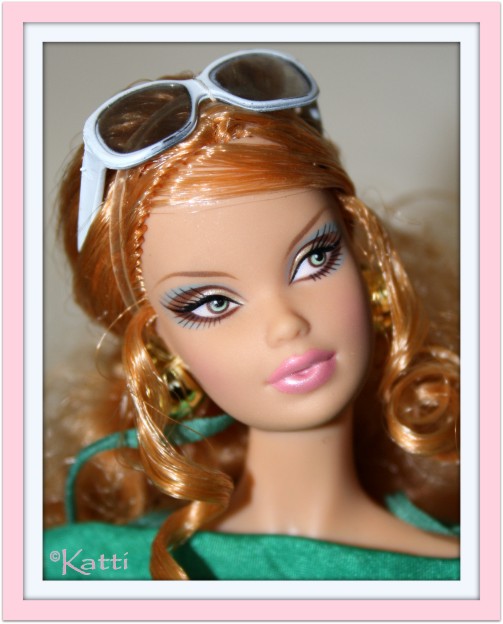 M5803 Top Model, Resort Summer, 2007


Miss America

In the 1970's there was a series made of Miss America. She had the Steffie face with rooted hair in brown or blonde and blue eyes. She was Walking or came with Quick Curl hair.

Quick Curl Miss America

Teresa

Teresa was made with the Steffie face, a few years between the Spain face and the sculpt, that bears her name from 1990. Teresa is brunette and redhead and has brown or green eyes. Huge eyes.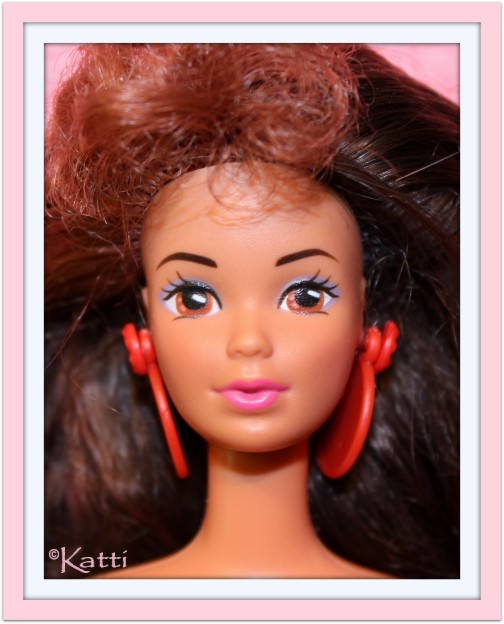 #9353 All Stars Teresa, 1989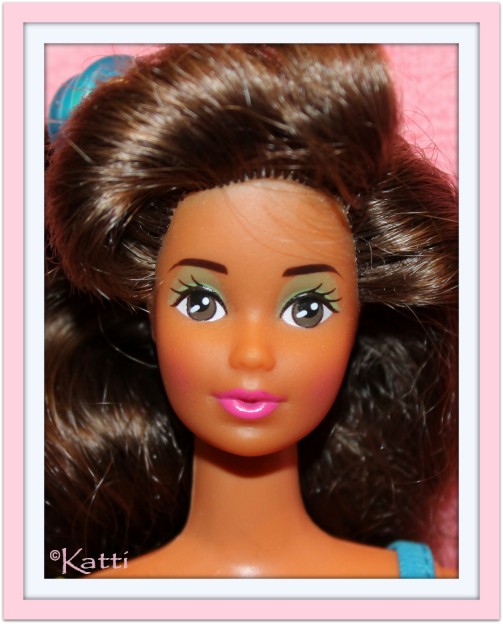 #4163 Wet'n Wild Teresa, 1989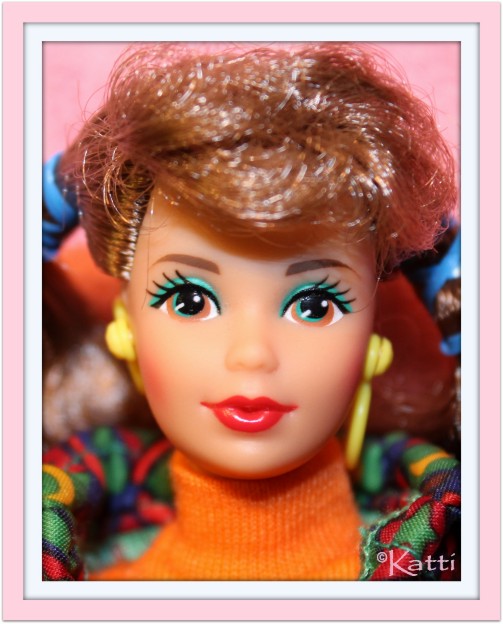 Benetton Teresa
European release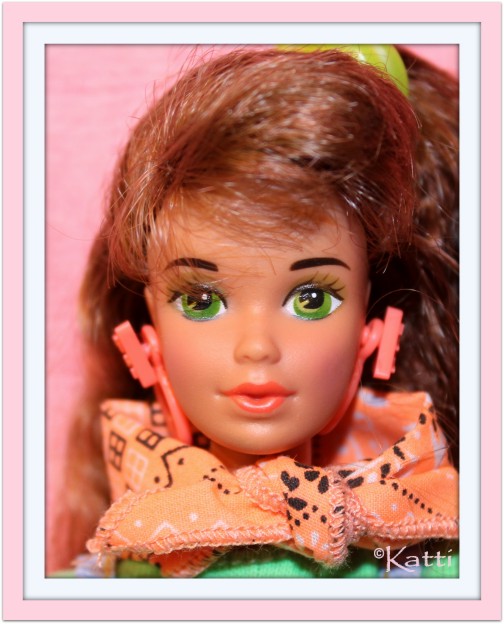 #9426 All American Teresa, 1990
Europe had a series called Weekend, with Adidas instead of Reeboks, but I am not sure Teresa was part of it.

Cara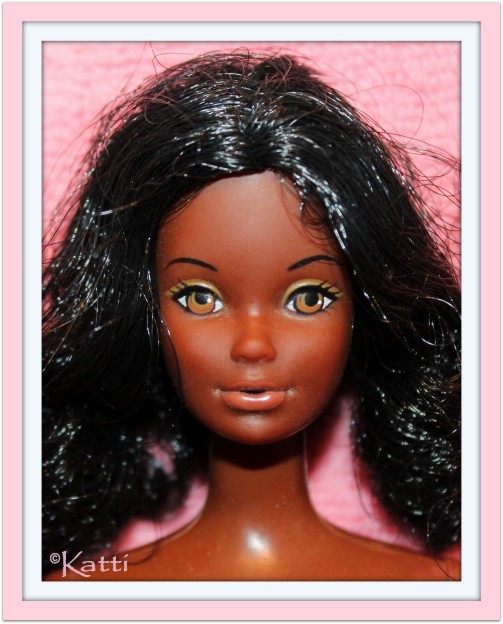 #7283 Free Moving Cara, 1974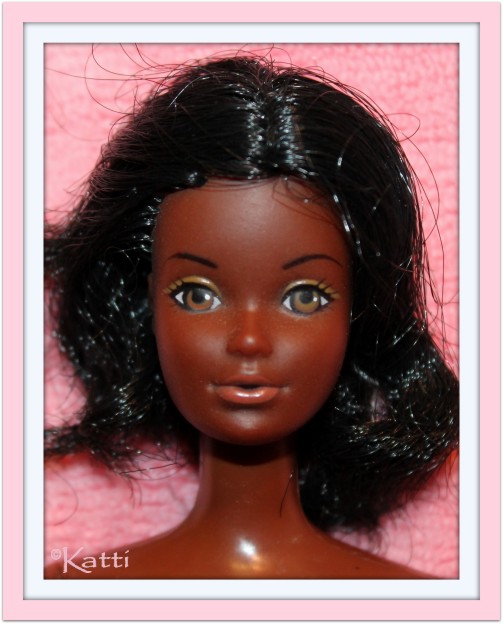 #7291 Quick Curl Cara, 1974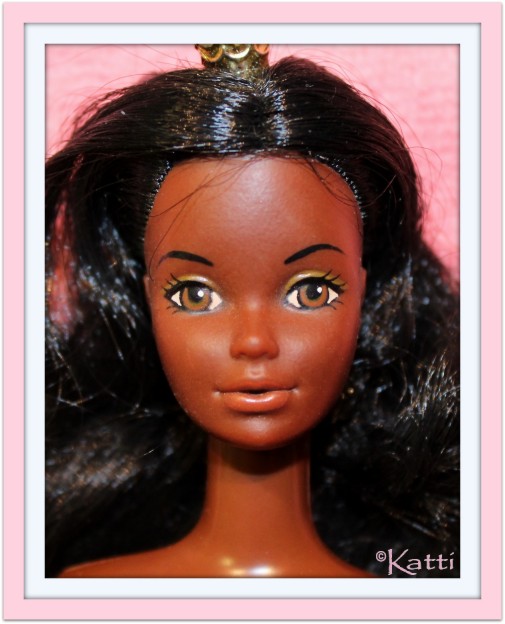 #9258 Ballerina Cara, 1975
Christie

After Cara was discontinued, Christie got to use the Steffie face a while. In Europe we had Ebony Christie, known as Black Barbie in the US. European dolls found in the flesh, or just loose are most certainly Ebony Christie. You just can't tell once they are out of their boxes.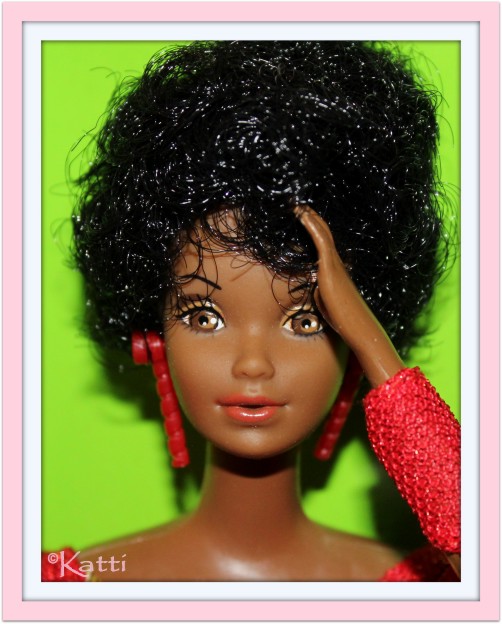 #1293 Ebony Christie, 1980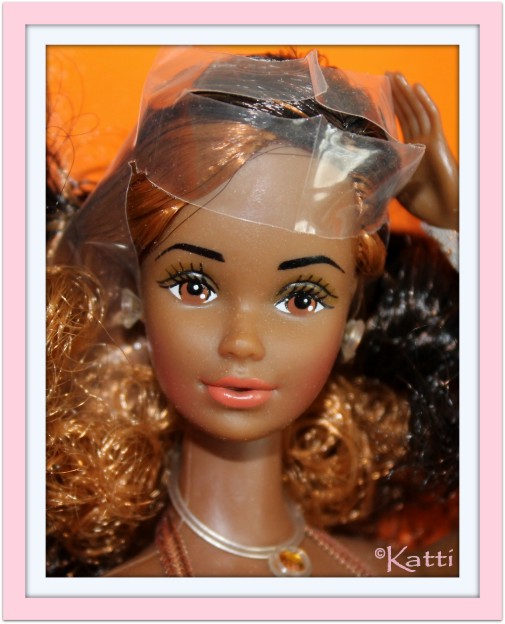 #3249 Golden Dream Christie, 1980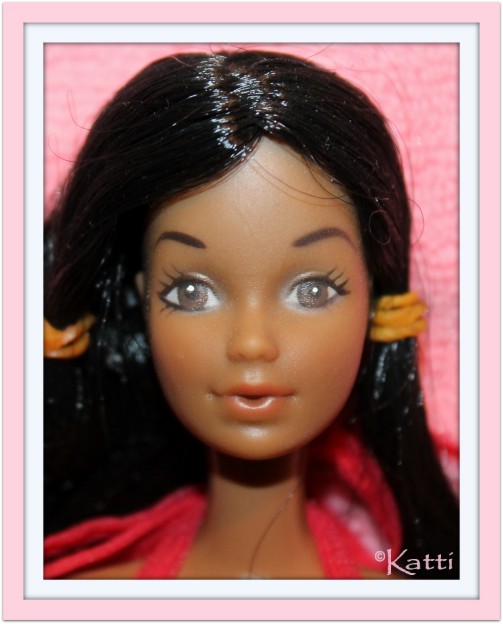 #7745 Sunsational Malibu Christie, 1981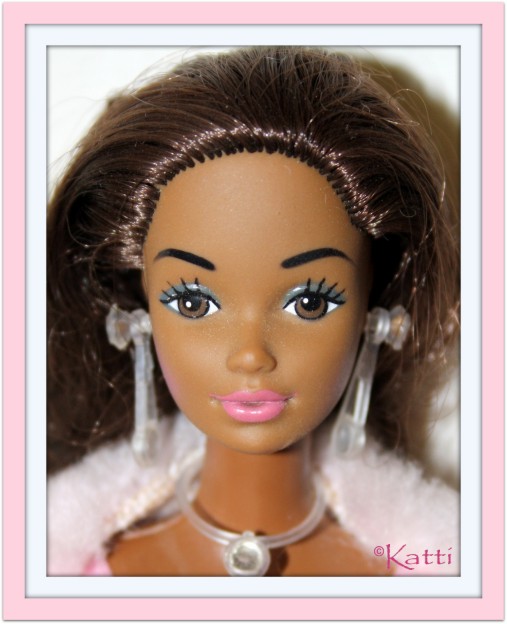 #3554 Pink'n Pretty Christie, 1981
Simone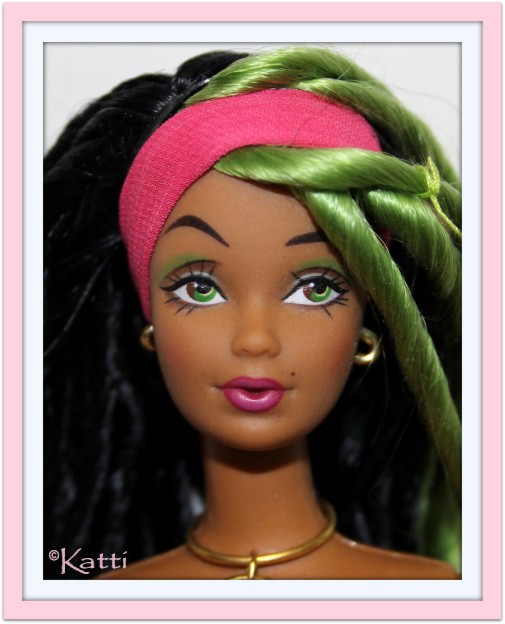 1 Modern Circle Simone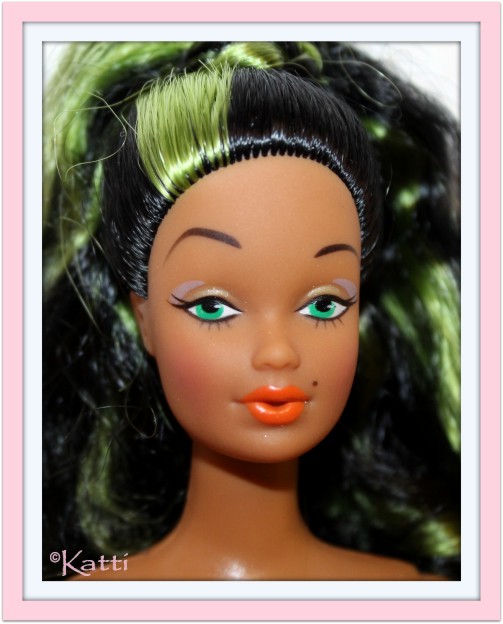 1 Modern Circle Simone
Stacie

High School Jazzie had a black friend named Stacie. She had the same teen body type as Jazzie but shared sculpt with Steffie.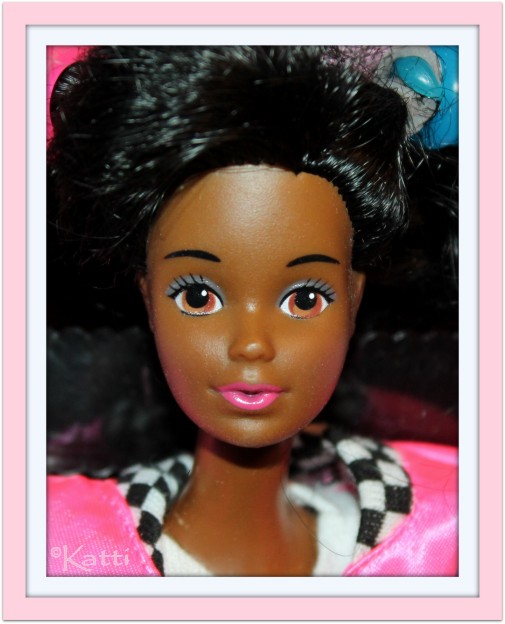 #3636 High School Stacie, 1988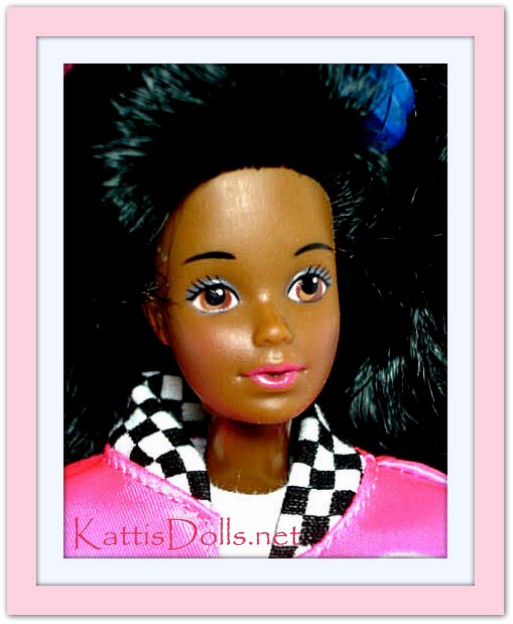 Doll belongs to/photo taken by and used by permission from Barbra Williams
Birthstone Beauties

This is the biggest series of dolls Mattel has made with one face. Birthstone Beauties from 2007. There are 24 of them - all made with the Steffie sculpt. 12 caucasian and 12 black (most of them rather light skinned). The caucasian versions have a huge variation in hair and eye colors. The AAs are most light skinned with brown or black hair. You need to see the eye shadow on most to determine which doll she is, unless she still wears her dress and jewellry.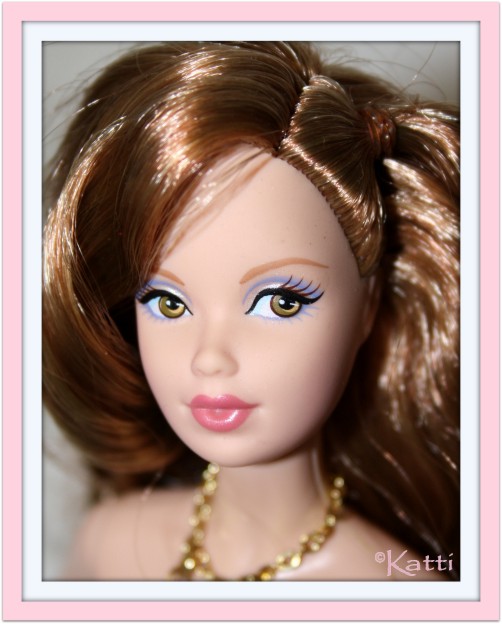 K8700 Miss Topaz - November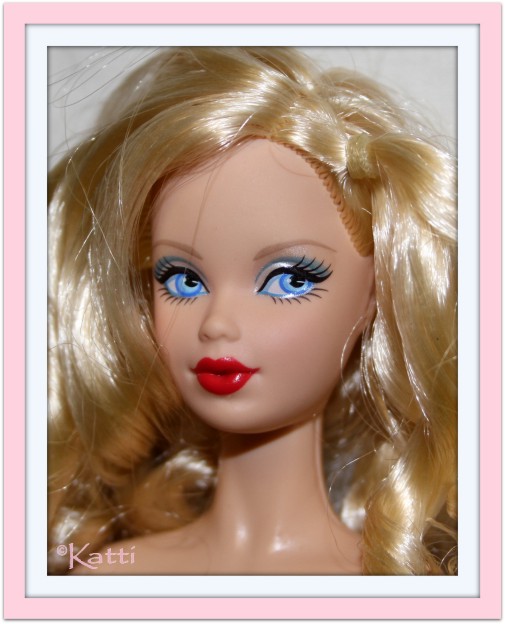 K8698 Miss Sapphire - September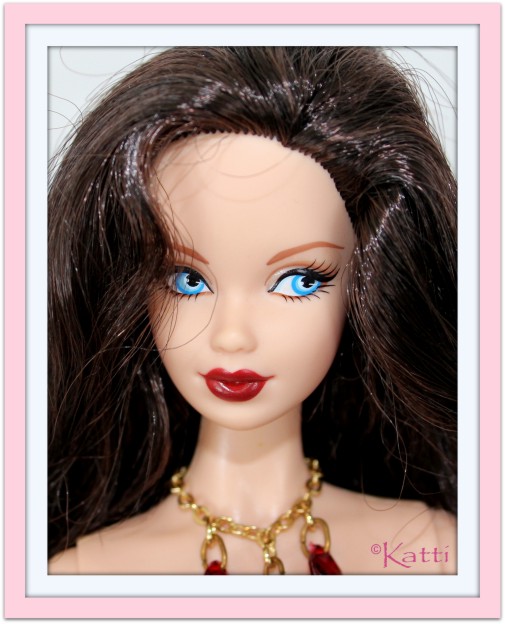 K8690 Miss Garnet - January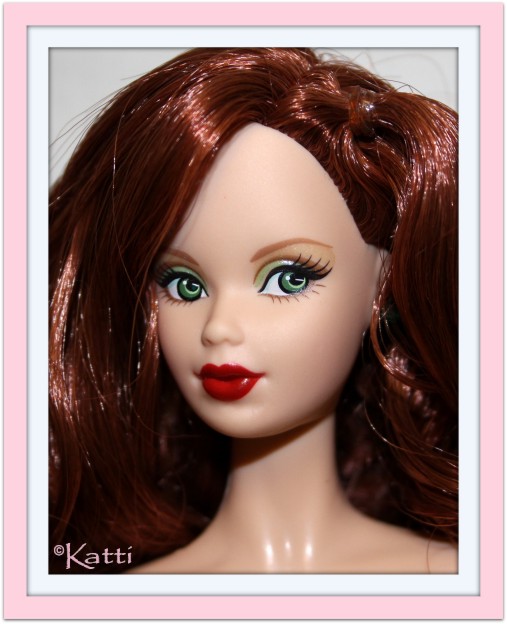 K8694 Miss Emerald - May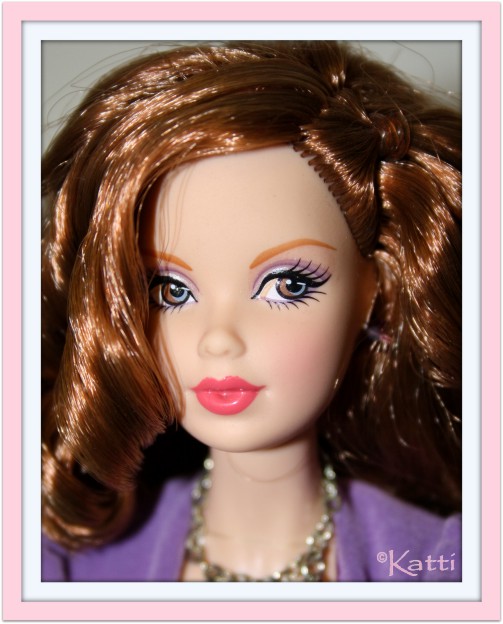 K8691 Miss Amethyst - February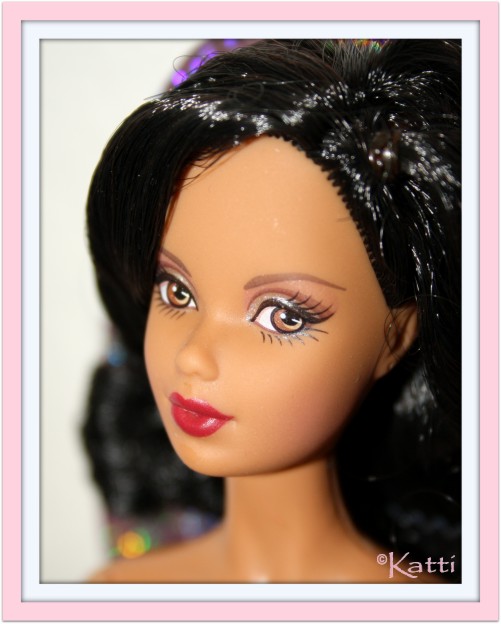 L7579 Miss Ruby AA - July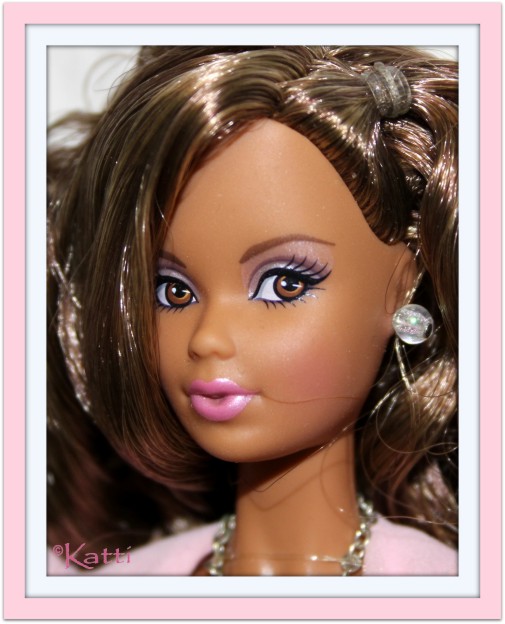 L7582 Miss Opal AA - October
Basics Model No 03

Barbie Basics, Model No 03 has the Steffie sculpt. She is part of five of the seven series, not present in the last (that only has five dolls) or the Jeans Metallic (only three dolls there). She has different hair colors in all versions. Brownette, black haired, blonde or redhead. Beautiful in all!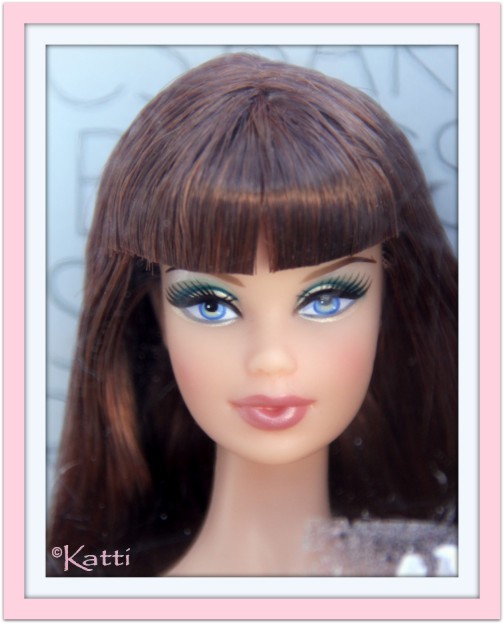 R9921 Barbie Basics, Collection 001, Model No 03, 2008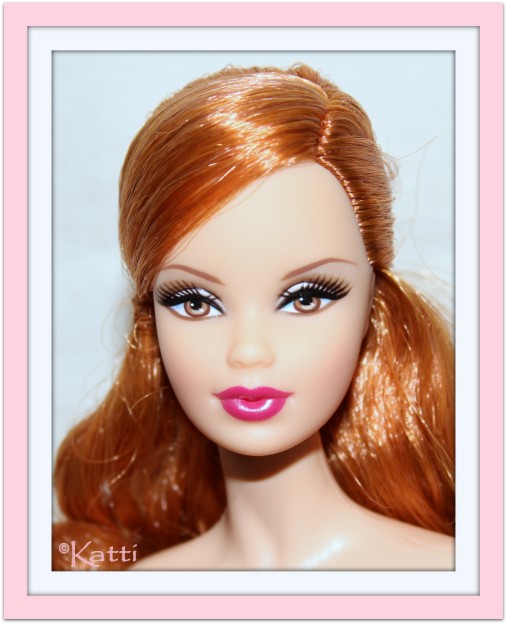 T2163 Barbie Basics, Collection 001.5, Model No 03, 2009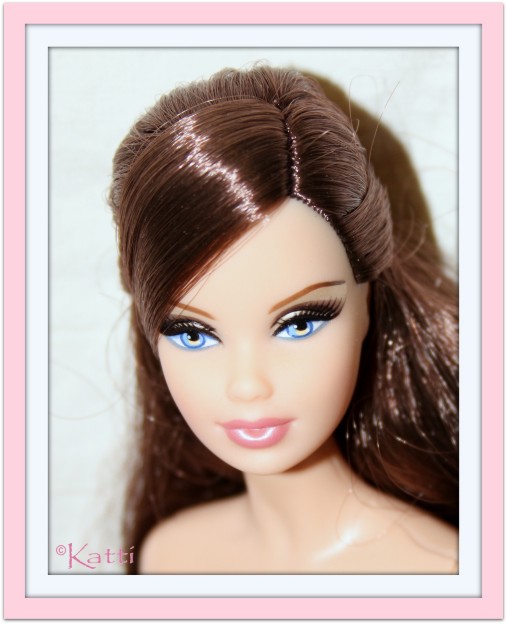 V0335 Barbie Basics, Collection Target Red, Model No 03, 2009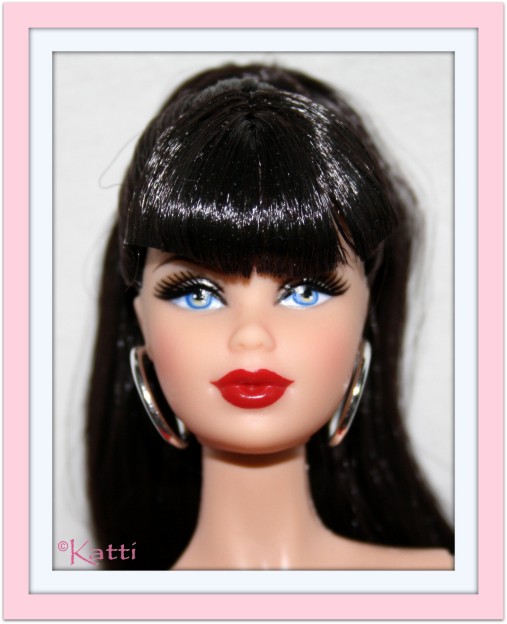 V9316 Barbie Basics, Collection Target Red Jeans, Model No 03, 2010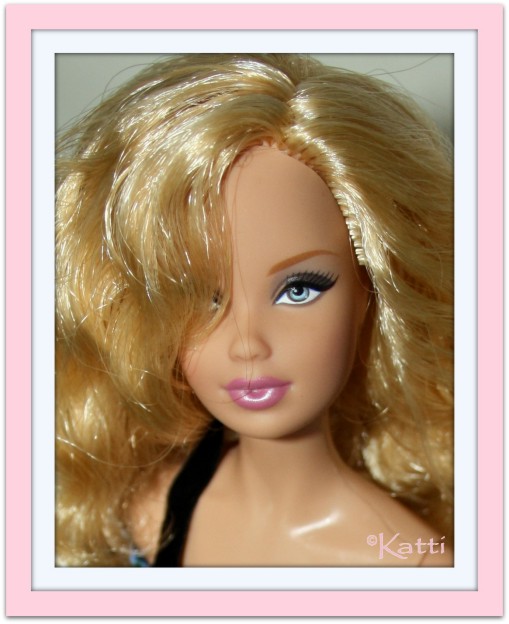 T7741 Barbie Basics, Collection 003, Model No 03, 2010

Barbie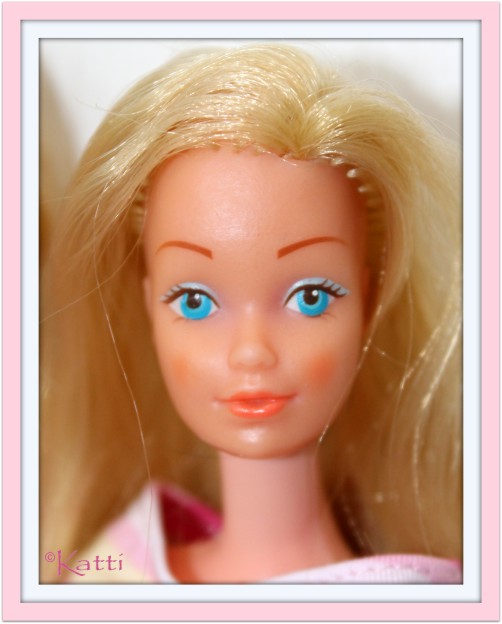 Barbie
European release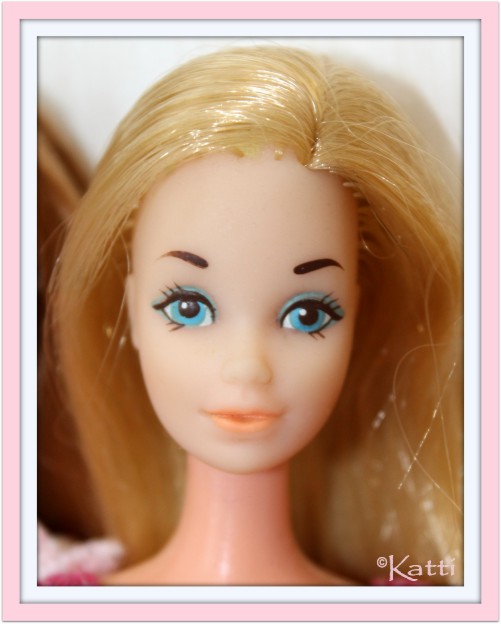 Barbie
European release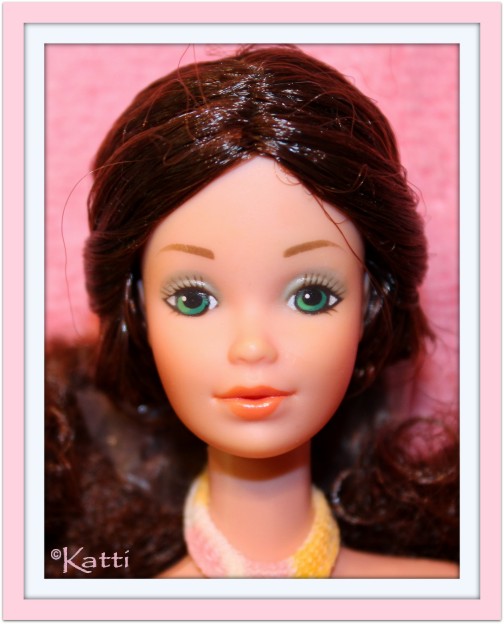 #7517 Dolls of the World - Irish Barbie, 1983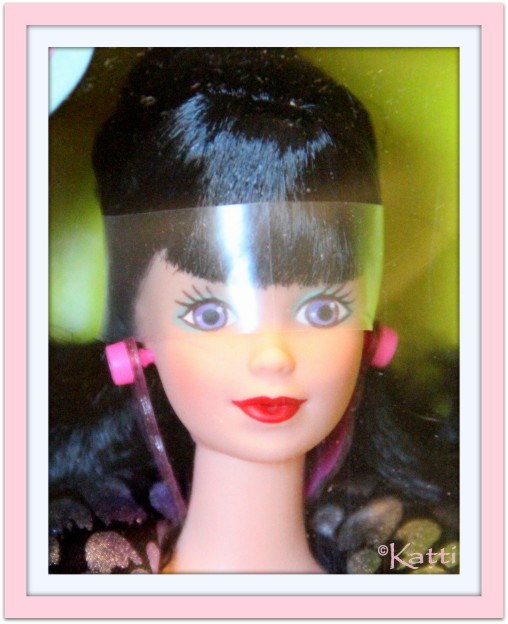 #3421 Feelin' Groovy Barbie, 1986
Doll created by Billy Boy
Photographed through box plastic
Barbie Hispanic

The first Hispanic Barbie doll was made with the Steffie face. This adds to the confusion of keeping Steffie apart from the Spain or hispanic face. I don't see how people can mix them up and mistake one for another. Steffie is so adorably cute!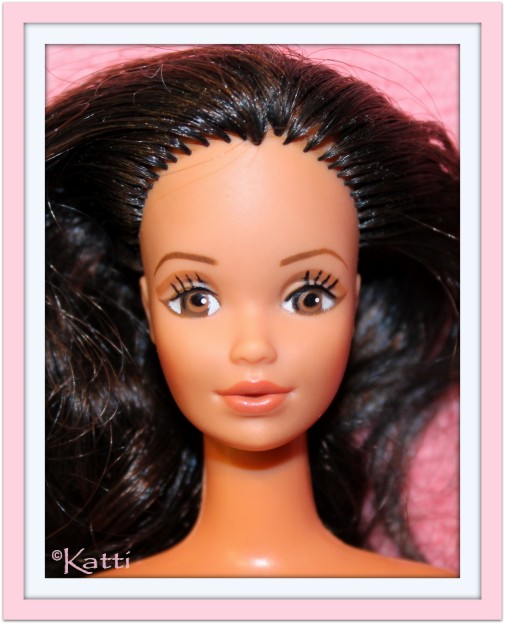 #1292 Hispanic Barbie, 1979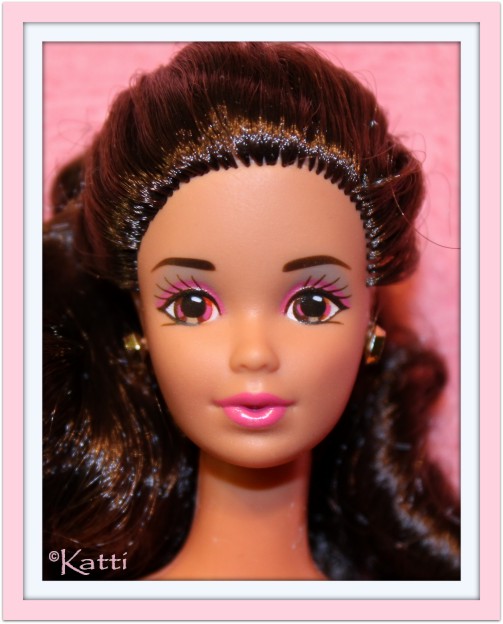 #2066 Flight Time Barbie, hispanic, 1989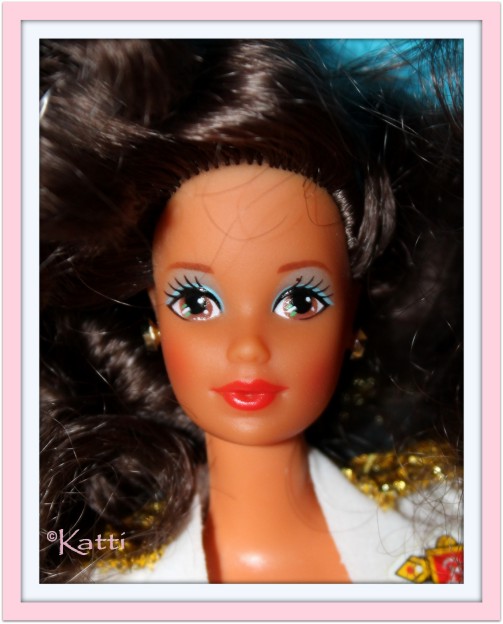 #7030 Summit Barbie, hispanic, 1990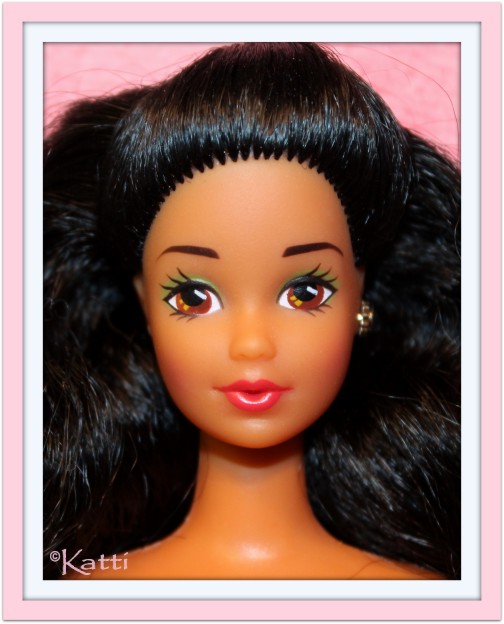 #5963 Dolls of the World: Spanish Barbie, 1991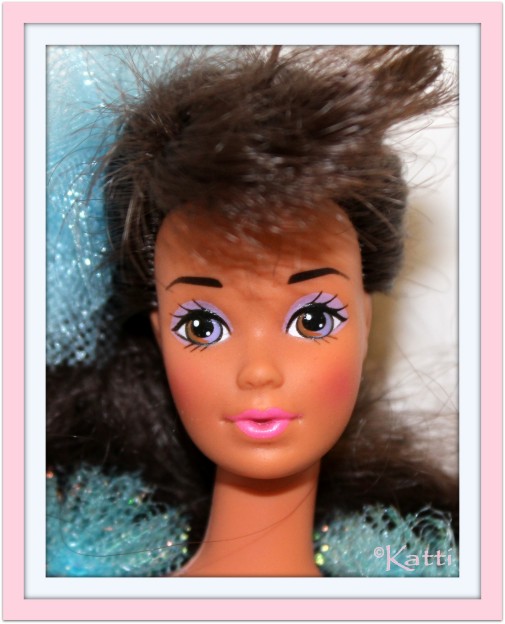 #3864 My First Barbie, hispanic, 1991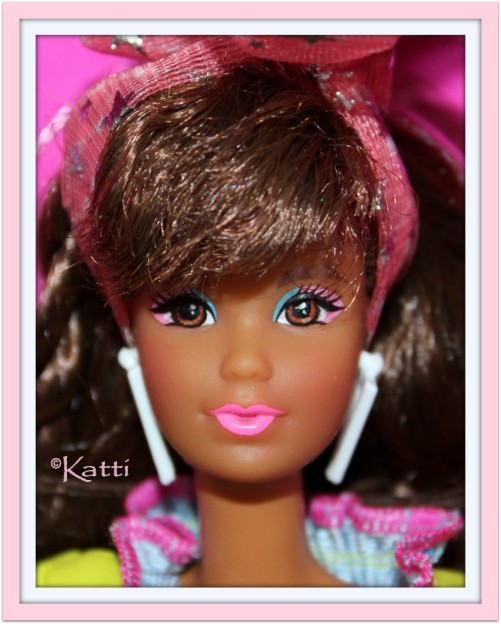 GTJ88, Rewind Barbie 80's Edition, ©2021
Hawaiian

#7470 Hawaiian Barbie, 1975
This girl was sold in a yellow grass skirt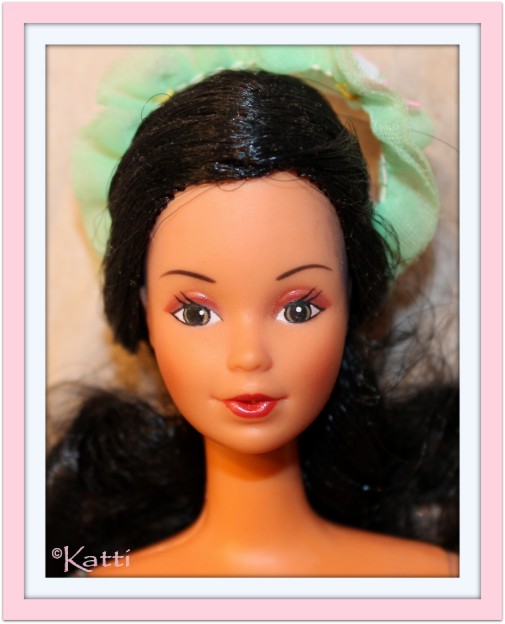 #7470 Hawaiian Barbie, 1975
Dressed in a wrap skirt over her bikini
Oshogatsu

Long after any Steffie faced dolls was gone from the regular Barbie line, two dolls were released in Japan. Oshogatsu Barbie. Happy New Year Barbie.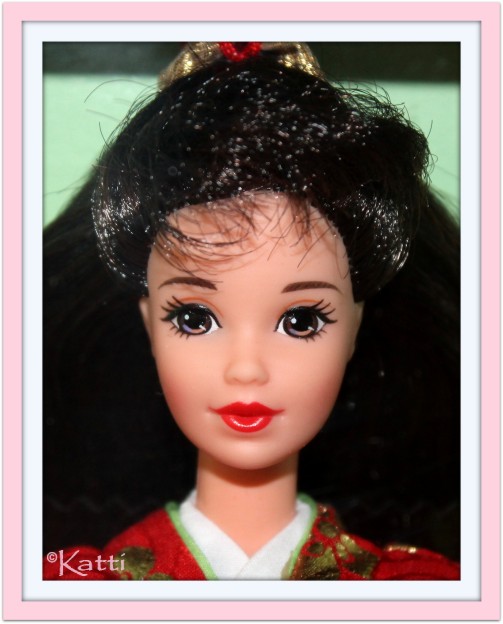 #14024 Oshogatsu Barbie, 1995
Photographed through box plastic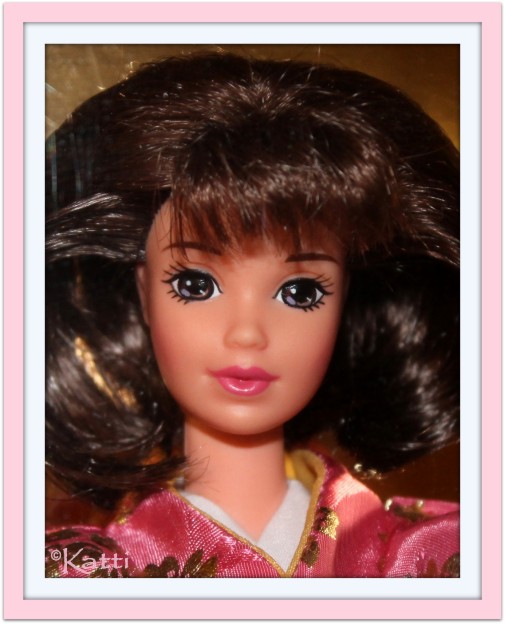 #16093 Oshogatsu Barbie II, 1996
Photographed through box plastic
Asian Goddess

Bob Mackie has designed a lot of barbie dolls. These usually features the Mackie closed mouth face but a few dolls have had other sculpts. Fantasy Goddess of Asia is one of them. She was the first in a new series and had the Steffie sculpt. China red lips and jade green eyeshadow. Lovely.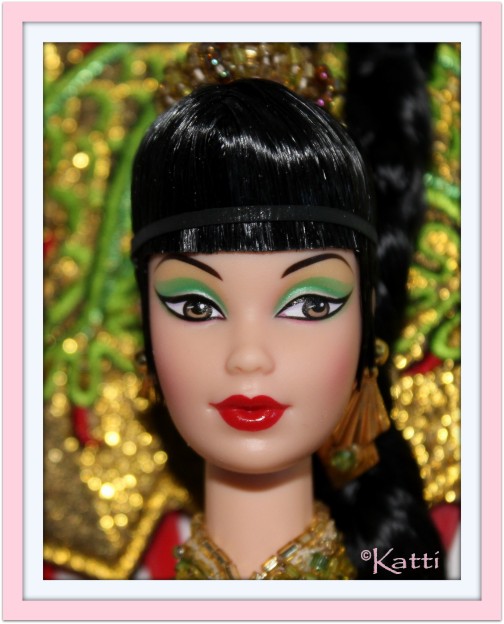 #20648 Fantasy Goddess of Asia, 1998
Bob Mackie: International Beauty Collection
Barbie AA

Black Barbie was the first black Barbie doll. The first time Barbie herself was black. As said above, Euope got Ebony Christie instead, which means if bought in Europe, the chance is higher the doll is Christie but I bought this girl from the US, so she most likely is a Black Barbie.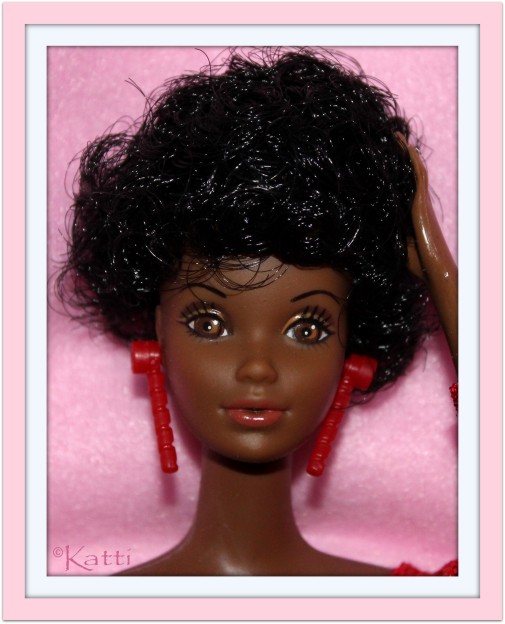 #1293 Black Barbie, 1980
Heart Family Mom AA

The black version of Heart Family Mom was made with the Steffie sculpt. There has been spotted a South American caucasian version doll with the Steffie face also, but she is rather scarce in the rest of the world.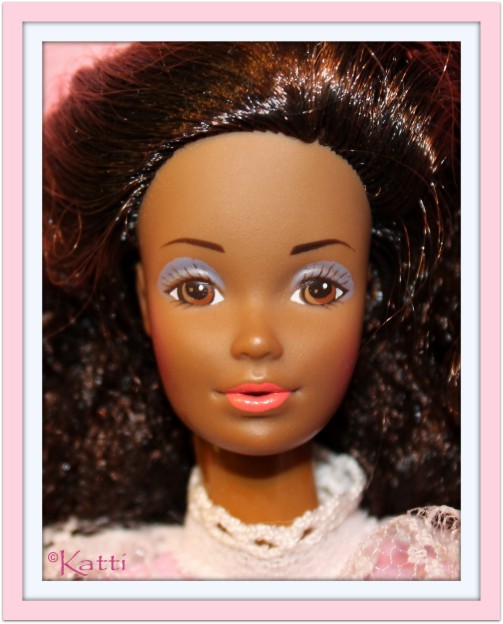 #2052 Heart Family Mom AA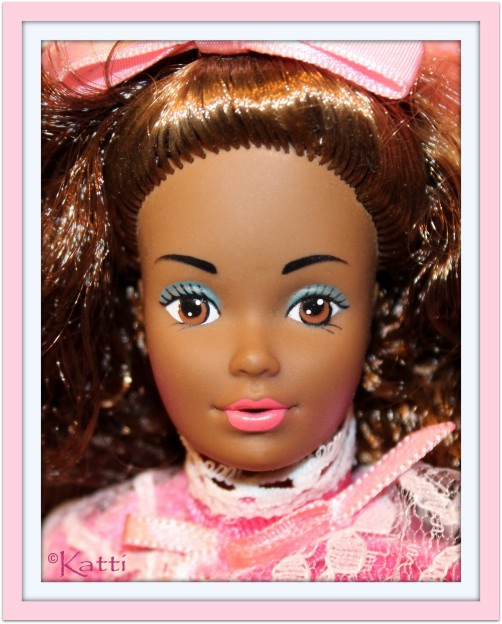 #1499 Heart Family Mom AA
New Arrival Set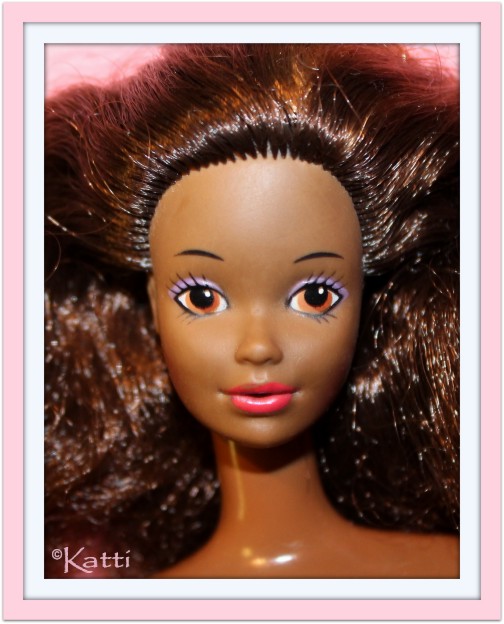 Heart Family Mom AA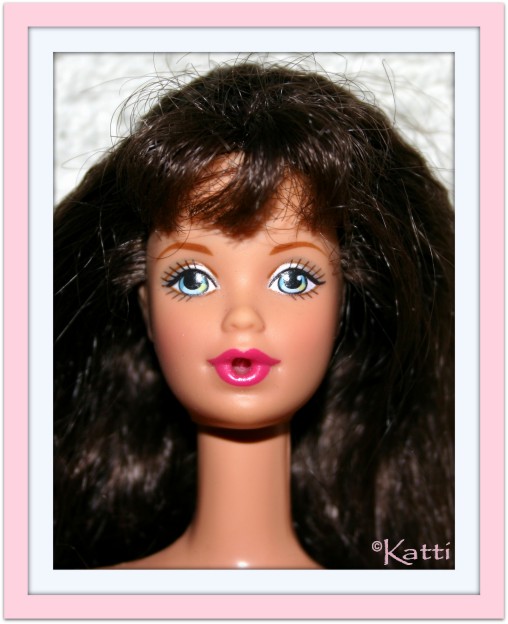 Birthday Barbie
The hole in her mouth is to make her blow up balloons
She has a naughty nickname among my fellow collector pals...
Some other sets where this face can be found:
Dolls of the World: Parisian I & II, India I, Peruvian, German I