SWAP 2
This is my second SWAP. I wanted to do a private SWAP with another member of KellyKlub, Shelly Norrick, of Norrihollow Custom Creations as I have loved her work since I first saw Dizzy, Shelly's wonderful Li'l fairy, which I'm now the proud owner of :-) After seeing one of her Centaurs I wanted one too and asked if she was willing to make a private SWAP, and Yes. So here is my doll to her: Snow White.
Under "construction".

Poor Jenny lost her head waiting for a haircut and some styling to get rid of the high ponytail.
Partly assembled dress.

It's made of satin in red and royal blue for the bodice with the sleeves lined with a golden ribbon. Velvet in dark blue lined with red satin for the cape and a piece of an old dress in golden yellow/white for the skirt-part.
The final result: Snow White, my SWAP-doll for Shelly.
Snow White is made out of a european Jenny-doll. Great as I didn't have to do much else than cut her hair a bit.

It's a bit hard to see any details. The apple in her hand is made from a bead I snitched from the kids' room. A broom stands to the left wall. Just inside the door is a turtle lurking at Snowie. You remember the little guy that followed her when she was washing clothes but never made it? On the bed (that my husband made!!) is a mirror.
The background is made in Power Point with pictures from Disney Clipart.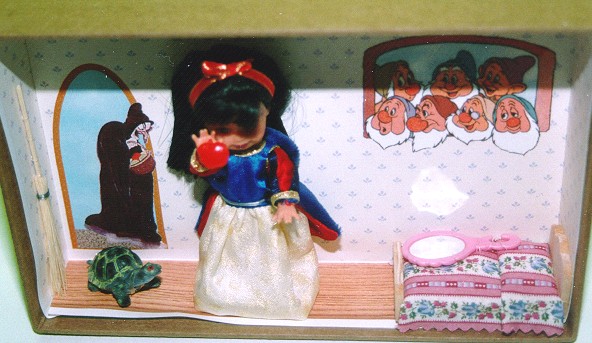 Here you can see the turtle and the beadspread with the mirror ontop.
---
Home | Site Index | Kattis Design | Show Room | Li'l Pages | Swaps | Katarina
The Dollhouse | Faces by names | Faces by molds | Other Dolls | Fun Stuff | Links
---