SWAP 13
Charlotte, Jason and Ali - Margie's lovely group of three Siblings.
---
Charlotte, Jason and Ali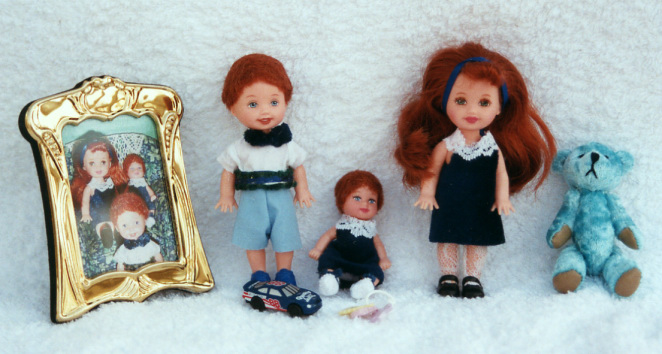 Margie made me not two siblings but THREE and they are so wonderful!
Charlotte got rooted eyelashes and Jason and Ali both got flocked hair - all in the same
gorgeous red color!
Here's the story behind the siblings:

"Charlotte, Jason and Ali are having their family portrait made for their mom and dad to hang above the mantel. They have to sit very still and smile for the photographer. When the sitting is over, their mom rewards each of them with a new toy for being so good.
As Jason plays with his new car, he says he'd like to have his portrait taken again - if it means another toy!"
---
Home | Site Index | Kattis Design | Show Room | Li'l Pages | Swaps | Katarina
The Dollhouse | Faces by names | Faces by molds | Other Dolls | Fun Stuff | Links