This is an interesting product made by Mattel. We have this chain-store in Sweden that sell overproduced products and leftovers from other Swedish stores as well as from foreign. A couple of years back I ran across one of these dolls and I realized he looked just like Ken did in the 80's and he caught my interest. I couldn't resist them so I bought all the different dolls that were on the shelves; two black dolls and three white male dolls. Later I found the three white female dolls and now have four complete families. There is also an Asian couple out there somewhere. This series is called Family Corners® and the dolls are 7" tall.



These boxes brings a lot of fun. The girl dolls have their own "house" in plastic with fold-out cardboard walls and stickers with flowers, a wedding-portrait with only her on it (!) and other decorating things. The guys brings more parts to the house, as a nursery and a wedding chapel and more stickers including his part of the wedding-
portrait. He also brings a little baby to the future family to be. All the dolls wear a casual outfit but also have a wedding-gown/-suit included in the box. You can choose which bride should marry which groom since it's not static, but the front door of the girls' houses shows the back of a guy and you see who it is on the color of his hair and his dress suit.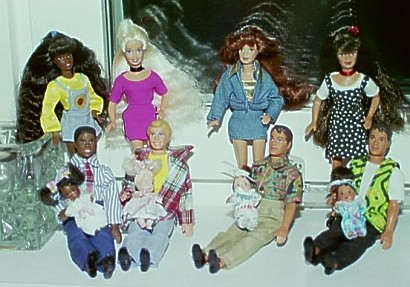 The dolls' faces as I said is quite resembling the larger Barbie-doll and her friends. The ones I have are made with three plus three different headmolds. The blonde Becky has a smaller variation of the SuperStar headmold, her friends Melody and Lacey looks like smaller copies of Midge and Teresa with a closed mouth mold, the black Nichelle-doll looks like the 11½" Asha. Nicholas is the reincarnation of the Ken-doll, his friends Ryan and Joey looks a bit like a mix of Alan and Derek, and the black Kurt looks like a little Steven-doll. The Asian girl Traci looks just like Kira, but the Asian guy Derek has an all new mold (I've said earlier we want an Asian Ken-size doll!).
The baby-girls are adorable with molded hair (in the color of their father's) and rooted ontop, drawn together in one or two pony/pigtails. They are sooo cute! It's a nice idea that the male doll brings the baby.