I own a few Candi-dolls as I think they are just beautiful and fits right in among my other dolls.

I have that beautiful brunette Christmas Candi from '97 that MiKelman designed the dress for. She's wearing a red dress, the blonde and redhead wear blue gowns.

I also have one of each facemold except the Hispanic so far, but I hope she will join the group very soon!
In other words you can see photos of an Asian Candi, an African American Candi (two really, the one with that red hair too), a Swedish Candi - Welcome home! :-), a Danish Candi (almost at home) and a China Girl.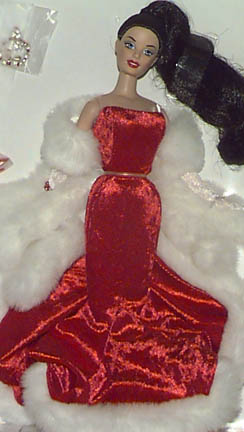 The brunette '97 Christmas Candi -
isn't she beautiful?
Swedish Candi with rerooted hair.
Gown by MiKelman.
These are my Candi-dolls:
African American
This is the one dressed in a short red jersey-dress.
Asian American
Same as above, but dressed in white.
Swedish
Lacey Secrets Candi in a white lingerie.
Danish
Lacey Secrets Candi in a multicolored flower print lingerie.
China Girl
MiKelman's gorgeous makeup and Helena Hamilton's designed outfit.
Ethnic Signature
A drop-dead gorgeous redhead in green layered tulle gown.
Christmas Candi -97
The beautiful Swedish facemold with black hair and red gown, seen above!
---
Home | Site Index | Kattis Design | Show Room | Li'l Pages | Swaps | Katarina
The Dollhouse | Faces by names | Faces by molds | Other Dolls | Fun Stuff | Links