The Island Princess ©2007
Barbie in the Island Princess is one of many movies starring Barbie and her friends. The young Ro ends up on an island after a shipwreck and gets help from some animals living on the island. Tika the elephant baby, Sagi the red panda and a peacock.
There were a few sets with Kelly dolls sitting on elephant backs. They are dressed as Rosella/Luciana, but can as well be Prince Antonio's sisters Rita, Sofia and Gina as they wear similar dresses.
The dolls were sold in separate boxes with their elephant in different colors, as well as in a 3-doll/elephant gift set. There is also a set with Kelly and a friend with Tika, the elephant whos trunk can be used as a swing! These dolls have magnets under their feet so they can stop in the saddle/chair on Tika's back.
I only have one doll in box (yet), myself. These were released during a period where my collecting was put on hold and sets were expensive. The girls came in two versions, with one AA set as well, no photo of the purple AA.
More and detailed photos in my (Swedish) blog.
© Dolls and photos all belong to me, unless otherwise noted.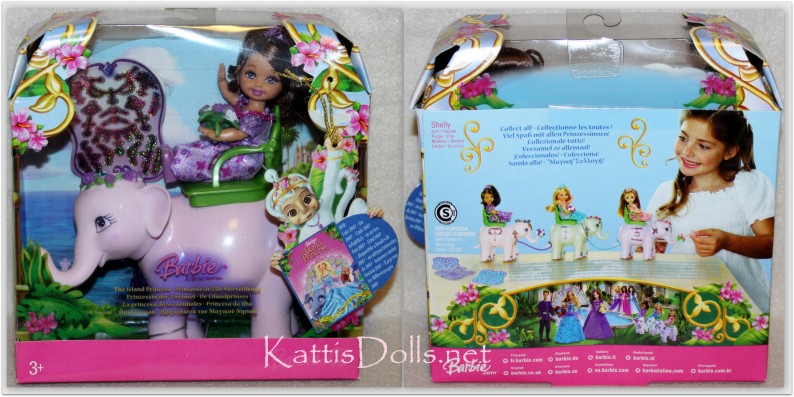 The Island Princess Shelly/Kelly, ©2007
Asst. K8109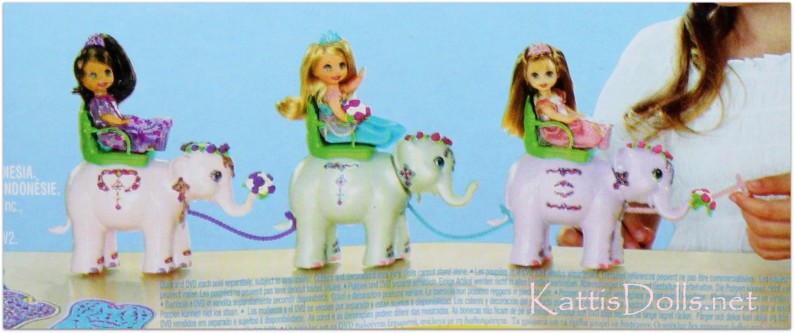 -