Tommy as Elvis ©2003
In 2003 Sharon Zuckerman designed a set of three Tommy dolls dressed and styled as the King of Rock'n Roll, Elvis Presley. Three of his signature stage and movie costumes made it into this tiny set of mini-mes.
Dressed in black trousers and jacket with white stitches, over a black and white striped shirt, Tommy Rocks the Jailhouse down. In 1957 Elvis did the same in one of his 33 movies, Jailhouse Rock. Tommy's hair is black and combed back with a fringe in the front.
The second outfit is designed with the scene costume Elvis wore in a concert in Toronto in 1957, as the King of Rock'n Roll he is. Gold and silver, with golden boots. Extravaganza deluxe.
The last but not least in any way, is a Tommy doll wearing one of Elvis' last stage and scene costumes, the Eagle Suit he wore, during the biggest online concert the world had seen. Sent via satellite out through the whole world, we could se Elvis perform his Aloha from Hawaii in 1973. This was one of his lavish Vegas costumes with a huge belt buckle and lots of sequins on his white suit with flared legs.
More and detailed photos in my (Swedish) blog.
© Dolls and photos all belong to me, unless otherwise noted.

B3465 Tommy as Elvis, ©2003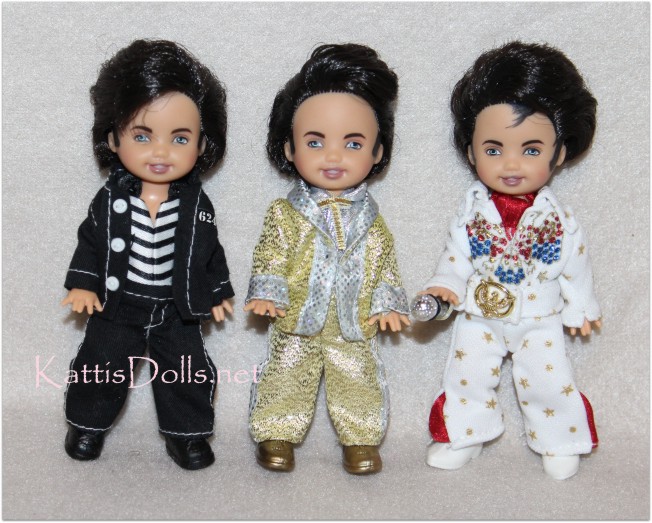 -