Kelly Dream Club Video Gift Set ©2002
The Kelly Dream Club Kelly and friends could be seen in Kelly's "FIRST EVER" video. On the VHS cover one can see some of the dolls from the Dream Club series that takes part of the adventure. These sets came in the time of video changes from VHS to DVD so they came with either.
The Video Gift Set came with two dolls, one princess and one fairy. There is a Sapphire Fairy Chelsie in blue and gold, with a golden staff with a big "sapphire" at the top. She has a golden butterfly necklace and a golden tiaras with a "sapphire" in front. Princess Kelly is wearing a pink dress and a golden heart necklace and a big golden tiara. The AA set have an Emerald Fairy Keeya in green and gold. Her staff of course has an "emerald" at the top and also her golden tiara. Her tulle skirt is adorned with flowers. The Princess Keeya wears an orange dress with a rose at the hem. Both girls wear a golden flower necklace.
More and detailed photos in my (Swedish) blog.
© Dolls and photos all belong to me, unless otherwise noted.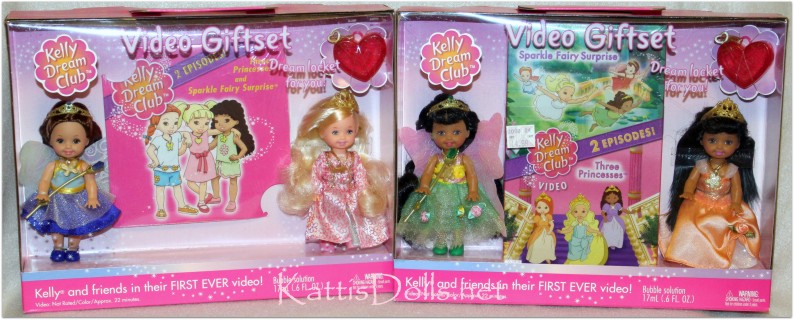 B2147 Kelly Dream Club Video Gift Set, ©2002 | B0303 Kelly Dream Club, Video Giftset AA (VHS), ©2002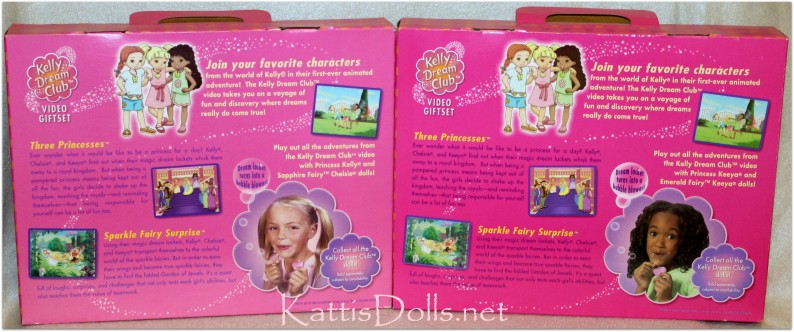 B0302 Kelly Dream Club, Video Giftset (VHS), ©2002