Kelly Friends of the World 2002
Joining the much loved Dolls of the World Barbie series, Kelly got a set of her own with three dolls dressed in costumes from around the world. You had a Spanish girl in a gorgeous pink satin gown with black polkadots and black lace. She had a golden fan in her hand with a matching hair decoration. Spanish Kelly have dark brown hair with brown eyes and golden hoops in her ears.
Dutch Kelly wears yellow clogs (what else should there be?) to her simple blue dress with flower apron and matching kerchief. She has blonde hair and freckles sprinkled across her nose. The third girl comes from Kenya and brings a tiny lion cub with her, dressed up as a grown Lion with a loose mane. Kenya Kelly is gorgeous in black, flocked hair, dark red lips and a kente inspired plaid dress with a pair of simple black sandals. Her pearl necklace and hair strands are printed on vinyl. She has red pearl studs in her ears.
More and detailed photos in my (Swedish) blog.
© Dolls and photos all belong to me, unless otherwise noted.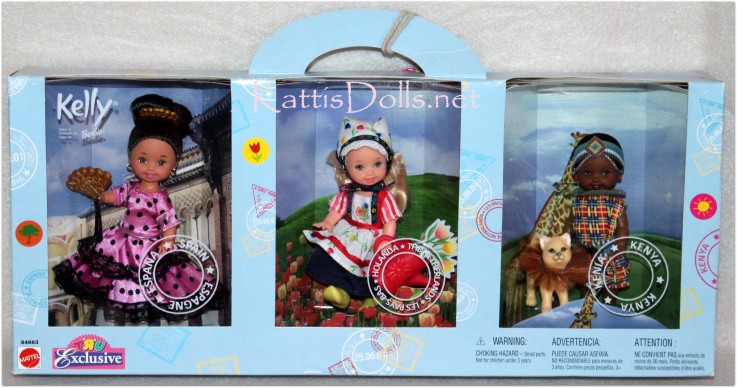 54863 Kelly Friends of the World, ©2002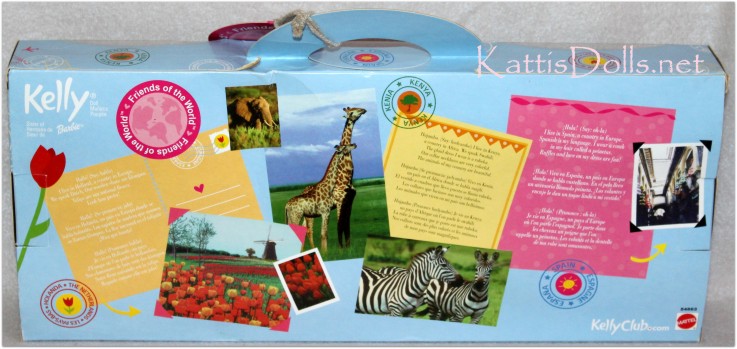 -