Kelly Club: I'm an Ornament too! ©2001
As a huge Christmas fan I was delighted the day Mattel released the first set of Kelly dolls donned in Christmas costumes. These dolls double as christmas ornaments with a ribbon in the back you can use to hand them in a tree, if you wish. Chelsie took me years to come by, due to weather disasters and other mishaps in the US, but my set is complete. These were never sold in Europe, only throughout North America (South too?, Mexico perhaps). The two first sets are marked ©2001 but I believe they were sold in two excecutive years, as I have no boxes marked ©2002. I don't remember which dolls belonged to which set/year, but I have put them 8 for first batch and 6 for second. This batch have one Caucasian and one AA counterpart for all the dolls. I have always been biased to the AA versions so I adore this whole setup.

We have Chelsie and Keeya in reindeer costumes with Rudolph red noses and cardboard antlers printed with christmas lights. They wear black shoes. Their box liner is showing some of Santa's reindeers.

There are two angels out in a winter wood landscape, wearing long, light blue gowns with a gold band tied around the "high waist" and tulle wings in white/gold. They are Desiree and Maura/Lorena. I have the Canadian version, so mine is Maura. The Angels have cardboard halos and the cutest, very long, curly Princess Leia sort of bun pigtails. There is a small cardboard christmas tree included in their box.

Then we have Kelly as an Elf in two skincolors. They are in Santa's Workshop, with Gifts all around them and they have a side glance to watch it all. Their elf costume has a white top with green velvet collar, under a pair of same-green-velvet pants with red and gold straps/suspenders, like lederhosen, red and white striped socks and sewn, black felt shoes. A high Santa hat on their head.

Last, but not least we have a Caucasian and AA Tommy as the cutest Snowmen. Mattel didn't give him a top hat, other than as a cardboard piece in a corner, but his snowman costume is fat and fluffy, as should be. They wear a long green scarf, black mittens and black shoes.
More and detailed photos in my (Swedish) blog.
© Dolls and photos all belong to me, unless otherwise noted.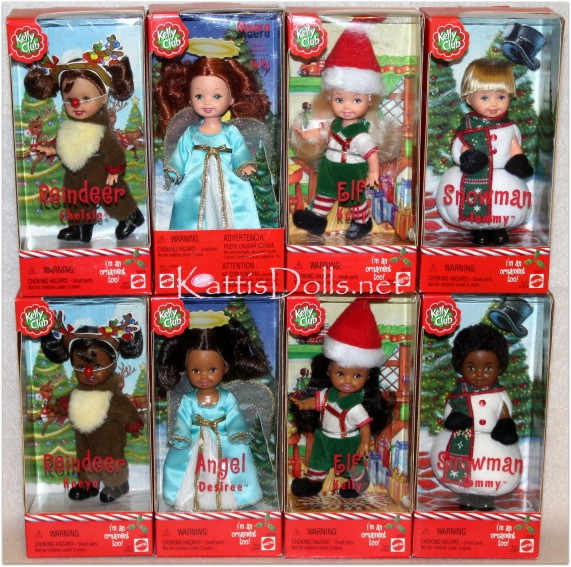 Kelly Club: I'm an Ornament too!, ©2001
Asst. 53924, Asst. 52897 (AA)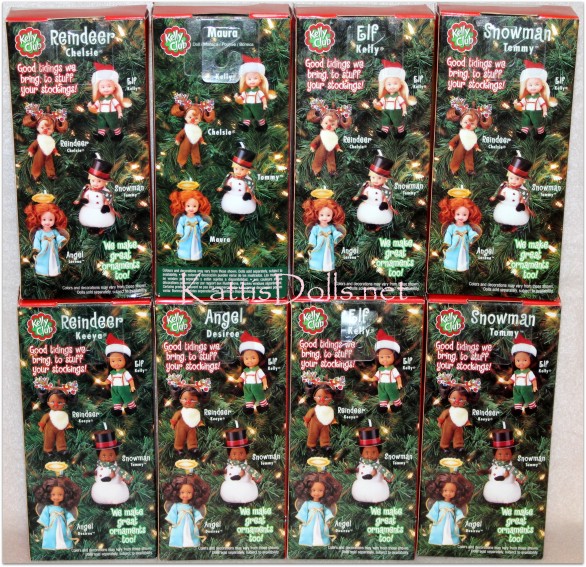 -