Easter Garden Hunt Gift Set ©2000
Target Special Edition
The Easter Garden Hunt Gift Set from Target provided us with Barbie and Kelly in their spring best. They wear lovely matching dresses in a gorgeous pink flower print with pink lace details and a pink insert in front of the skirt part. Barbie also sports a straw hat to save her typical redhead pale skin from getting too much sun. She has long, curly red locks in this set. Kelly really long hair is golden blonde and adorned with a pink headband and two flowers attached to the front side. Kelly also wears a pair of irridescent pink hose in her pink Mary Jane shoes. Barbie has bare legs and pink open toe heels. Both girls carry a white basket to fill with treasures they may find during their easter hunt. Seems they already picked a spring flower bouquet each (a cardboard insert).
More and detailed photos in my (Swedish) blog.
© Dolls and photos all belong to me, unless otherwise noted.
29328 Barbie & Kelly, Ester Garden Hunt Gift Set, ©2000
29329 Barbie & Kelly, Ester Garden Hunt Gift Set AA, ©2000
Target Special Edition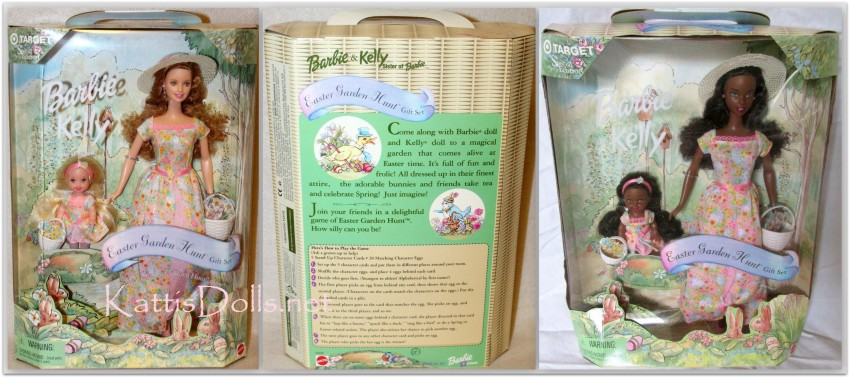 -