Pilot Barbie & Traveling Kelly & Tommy Gift Set ©1999
Sam's in the US had this huge gift set with Pilot Barbie along with her traveling companions Tommy and Kelly boxed together - right next to her big blue airplane in a separate box that was glued together to one separate set. I bought this set off eBay once and had the seller separate the boxes and just send me the box with the dolls. The glue resulted in a ripped box side, but still "intact" and the dolls untouched. I haven't come across my box in my work of retaking all photos but when I do, fresh photos will be uploaded, here and in the blog.
Pilot Barbie is the same doll as in her separate doll box, with a platina blonde short hairdo. She has green eyes and lilac lips and comes dressed in her pilot uniform with a rather big pilot suitcase.
Tommy looks like Ryan with brown hair and freckles to green and brown eyes. He is wearing a purple t-shirt to khaki pants and white sneakers. Kelly is blond and blue eyed and wears a pink t-shirt to same khaki pants and sneakers as Tommy. The kids are ready to go travel with a blue suitcase and yellow egg bag.
The illustrations of the Sam's Airplane box is different from the regular Barbie Airplane sets with a photo of the kids all set up in their flying seats. This alone could have called for getting the complete set, but shipping would be insane, even back in the early 00's.
More and detailed photos in my (Swedish) blog.
© Dolls and photos all belong to me, unless otherwise noted.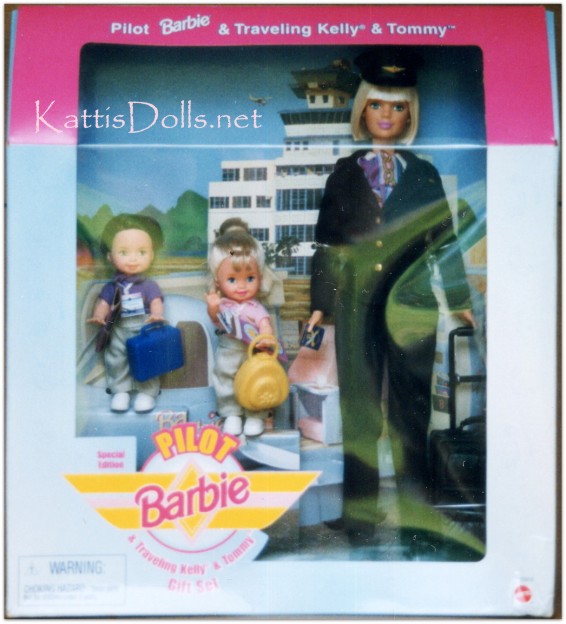 22970 Pilot Barbie & Traveling Kelly & Tommy Gift Set, ©1999
Sam's Special Edition


Borrowed photo
-