Kelly Friends of the World - Europe ©2004
For the popular collector series Dolls of the World's 25th year anniversary, Mattel made a second Friends of the World set, with three kids dressed in European folk costumes. Or interpretations thereof. The one doll Kelly Kollektors loved most, was the Scottish boy. Pale skinned with red hair and freckles he came in his red and green tartan kilt under a black velvet jacket trimmed with golden ribbons. A green velvet beret on his gorgeous red hair. Boys have always been sought after and being the only redheaded boy... Lovely. He is flanked by a Dutch Kelly on one side and a Spanish girl on the other. Kelly from Holland has long braids, a blue manchester skirt, light blue shirt, yellow vest with flower embroidery and a plaid apron. The lace trimmed hat is white and of course, the signature clogs on her feet. The girl from Spain (not mentioned as a Kelly doll) has a short hairdo in black with a rose stuck to the side. Her flamenco dress is white with red polkadots and a layered skirt, with one part the opposite - white polkadots on red, and all trimmed with black satin. A red fringe shawl over her shoulders and black Mary Janes.
More and detailed photos in my (Swedish) blog.
© Dolls and photos all belong to me, unless otherwise noted.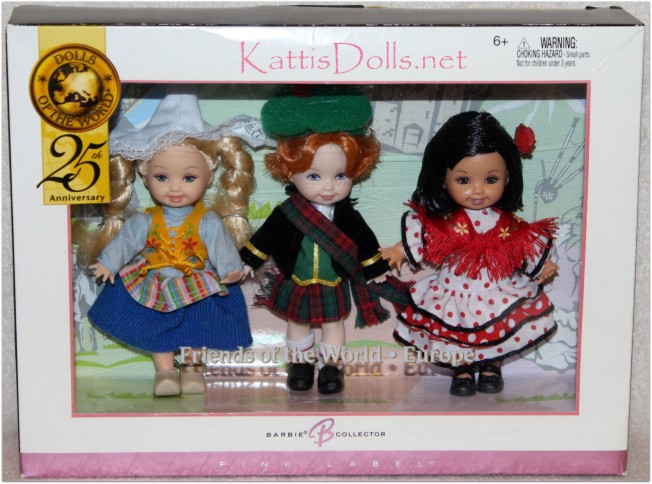 G8063 Kelly Friends of the World - Europe, ©2004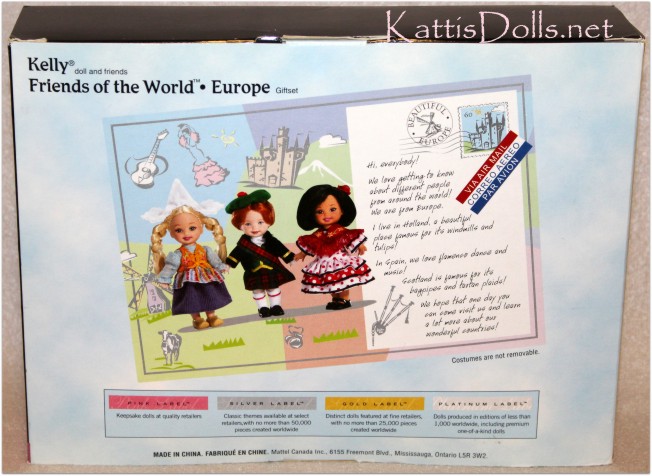 -