Barbie in A Christmas Carol ©2008
Barbie starrs in the movie A Christmas Carol. She tells a story to her sister Kelly about Eden, who didn't like christmas. This is the classic story of Scrooge by Charles Dickens, but with a twist to better fit into Barbie's world. The three christmas spirits appears to show Eden her past, her present and her future - unless she changes her ways. The three spirits were made into Kelly dolls and these could be found in three different sets/series. They came as singles, in a boxed set with all three and of course in a big set with Eden. Dolls are the same through the sets.
Spirit of Christmas past is blonde with a short tutu dress in white and gold with irridescent wings and golden ballerina flats. Spirit of Christmas Present is a redhead wearing a green velvet dress with satin top and tulle sleeves and a garland print around the skirt. Her wings are golden and the ballerina flats are green. The Spirit of Christmas Future is a slightly colored girl with brown hair, wearing a rich red satin dress with golden details and a green sequin flower in front. Her ballerina flats are a dark maroon. All three single spirits comes with a gold halo, a gold scepter and a golden comb.
Box photos not marked were found online via picclick/flickr etc.
More and detailed photos in my (Swedish) blog.
© Dolls and photos all belong to me, unless otherwise noted.
~~~~~~~~~~~~~~~
A Christmas Carol, ©2008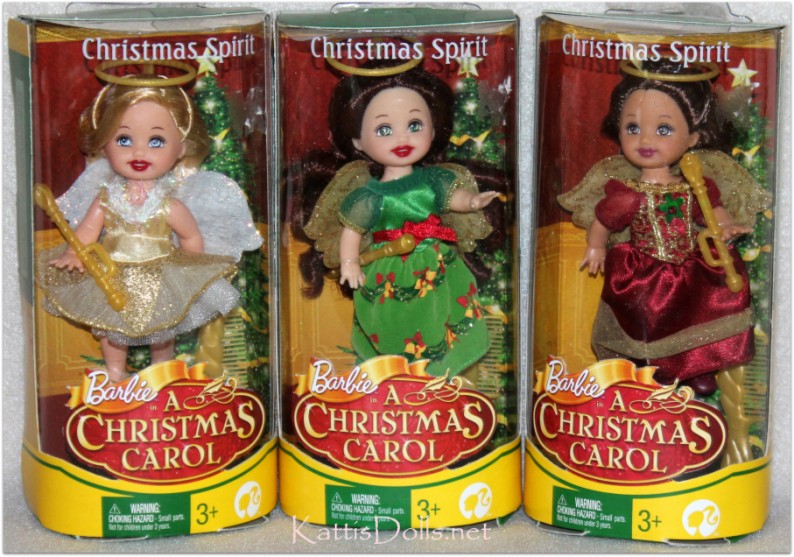 Christmas Spirit, ©2008
Asst. P8942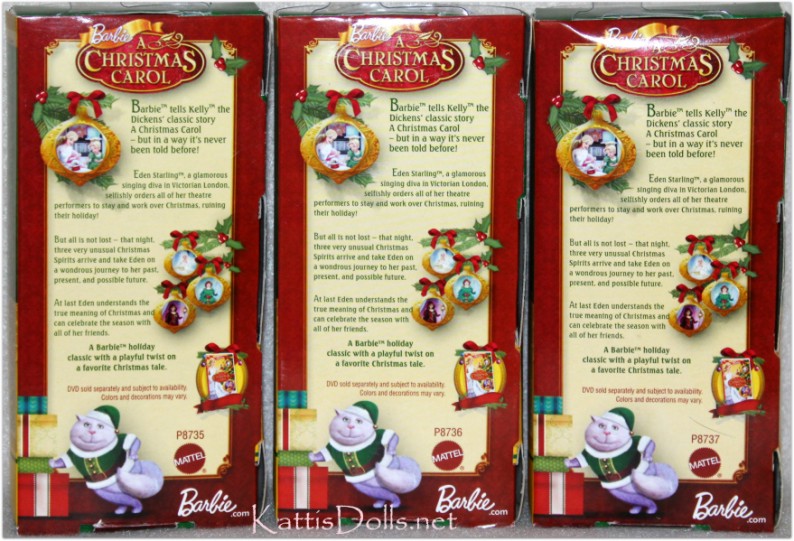 -

N7096 Eden Starling & the 3 Christmas Spirits, ©2008

N7540 A Christmas Carol (The 3 Christmas Spirits), ©2008
-