Pink is for Girls! (Target), ©2008
Such an incredibly stupid name this set has. Who decided Pink is for Girls and girls alone? Had it been called We Love Pink! or something else, it would have been an entirely different case. This is plain stupid.
The set however, is adorable with four dolls cleverly boxed girl. They are setup in the box as to being in a room each, with a pet (although only printed) and there are four rooms in the house, a bedroom, a bathroom, a living room and a kitchen. The girls are wearing indoors clothes, all in pink, white and black tones in different fabrics and patterns. They all have the NoNeck body with Kelly's open mouth head sculpt and they have no names anywhere to be seen. We have the blonde (Kelly), a dark haired, a redhair and a brunette girl. The blonde would be Kelly with the white cat, who may or may not be, but most likely is, the Roberts' cat Blissa.
More and detailed photos in my (Swedish) blog.
© Dolls and photos all belong to me, unless otherwise noted.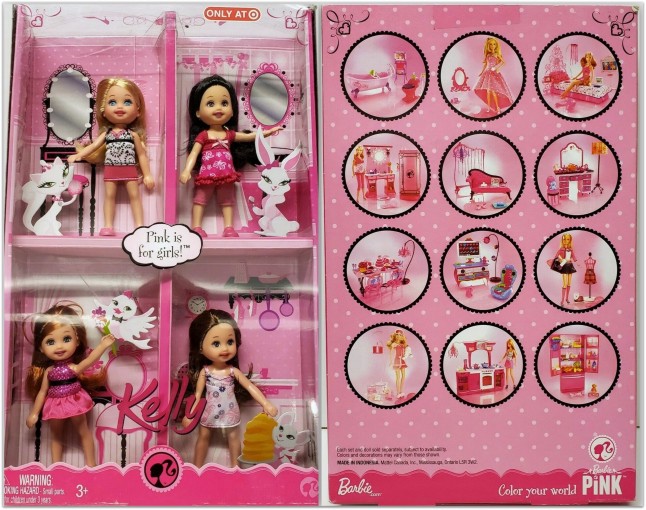 P4409 Pink is for Girls!, ©2008
Target
(photos: picclick/eBay)
-