Kelly Club: Birthday Party 2006
Yet a new box design. The rounded top and slanted sides are the same as before, but this box is enclosed in a sort of bag type upper part, with a handle, as well as cardboard sides, inherited from the Kelly Club 5 Bunch boxes. All of the girls originates in that set (more below).
The Birthday Party girls come carrying a heart shaped balloon each to celebrate a birthday. Each box have the doll inside as the main person of the event as illustration at the top. The dolls are Kelly/Shelly, Tori and Deidre in this group. I had to get Tori, for her red hair, brown eyes and freckles, but more to it, her name, as she is a new character. Sadly, I never bought Shelly or Deidre - or if I did, don't have them here with me.
This set match the Birthday Bunch from last year (©2005) and Kelly and Deidre is exactly the same doll, but Deidre is wearing the outfit Kerstie has in that set. They have the same screening and hairdo, so I used their closeups here. Tori here, is the same doll and outfit as the Bunch Melody. She just had a change of name and a simpler cut dress this time. The back of the box shows the Melody version from the bunch, as well as round balloons they cane with, as opposed to these girls' only heart shaped ones. Erica provided the photo of her dolls to show further down.
More and detailed photos in my (Swedish) blog.
© Dolls and photos all belong to me, unless otherwise noted.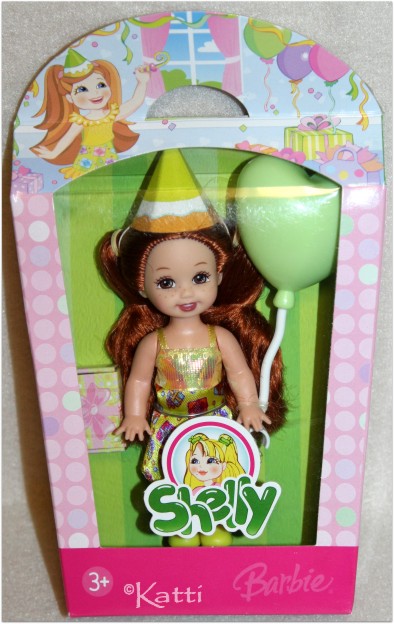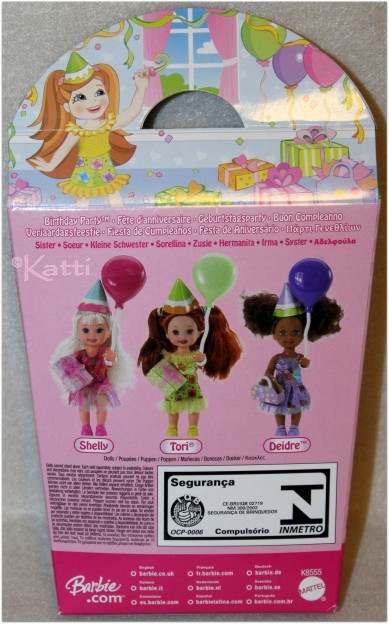 Kelly/Shelly: Birthday Party, ©2006
Asst. No. J1715
-