The Magic of Pegasus - Kelly/Shelly Cloud Princess and Pony ©2005
Barbie and the Magic of Pegasus is one of the many princess movies Barbie stars in. Kelly plays a few roles as well, it seems. All the dolls are named Kelly. The CC Kelly doll in purple also came in a set with Rayla the Cloud Queen (J5486). I still have to confirm the yellow/apricot came in an AA version too, the other two did, but I have not seen photos or info about her. Confirmed. She doesn't. No AA yellow/peach.
The girls rides their "ponies", which I'd rather call mini Pegasuses, as they are ponies with wings, through the Magical Cloud Kingdom. Each pony/pegas match their rider in color.
These all plastic boxes are a bit hard to photograph with my equipment. There is always a glare somewhere on their rounded containers.
More and detailed photos in my (Swedish) blog.
© Dolls and photos all belong to me, unless otherwise noted.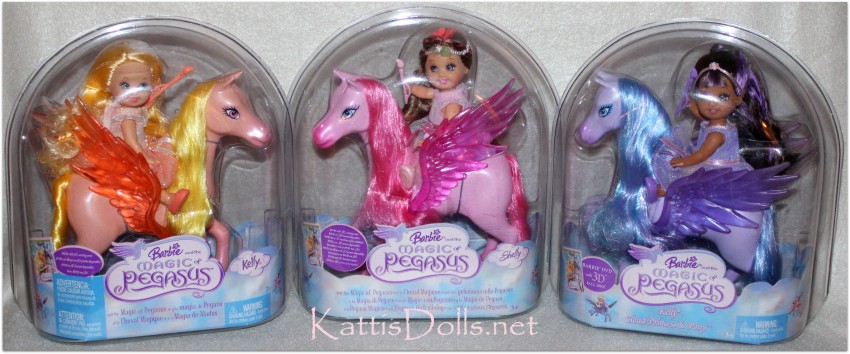 The Magic of Pegasus - Kelly/Shelly Cloud Princess and Pony, ©2005
Asst. G8405, G8406 (AA)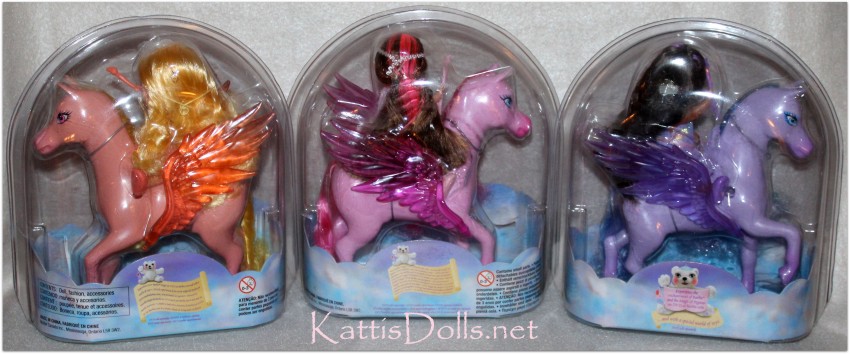 -