Camping Family Stacie & Kelly/Shelly ©2008
Barbie and her sisters are out camping with Ken. These dolls came in a few different sets, as standalone sets or with a huge Camper Gift Set. The youngest sisters were hanging together at the camp site in the same box. Kelly is sitting in a swing while Stacie stands next to her watching - with a side glance. The background shows their pink tent. Stacie carries a pink lantern, 2D in printed cardboard. Well, not even 2D, it's one sided...
I bought Kelly and Stacie loose and they arrived in a rather pristine condition. One of Stacie's shoes is broken though. I think I may have an extra pair somewhere. She wears a cute dark-pink-and-green-on-white plaid dress with a pink sewn-in jersey skirt under and a mesh top - also sewn-in. The shoes are dark pink with silver details. She has two toned, blonde hair and the cutest freckles!
Kelly has the no-neck body and blonde hair in golden and white tones, with a part put in pink elastic band. She has a short denim skirt with a silver bow at the waist to a top in light and dark pink with flowerprint/-sticker in front. Her shoes are Kelly Kollektor Favorites, a pair of pink and white sneakers.
More and detailed photos in my (Swedish) blog.
© Dolls and photos all belong to me, unless otherwise noted.

P6712 Camping Family Stacie & Kelly, ©2008
Asst. P6711

Photos: ToySisters/eBay
~~~~~~~~~~~~~~~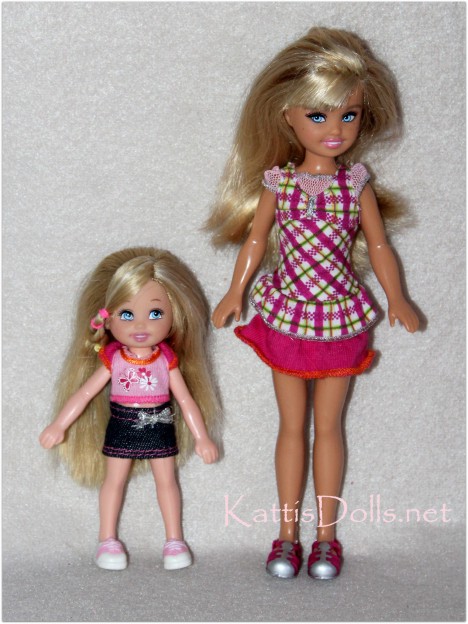 -