Happy Halloween Barbie & Kelly Gift Set ©1996
Mattel's first Halloween Kelly doll came in a set with her sister Barbie as they go out for some Trick or Treatin'. Kelly is dressed up as a pumpkin and Barbie is wearing matching colors in her outfit of black pants and white sweater with a cat-in-a-pumpkin-print. Barbie's makeup goes in orange tones and she wears an orange headband around her straight platinum blonde hair and holds an orange flashlight. She also has orange flats and a brush in the same color.
For a Dream Halloween event Mattel made a limited number of sets with the girls in brown hair, otherwise they are exactly the same. These sell for a mint so I have never been able to get one. Mattel never gave the brunettes a separate Stock Nr, but rather reused the same boxes, so it's the same as the blonde set.
What has never been produced though, is an AA version of this set. There are just the blondes produced and sold for the public (at Target I guess) and the limited Dream Halloween brunettes edition. No AAs. There is a set on eBay, but its a FAKE. And this is the only time I use the term FAKE with dolls.
More and detailed photos in my (Swedish) blog.
© Dolls and photos all belong to me, unless otherwise noted.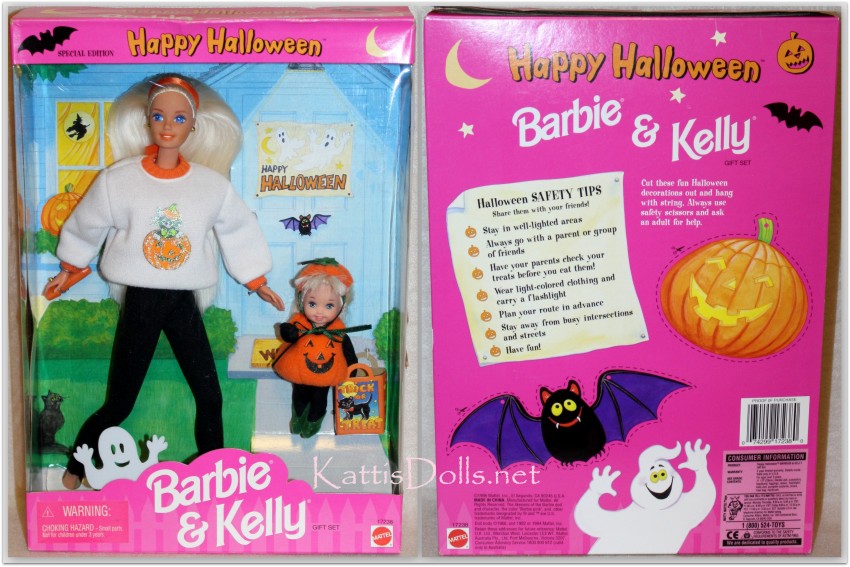 17238 Happy Halloween Barbie & Kelly Gift Set, ©1996
Special Edition
-