Cali/California Girl was a series of dolls in 2004, introducing some new friends. Summer and her brother Blaine joined Barbie in her Californian Beach House. They were tanned and smelled of coconut oil. Summer had a new sculpt with a big, smiley face. Utterly Californian! This was used for several new dolls, during the first decade of the 2000's. The confusion continues as new names are added and they change faces inbetween, from one to another and back again. Hair colors and skintones. No consistencies anymore. You don't know which character is the Latina chica or who is Asian. Fairytale dolls are introduced and it sometimes is Barbie as, other times not and sometimes there are no names at all. It's hard to list the "other sets" for these faces.
The Fashionistas dolls are also a source of confusion. From the beginning they didn't get names, other than an adjective, Sassy, Sporty, Glam etc. Some of those adjectives are clued in to a certain face, but the Summer sculpt has had several different of them. You just don't have any (good) idea which one the doll is, once deboxed. They came with much articulation and their bodies are often used to give an old doll a new life. Oh well. Off the body and on to the face again.
Summer
Copyright: 2003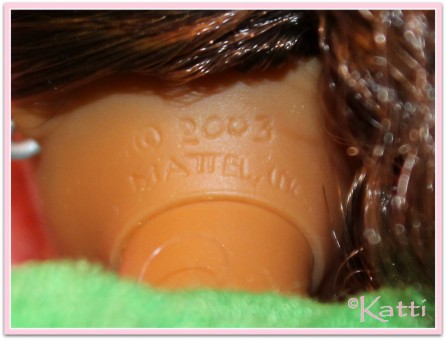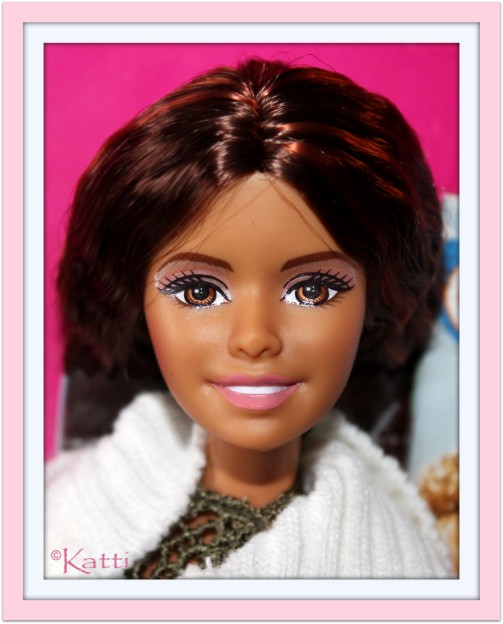 C6789 Cali/Californiafornia Girl, So Excellent Earrings Summer, 2003

G8665 Cali Girl Summer, 2004
Beach line, big flat feet, scented with coconut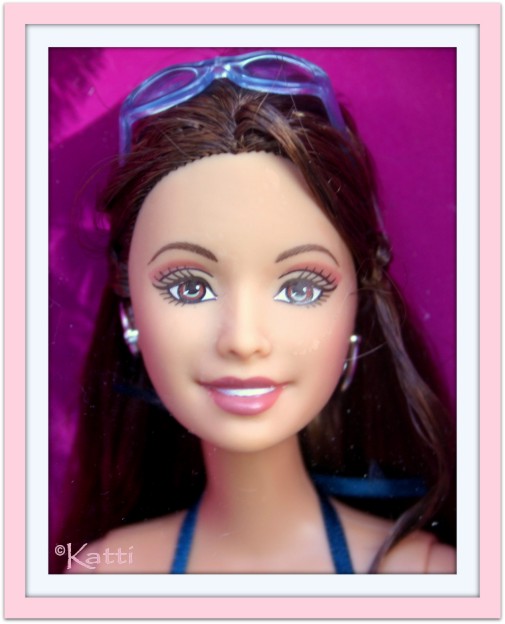 J0698 Beach Fun Summer, 2005
1st Edition. Beach line, big, flat feet


Raquelle

Raquelle has been around a while. She is said to have taken over the "Asian" friend role. I don't see much Asian in this girl in most versions, but she has the palest skintone of the lot and most often dark hair. This Raquelle was introduced in the Fashion Fever line and has been at Barbie's side ever since, along with Summer, who's face sculpt she uses. WHen Raquelle came along, Summer changed face to Lara.... *yawn* C-o-n-f-u-s-i-n-g is the word. Again.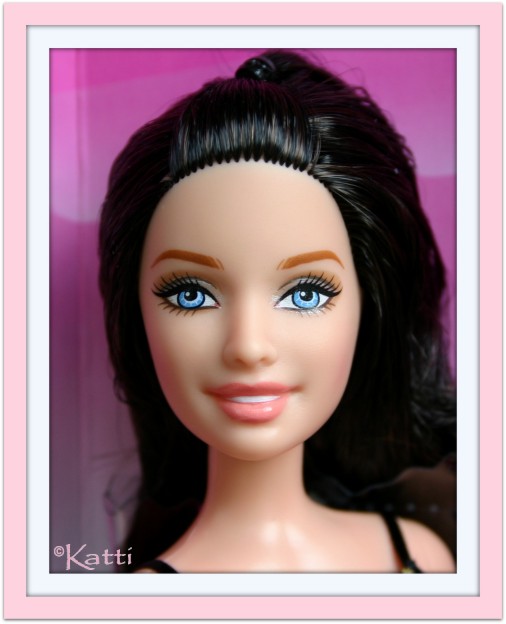 K8420 Fashion Fever Glamorous! Raquelle, 2006
Boxed version, hobbit body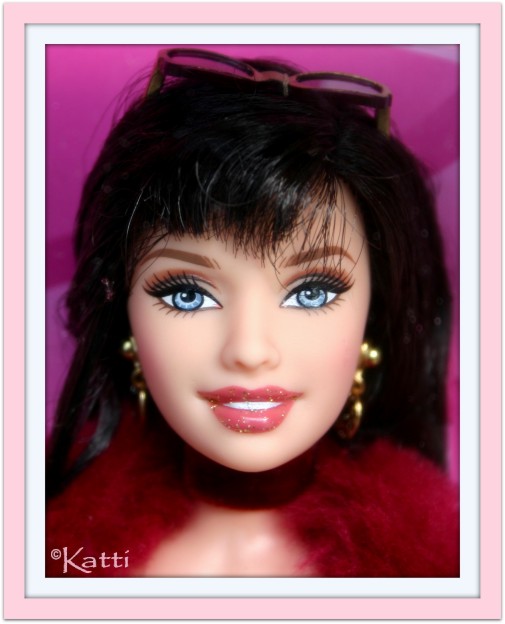 L3332 Fashion Fever Glamorous! Raquelle, 2007
Boxed version, hobbit body


Courtney

The Barbie Diaries Raquelle had Lara's face and the one used for Raquelle otherwise is the Summer sculpt. The other character and new friend, from the DVD, Courtney got the Summer face. Yah. She is cute with black hair (yet another Raquelle feature) in two pigtails and green eyes. So cute!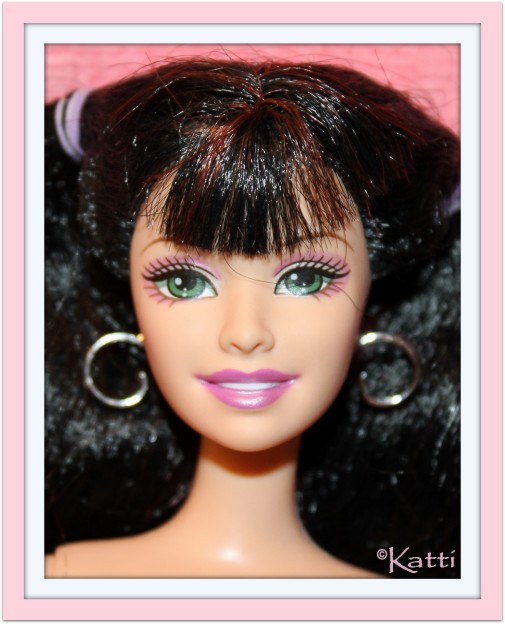 H7589 The Barbie Diaries - Courtney, 2005


Fashionistas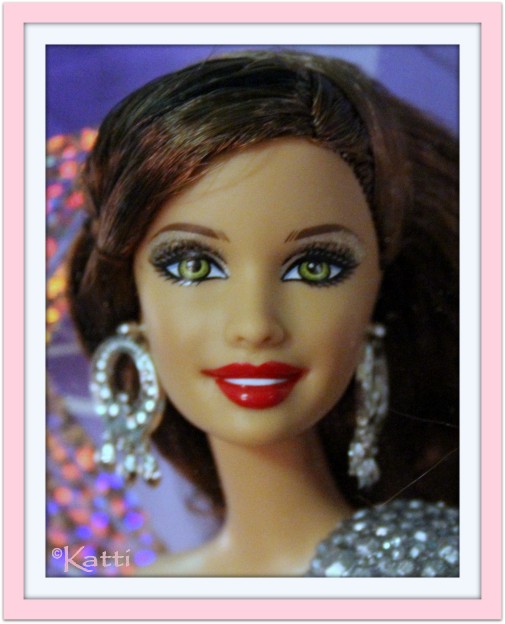 V7210 Hollywood Divas, 2010
Photographed through plastic
Sassy

I have seen that the Sassy dolls has pink streaks in the hair. Don't know if that is significant for these or if it just is mere "luck" both do.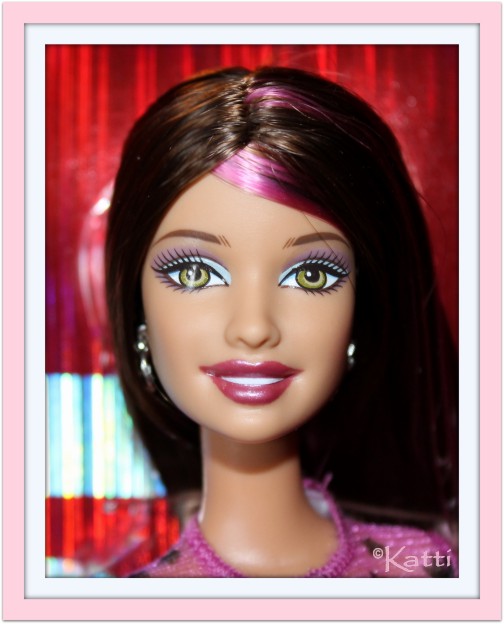 R9882 Fashionistas 100+ Poses Sassy, 2008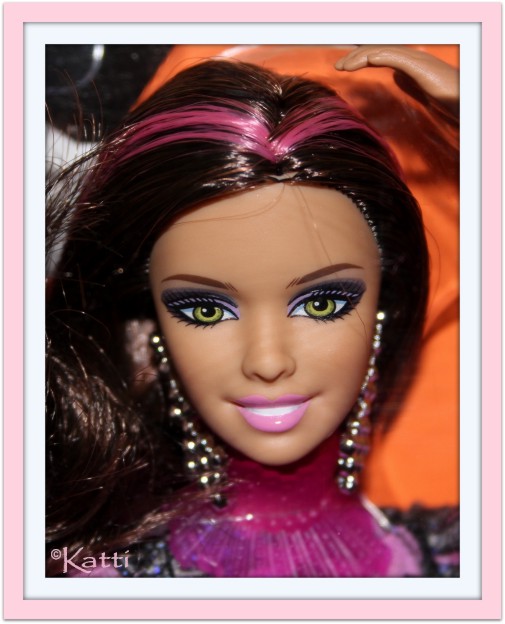 V7145 Fashionistas Swapping Style Sassy, 2010
Photographed through plastic
Sporty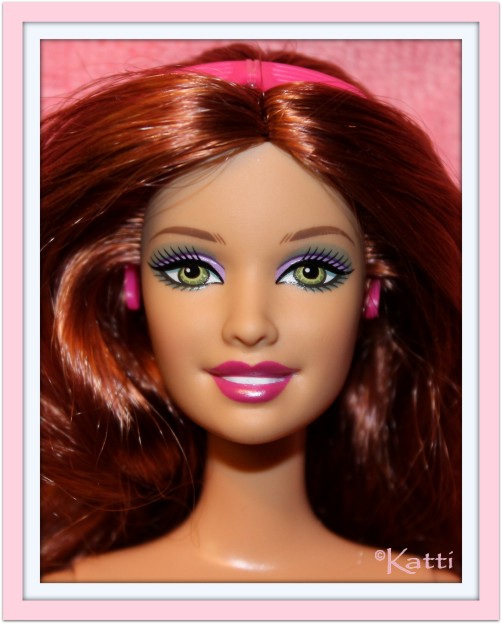 V4092 Fashionistas Sporty, 2010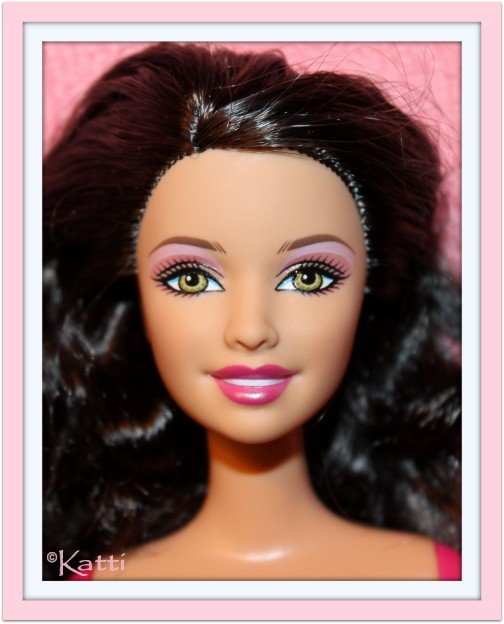 V4092 Fashionistas Sporty, 2010
Swapping Head included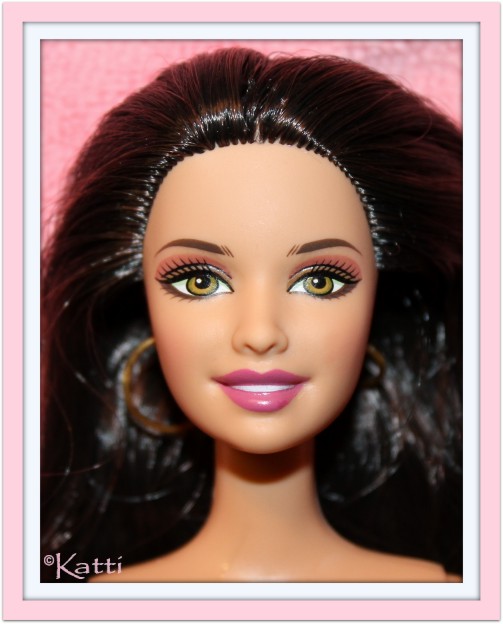 Fashionistas Sporty
nn - bought nude
Teresa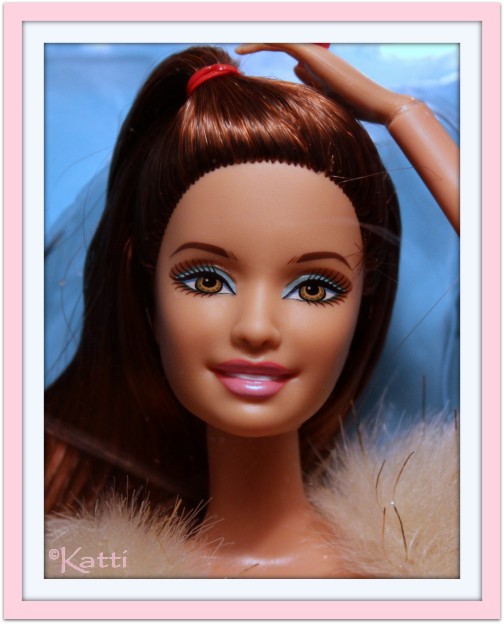 X2274 Fashionistas Teresa, 2011
(clutch box, fur)
Photographed through plastic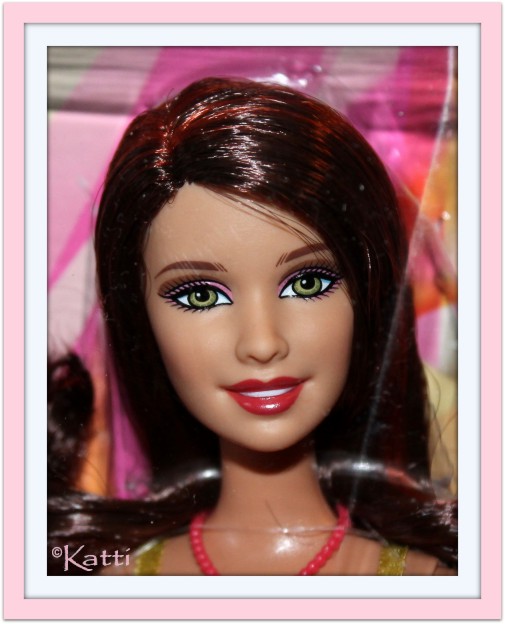 X7871 Fashionistas Teresa, 2012
Photographed through plastic
Barbie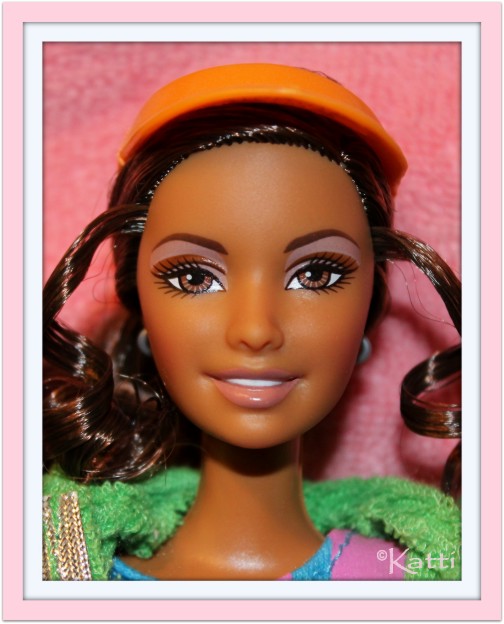 J7883 Fashion Fever: United Colors of Benetton - Melbourne, 2005
Brietta

Barbie and the Magic of Pegasus is one of many animated DVD movies featuring Barbie and a variety of charachters. Usually Barbie plays the leading role as this or that, while the other characters are "their own". Brietta is one of them. She is the sister to Barbie doll's character Annika. Brietta got turned into a flying horse, a Pegasus. When back to herself she has the face of Summer.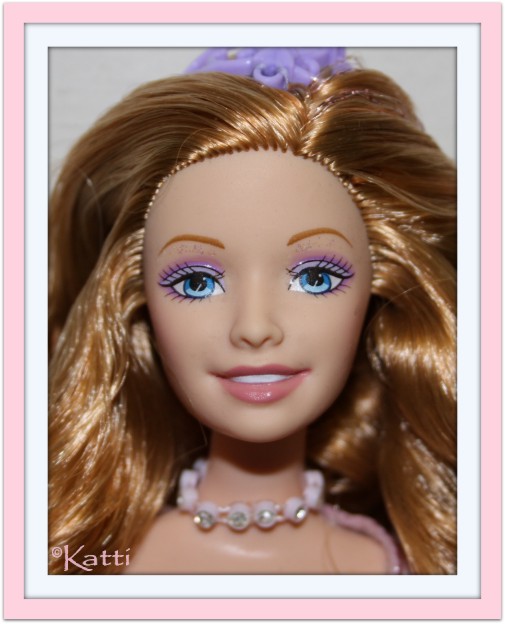 H7449 Princess Brietta, 2004
Barbie and the Magic Pegasus
Delia

The 12 Dancing Princesses was a DVD movie, featuring Barbie as Princess Guinevere and her 11 sisters, dancing their way through the castle. One of the sisters is Delia, made with the Summer sculpt. She is a fair skinned, golden blonde girl with brown eyes.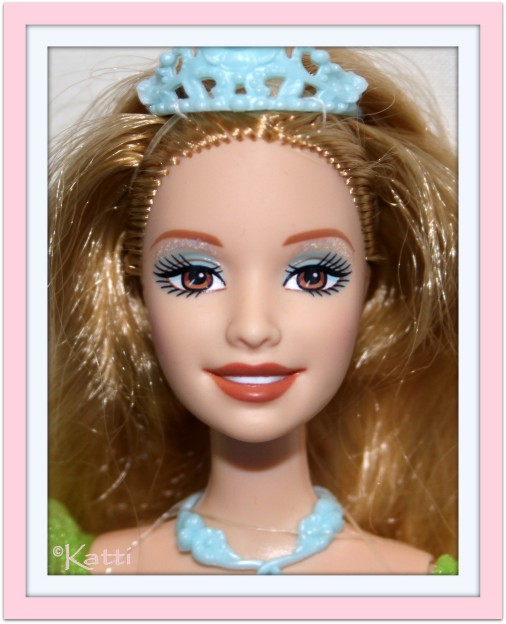 J8906 12 Dancing Princesses - Delia, 2005
nn Maiden

The dolls from the computer animated DVD movie, Barbie as the Island Princess included three nameless dolls, the three maidens. They were a dark haired girl in a blue dress (this one), a blonde dressed in purple and a slightly colored girl in a pink gown. They all had the ugly hobbit body type that so many dolls of 2005/06 sadly was produced with.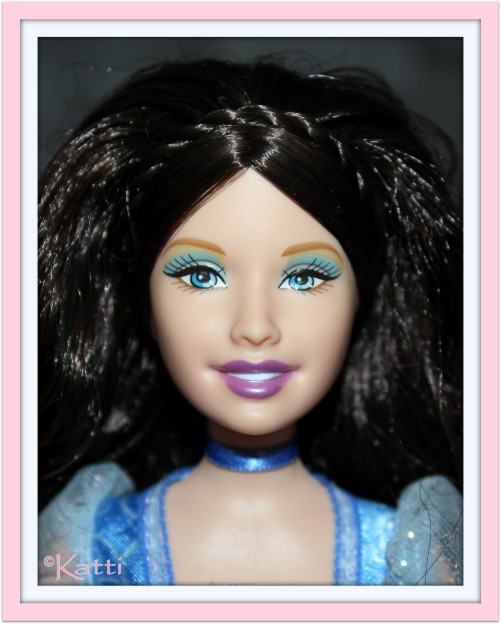 L11xx The Island Princess Maiden, 2006
Nori

The Secret Door is a Barbie story on DVD deom 2014 and Nori is one of the characters, a wingless fairy that lives in a secret world.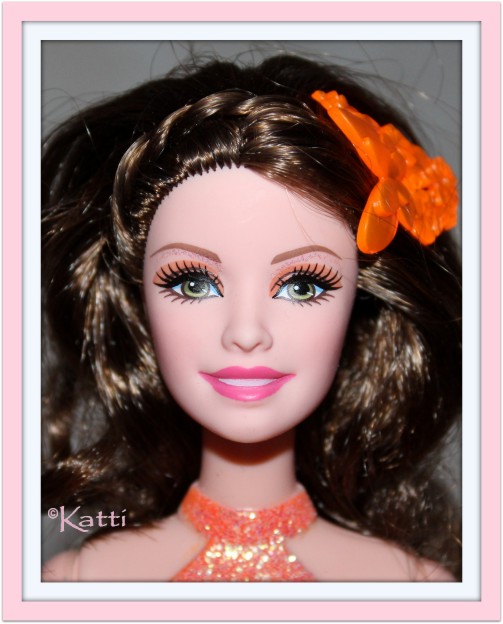 #BLP29 Secret Door Nori, 201x
Mia

The Rebelde TV series got their main characters made into dolls. They were three boys and three girls, of which one is Mia. Mia Colucci Cárceres was played by Anahí. Her doll was made with the Summer sculpt.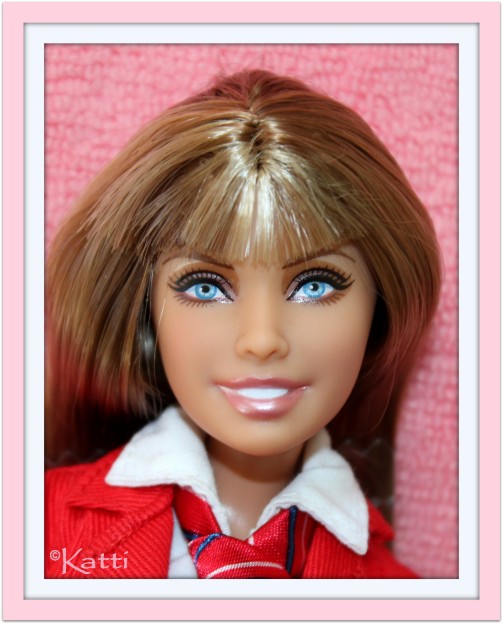 #N2755 Rebelde Mia, 2008
Sold in twin pack with Miguel
Other sets where this face can be found
Just too many to list...