Bob Mackie have designed many dolls for Mattel over the years. His signature series gave us a new sculpt with the fourth doll: Neptune, an Ocean Goddess. Sort of. Soon followed by Sun Goddess and Moon Goddess among others. Far from the old smiley SuperStar face Barbie have had since the mid seventies, the new face had a closed mouth, Mona Lisa-kind of smile. The closed mouth mold goes by the name Mackie among collectors. During a period between SuperStar and Generation Girl, a lot of the playline dolls was made with this sculpt and these dolls are coveted by collectors, being well made and affordable.
A couple of friends of Barbie was made with this sculpt as well, one probably a mistake, since she is more common with "her own" (well, close to) face. That would be Midge and the other one is Teresa.
Mackie
Copyright: 1991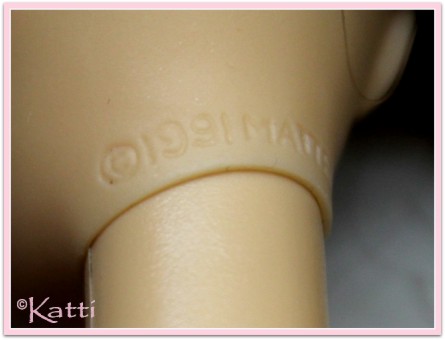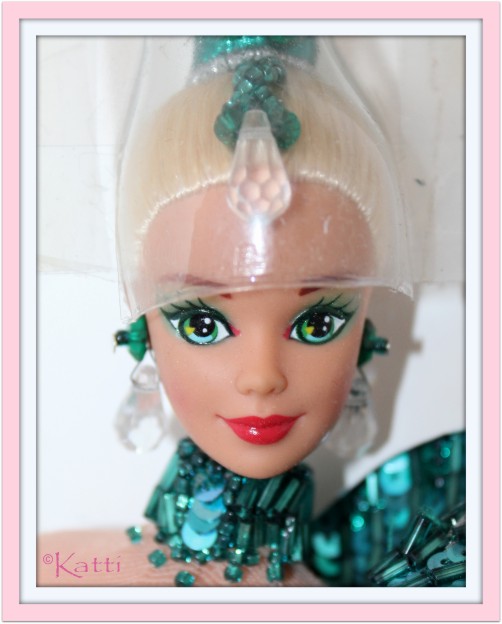 #4248 Neptune Fantasy by Bob Mackie, 1992
(she is NRFB, therefor the plastic hood is still around her head and the cardboard protector around her outfit)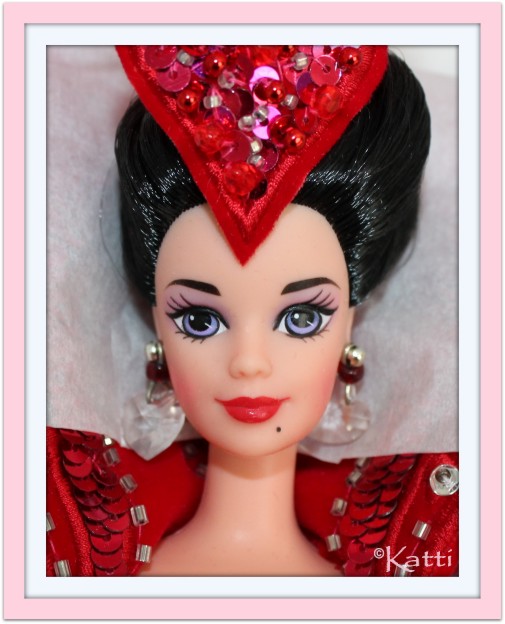 #12046 Queen of Hearts by Bob Mackie, 1994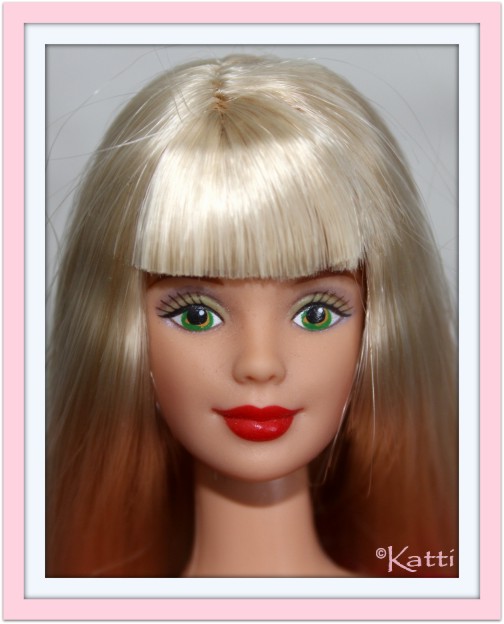 #20528 Very Velvet Barbie, 1997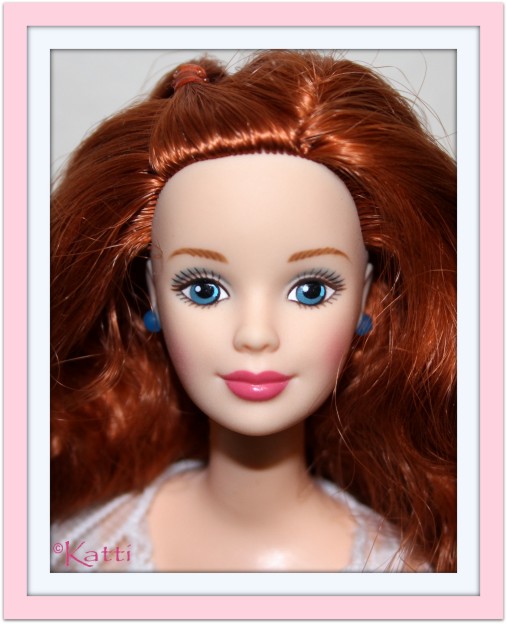 #20782 Fashion Avenue Barbie, 1998
Kay-Bee Special Edition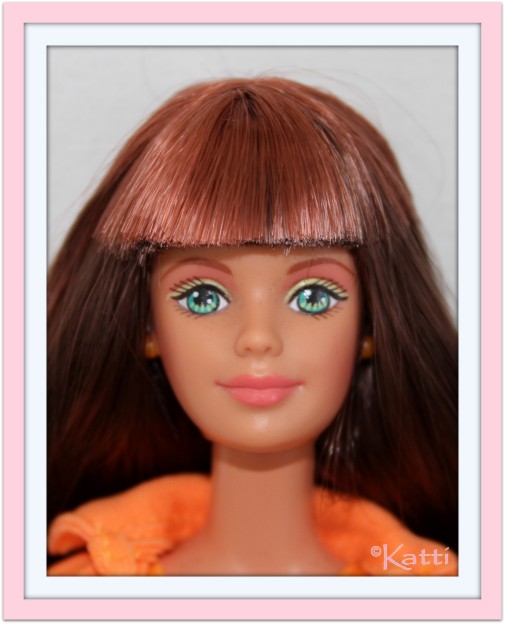 #18890 Bead Blast Barbie, 1997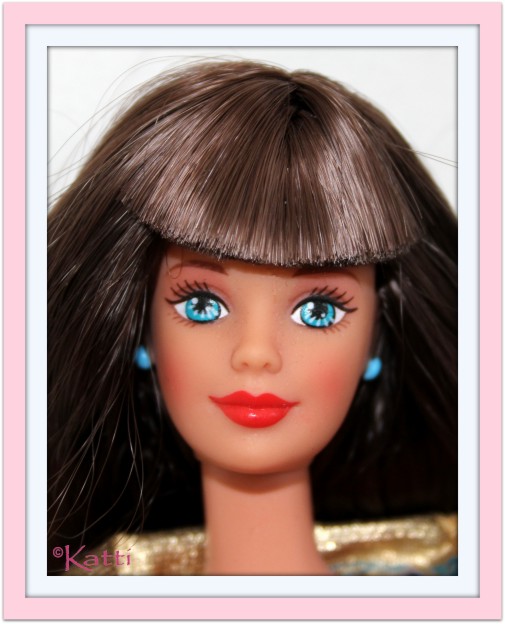 #18891 Bead Blast Barbie, 1997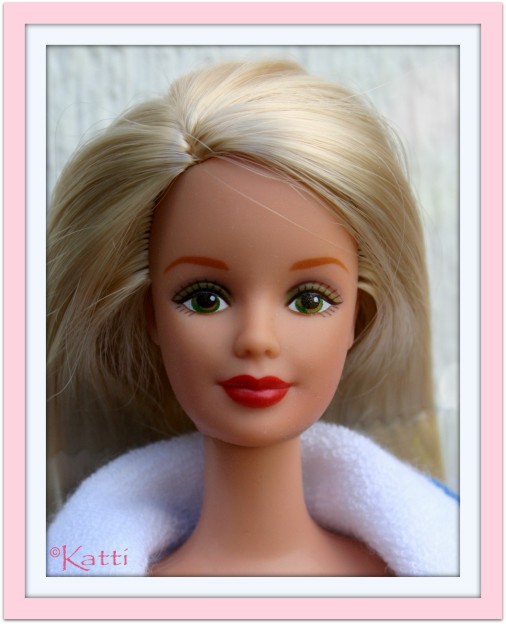 #22357 Bath Boutique Barbie,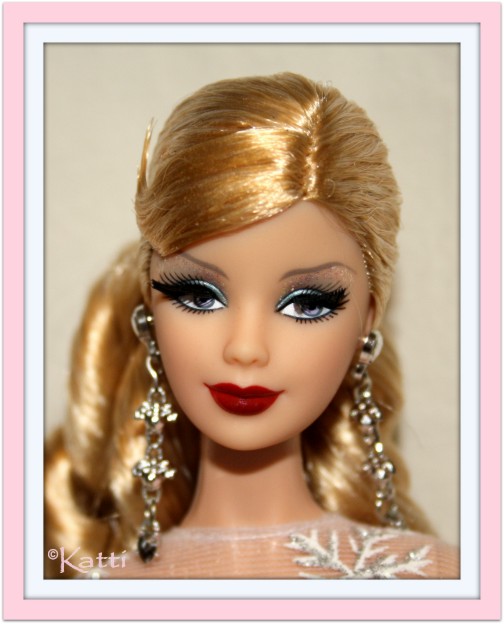 L9643 20th Anniversary 2008 Holiday Barbie
Basics Model No 01

Barbie Basics Model No 01 is made with the Mackie sculpt and in this series is my favorite Mackie doll ever. The Collection 002 Jeans. There were three Basics made, in Collection 001, 001,5 and 002. First; platinum blonde, second; dark brunette, third; golden blonde.
Successors to the Basics are The Look Barbie and there has to date (Jan '14) been made two Mackie dolls.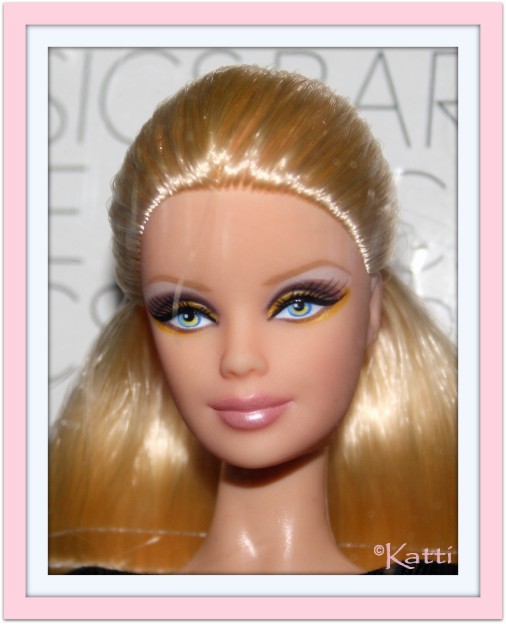 R9913 Barbie Basics, Collection 001, Model No 01, 2008
Photographed through box plastic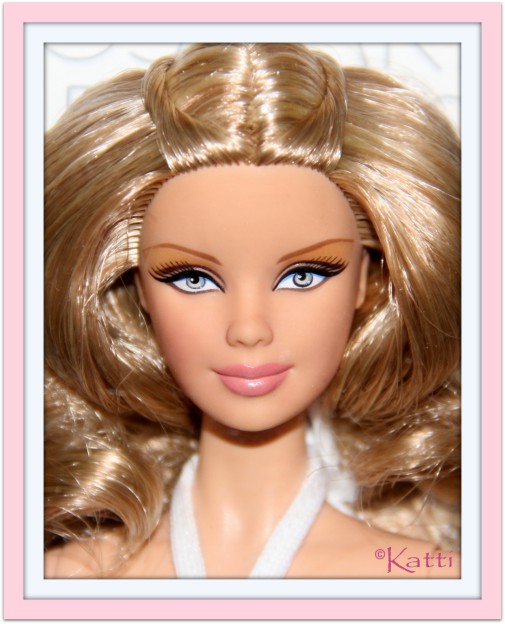 T7738 Barbie Basics, Collection 002, Model No 01, 2010


Barbie AA

There are a very few black Barbie dolls made with the Mackie sculpt and Rapuzel is one of them. Barbie as Rapunzel - and she has the longest hair e-v-e-r. Even longer than the Jewel Hair Mermaid dolls. In a long braid, it hangs over her shoulder in the box. In a light chocolate skin tone and brown eyes, she is delightful.
There aren't many AA Mackie dolls made. Rapunzel, Pottery Barn and a Mariposa, as far as I know.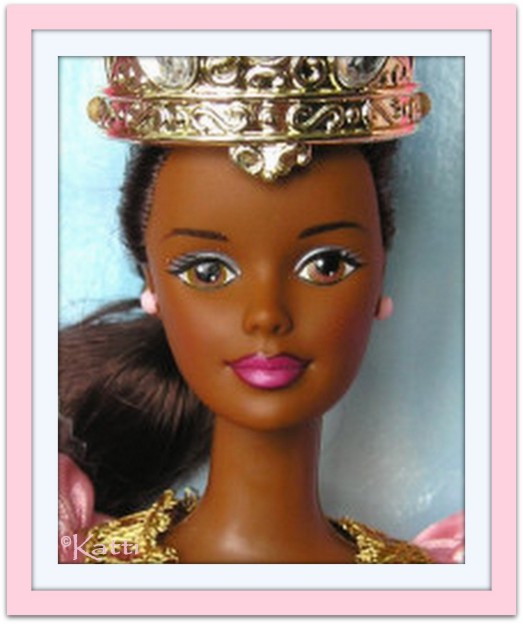 #18164 Barbie as Rapunzel, 1997
Blurry picture is due to resizing of compressed jpeg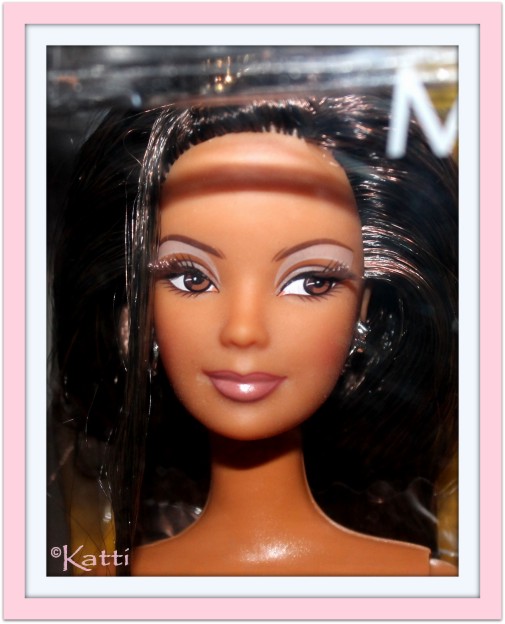 J4183 Makeup Chic Barbie, 2005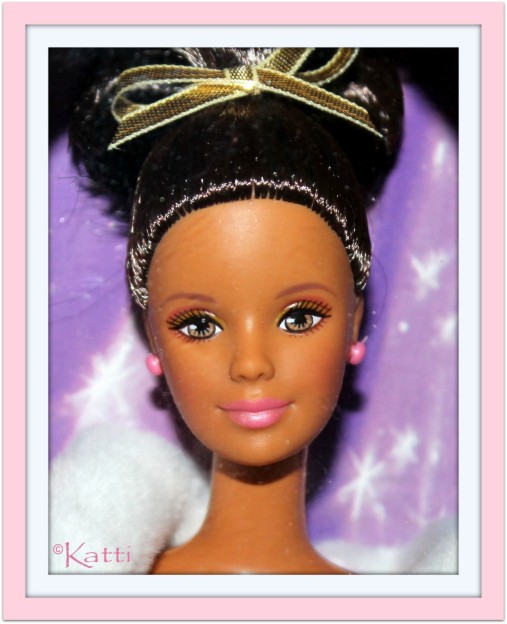 #23420 Jewel Skating Barbie AA, 1998
Photographed through box plastic
Midge

Barbie and her friends went to the Florida beaches for a vacation - in their animal print swimsuits. Midge joined them at the beach this year and I have a not-so-common version of her with the Mackie sculpt. I remember seeing eBay auctions selling Midge - with MY photo and I kept asking, "is it really the Mackie faced girl?". Noone knew the difference. They just picked a photo - and managed to take the wrong one. There is actually a big difference between the two girls, not only the obvious difference in the mold itself, but the Mackie faced Midge have brighter green eyes and a gazillion more painted eyelashes. I tend to think this might be a European thing, because I have ever only seen her in Europe. I own three of these dolls and the other two, bought in the US - one as Diva, the other supposedly a Mackie (was not) are both Divas.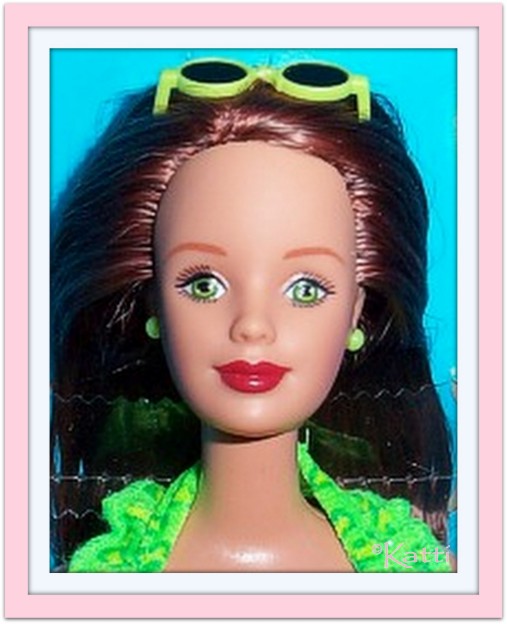 #20538 Florida (Vacation) Midge, 1998
There are two versions of this doll, where the regular one has the Diva sculpt
Blurry picture is due to resizing of compressed jpeg
Teresa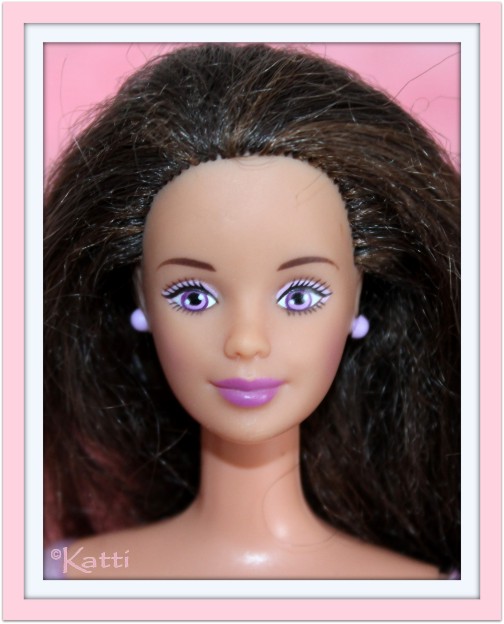 #20537 Florida (Vacation) Teresa, 1998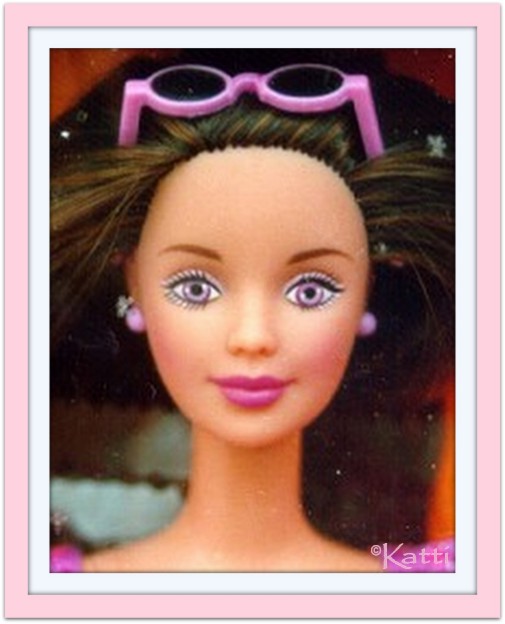 #20537 Florida (Vacation) Teresa, 1998
Blurry picture is due to resizing of compressed jpeg
Photographed through box plastic
Mariposa

Mariposa is a character in an animated Barbie movie. She lives in Flutterfield... A mariposa is a moth or a butterfly with huge wings and this doll has exactly that. Huge wings attached to her back. She has a special body (not only due to the attached wings) but overall a new body type. She is smaller than "regular" Barbie dolls. Which is not interesting right here, right now as we are concentrating on the sculpt. Mackie's sculpt. Glitter and glitz. Lots of glitter as on all the fairy(topia) dolls. She comes in a black version too, I have seen.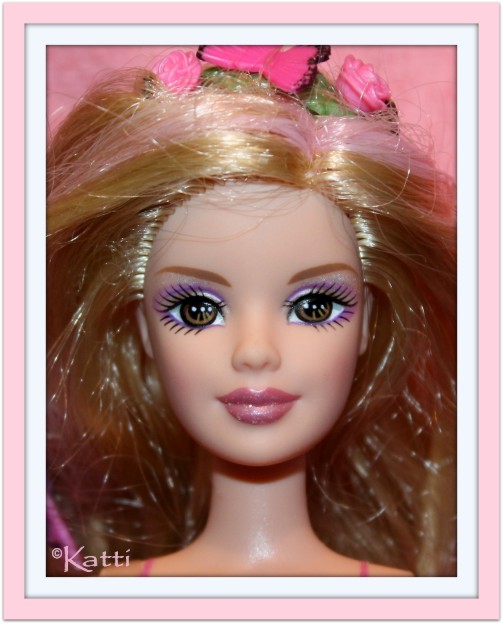 Fairytopia - Magic Wings Mariposa, 2008
Agent Scully

The X-Files was Barbie and Ken as the Alien investigators Agent Scully and Agent Mulder. Scully has rooted red hair in a short hairdo - and the Mackie closed mouth face.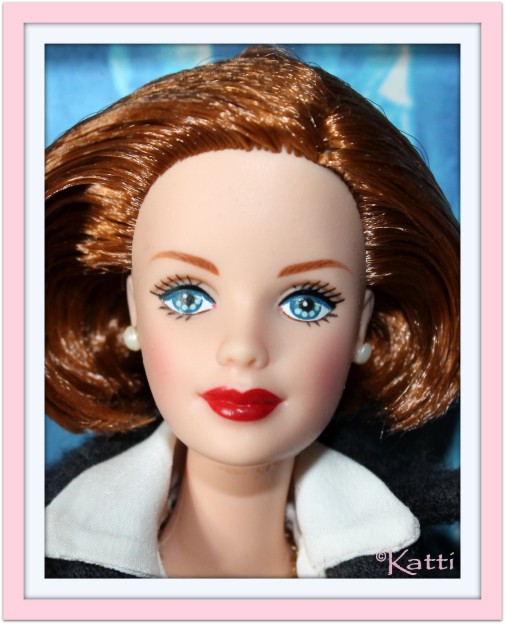 The X-Files - Barbie as Agent Scully
Bella

Twilight Bella was, much to many collectors' dismay, made with the Mackie sculpt. So many other faces that would have worked better - at least if she should look anything like the actress in the movies, Kristen Stewart. However, for some reason Mattel decided to use the Mackie face for all the Bella versions.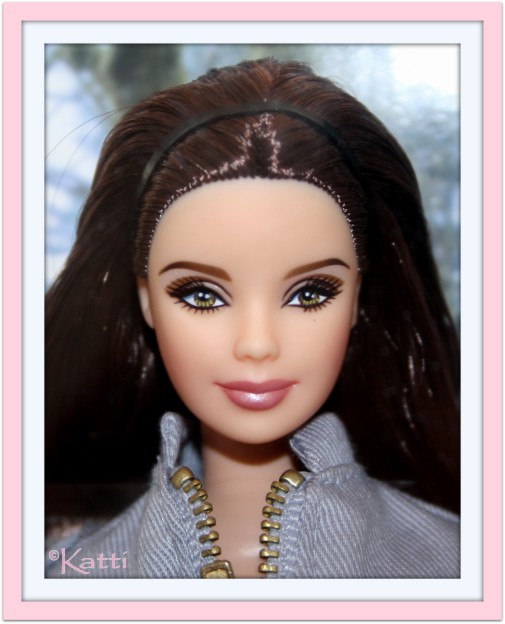 R4162 The Twilight Saga: Bella, 2008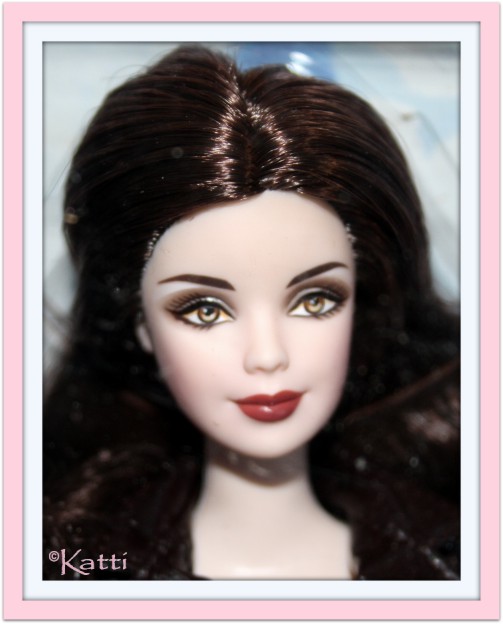 Y5858 The Twilight Saga: Breaking Dawn Part 2 - Bella, 2012
This is from the T'rU gift set with Edward, but she also comes in a separate box (X8250)
Photographed through box plastic
Sleeping Beauty
Sleeping Beauty has a very special version of the Mackie sculpt. I would go so far, to say it is a revised Mackie sculpt. She is made of hard plastic with the function of sleepy eyes. With a button on her back, you should be able to close and open her eyes. My doll is not working properly as she can't close them more than into the second picture show.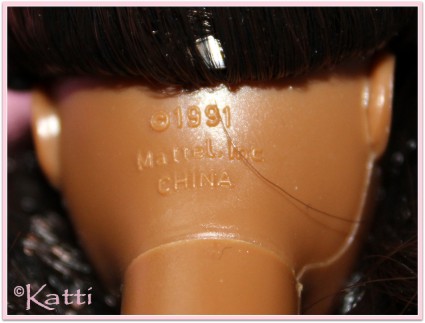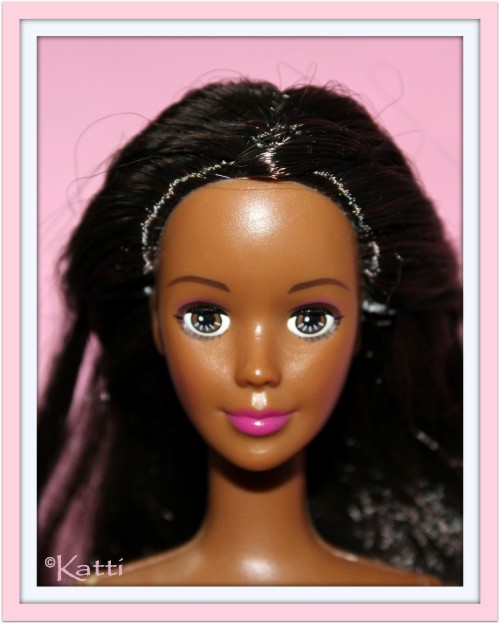 Sleeping Beauty Barbie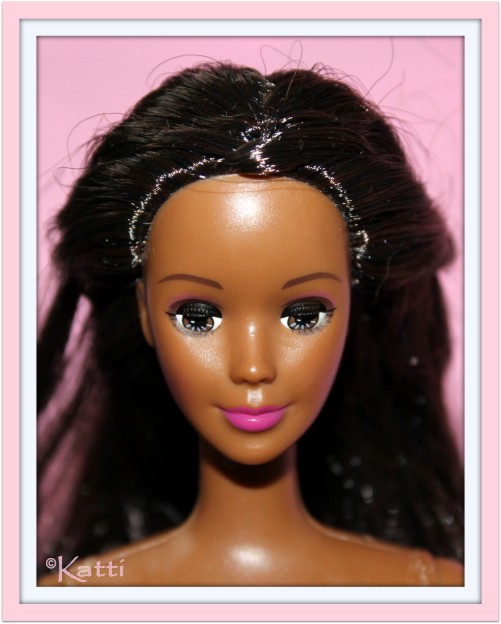 Examples of other sets where this face can be found (there are just too many to list so just a few)
Most of Bob Mackie's Barbie dolls through the years
Harley Davidson: all caucasian versions but one
Dynasty: Krystle
Twilight: all Bella dolls
Dolls of the World: Chilean, Swedish, France '08, Scotland, Russia, France '13
Dolls of the World Landmark: Sydney Opera House, Big Ben, Eiffel Tower
Dolls of the World Festivals: Oktoberfest, Irish Dance
Dolls of the World Princess: Ireland, Danish Court, Vikings, England, Renaissance, Imperial Russia, Holland
And many many many others