Kelly/Shelly (Chelsea) - Fashions and Accessories
Long time coming. I finally got around to add fashions and accessories to the site. I am combining these pages with the (Swedish) blog for more photos.
When it comes to Chelsea, I am not sure what the future will hold, in regard to these actual pages. The clothes are too big for Kelly, but I decided to add some of what I know to this page. Some of the fashions has been released twice, with different copyright years, but I have too little info on that right now (Aug. '22).
I have deboxed a lot of my sets and some pieces has gone awol, but I have also been vaccuuming the Internet for information and photos to make this as comprehensive as possible. All my Kelly clothes has been sorted into separate bags for years, pants in one, tops in another etc so it has been a not-always-so-fun job to try to put all the sets together again. While doing that I also discovered I am missing pieces here and there, most of these are probably on a doll somewhere and yet to be found. The detective job also included to try to get the correct shoes with every set. It's sometimes hard to determine if the shoes are sandals or sneakers or if they are "jelly" or just to determine the exact shade of pink. White sneakers seems to have been misplaced as I haven't been able to match up the sets completely. The missing pairs are probably in the same place as the missing wardrobe pieces. But for now...
There are some foreign (Japanese) sets listed as well, but that is an area I know little about, so I can only list and show what I know.
I am combining the Kattis Dolls site with my (Swedish) blog, and more photos of the dolls is seen there, as I have done a whole lot more work in the blog so far.

Shoes. Not for ID, but just to show the types and what I call them (under work and will take some time).
© Dolls and photos all belong to me, unless otherwise noted.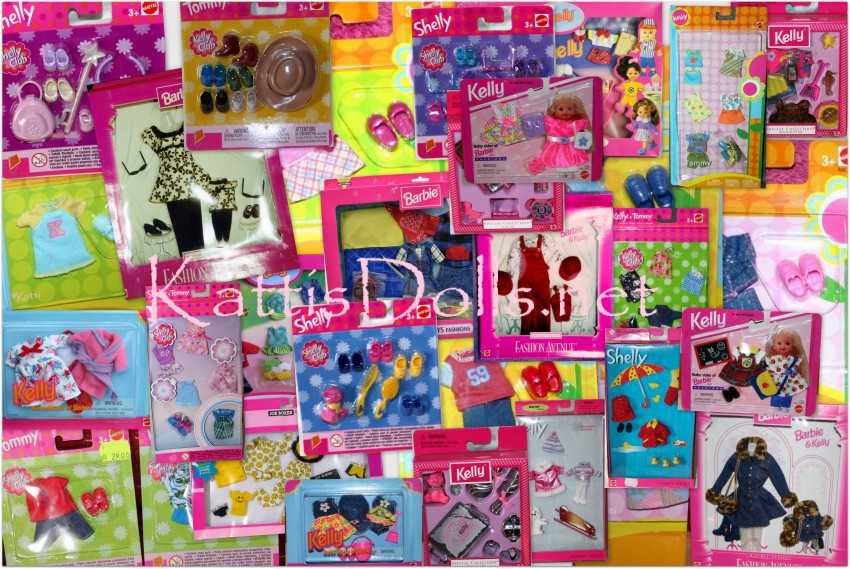 I have a lot of these sets below, not all, but I want to try to get as close as I can get in listing Kelly/Shelly fashion sets, so if you see any missing sets, please let me know in some way! Through Facebook would be easiest for those who knows me there.
Links will come as I get the time to edit photos and upload the pages. Links back to this page will be found at the bottom of each page.
Disclaimer: Some of the photos come from browsing the Internet and vaccuuming Picclick/eBay/ Worthpoint etc to find photos just to be able to show off items NRFP, those photos are unmarked. I am not taking credit for any of them.
Years listed are the copyright years on the boxes (release date is usually the year after):
©1995
Kelly/Shelly - Fashion, Asst. 14397

©1996

Kelly/Shelly - Fashion, Asst. 15868-0980
Kelly/Shelly - Fashion (long), Asst. 17156
Barbie & Kelly/Shelly - Fashion Avenue, Matchin' Styles, Asst. 17292
Kelly/Shelly & Friends - Cute 'n Cool Fashions, Asst. 68600, 68600-91
Kelly/Shelly & Li'l Friends - Cute 'n Cool Fashions, Asst. 68600-91
Barbie & Kelly/Shelly - Dress 'N Play Springtime, 67605
Kelly Pretty Treasures - Feeding Set, 16331
Kelly Pretty Treasures - Play Set, 16332

©1997

Kelly/Shelly - Fashion, Asst. 15867
Barbie & Kelly/Shelly - Fashion Avenue, Matchin' Styles, Asst. 18111
Ken & Tommy - Fashion Avenue, Matchin' Styles, Asst. 18111
Kelly/Shelly - Fashion Avenue, Asst. 16693
Kelly/Shelly 'n Friends - Cute 'n Cool Fashions, 68600-92
Barbie & Family - Family Fun Fashions, Beach Fun, 68632
Barbie & Family - Family Fun Fashions, Movie Premiere, 68632
Barbie - Great Getaway Fashions, camping, 68646
Barbie - Sparkle Pretty Fashions, wedding, 68070-96
Kelly Special Collection - Feeding Set, 16331, Asst. 18434
Kelly Special Collection - Play Set, 16332, Asst. 18434

©1998

Barbie & Kelly/Shelly - Fashion Avenue, Matchin' Styles, Asst. 18111
Ken & Tommy - Fashion Avenue, Matchin' Styles, Asst. 18111
Kelly/Shelly - Fashion Avenue, Asst. 16696
Kelly/Shelly - Cute 'n Cool Fashions, Day at the Zoo!, 68600-95
Kelly/Shelly - Cute 'n Cool Fashions, Fun with Sports!, 68600-95
Barbie - Great Getaway Fashions, Safari, 68646-91
Kelly Special Collection - Beach Fun Set, 18433, Asst. 22199

©1999

Kelly/Shelly - Fashion Favorites, Asst. 68230
Tommy - Fashion Favorites, Asst. 68230
Kelly/Shelly - Fashion Favorites (Walmart long duo card), Asst. 68230-92
Tommy - Fashion Favorites (Walmart long duo card), Asst. 68230-92
Barbie & Kelly/Shelly - Fashion Avenue, Asst. 25756
Kelly/Shelly - Fashion Avenue, Asst. 25754
Little Extras (shoes), Skipper, Stacie, Kelly/Shelly, 67036-75

©2000

Kelly/Shelly - Fashion Favorites, Asst. 68230
Tommy - Fashion Favorites, Asst. 38230
Kelly - Fashion Favorites (Walmart duo long card), Asst. 68777
Shelly - Fashion Favorites (long duo card), Asst. 68777-91
Tommy - Fashion Favorites (Walmart long duo card), Asst. 68777
Kelly/Shelly - Fashion Avenue, Asst. 25754
Tommy - Fashion Avenue, Asst. 25754
Kelly Fashion (Japan), 27613, 27614
Barbie - Joe Boxer Sleepover Party Fashions (Barbie, Kelly, Tommy), 68773
Little Extras (shoes), Skipper, Stacie, Kelly/Shelly, Asst. 68715-95

©2001

Kelly Club/Shelly - Fashion Favorites, Asst. 68230
Kelly Club: Tommy - Fashion Favorites, Asst. 68230
Kelly/Shelly - Fashion Avenue, Asst. 25754
Tommy - Fashion Avenue, Asst. 25754
Kelly/Shelly Club - Fashion Gift Pack (Plus 1 Tommy outfit!), Asst. 47608
Barbie - Sleep Over Party Gift Pack (Barbie, Kelly, Tommy), 68002
Little Extras (shoes), Skipper, Stacie, Kelly/Shelly, Asst. 68715
Barbie So Much Stuff - Beach Bonanza, 88815

©2002

Kelly/Shelly Club - Fashion (Favorites), Asst. 68230
Kelly/Shelly Club: Tommy - Fashion (Favorites), Asst. 68230
Kelly/Shelly Club - Fashion Gift Pack (Plus 1 Tommy outfit!), Asst. 47608
Little Extras (shoes), Skipper, Kelly/Shelly, Asst. 68715
Kelly/Shelly Club (accessories & shoes), Kelly/Shelly, Asst. 47625
Kelly/Shelly Club (accessories & shoes), Tommy, Asst. 47625

©2003

Kelly/Shelly - Fashion (Favorites), Asst. C1180
Tommy - Fashion (Favorites), Asst. C1180
Kelly/Shelly Club - Fashion Gift Pack (Plus 1 Tommy outfit!), Asst. 47608
Kelly/Shelly (LH) - Fashion Gift Pack (Plus 1 Tommy outfit!), Asst. C1182
Kelly/Shelly Sweetsville - Fashion Gift Pack (Plus 1 Tommy outfit!), C3323, Asst. C1182
Happy Family Neighborhood - Family Fashions, Asst. C3882
Happy Family - Toddler Fashions, Ryan & Nikki, C6009, Asst. C5028

©2004
Kelly/Shelly - Fashion set (case box w handle), Asst. G8643

©2005
Kelly/Shelly - Fashion set (case box w handle), Asst. G8643

©2006
-

©2018
Club Chelsea - Fashion & Accessories, Asst. FXN69

©2019
Club Chelsea - Fashion & Accessories, Asst. FXN69

©2021
Chelsea - Fashion & Accessories, Asst.
Chelsea - Back-to-School Backpack (3 different color accessories), HFG36, Asst. HFG35
Chelsea - On-The-Go Backpack (3 different color accessories), HFG37, Asst. HFG35
Chelsea - Sleepover Backpack (3 different color accessories), HFG38, Asst. HFG35